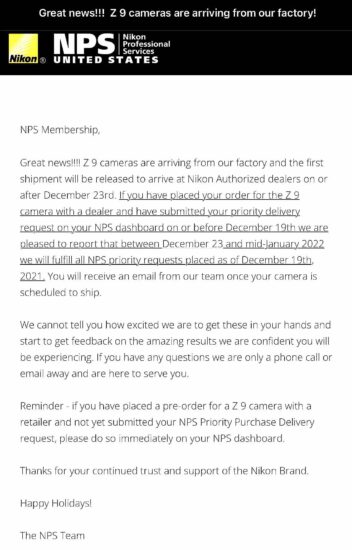 Nikon USA sent out emails today indicating that all NPS Z9 orders placed before December 19th will be fulfilled by mid-January. Here is the full text of the email:
NPS Membership,

Great news!!!! Z 9 cameras are arriving from our factory and the first shipment will be released to arrive at Nikon Authorized dealers on or after December 23rd. If you have placed your order for the Z 9 camera with a dealer and have submitted your priority delivery request on your NPS dashboard on or before December 19th we are pleased to report that between December 23 and mid-January 2022 we will fulfill all NPS priority requests placed as of December 19th, 2021. You will receive an email from our team once your camera is scheduled to ship.

We cannot tell you how excited we are to get these in your hands and start to get feedback on the amazing results we are confident you will be experiencing. If you have any questions we are only a phone call or email away and are here to serve you.

Reminder – if you have placed a pre-order for a Z 9 camera with a retailer and not yet submitted your NPS Priority Purchase Delivery request, please do so immediately on your NPS dashboard.

Thanks for your continued trust and support of the Nikon Brand.

Happy Holidays!
It seems that Nikon recently changed the NPS camera requirements – they have now eliminated the D700 and D4 but not the D3x.
Here is the latest Nikon Z9 coverage:
→ The Glacier – Thomas Peschak's glacier expedition with the Z9.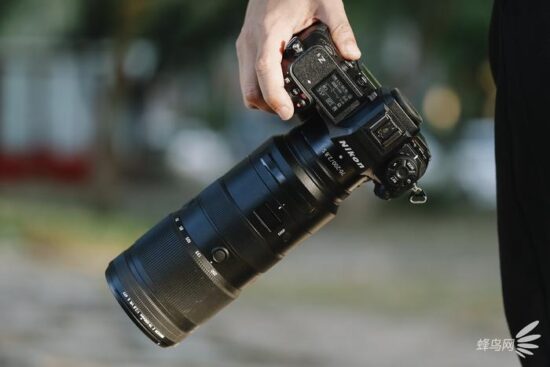 → Nikon Z9 review at Fengniao (translated).
→ Nikon Z9 First Real World Thoughts from a Concert: Jared Polin.
→ Nikon Z9 Wildlife Impressions: Libor Vaicenbacher.