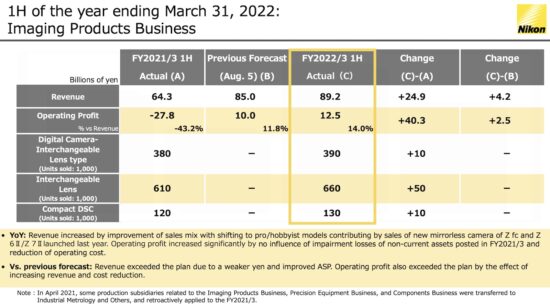 Today Nikon released their financial results for Q2 of the year ending March 2022. Here are the details for the Imaging Products Business:
YoY: Revenue increased by improvement of sales mix with shifting to pro/hobbyist models contributing by sales of new mirrorless camera of Z fc and Z 6Ⅱ/Z 7Ⅱlaunched last year. Operating profit increased significantly by no influence of impairment losses of non-current assets posted in FY2021/3 and reduction of operating cost.
Vs. previous forecast: Revenue exceeded the plan due to a weaker yen and improved ASP. Operating profit also exceeded the plan by the effect of increasing revenue and cost reduction.
Forecast for the year ending March 31, 2022 for the Imaging Products Business: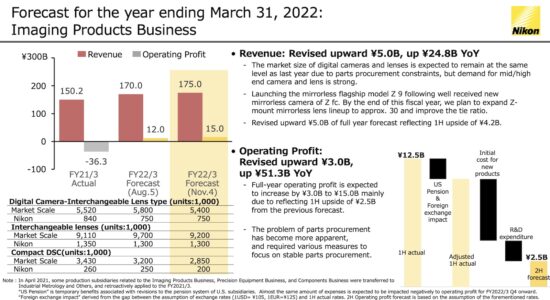 Nikon also announced two new revisions – if I read this correctly, both revisions are positive (earnings forecast revised upward due to strong Zfc camera sales):
The full Nikon reports can be found here.
Update: the video is now also available here.
Additional information by ZoetMB (¥=billion):
1st half Nikon Imaging:
Sales: ¥89.2b
Earnings: ¥12.5b
Margin: 14%
Bodies: 390,000
Lenses: 660,000
Compacts: 130,000
New full year projection:
Sales: ¥175b (up ¥5b from August estimate)
Earnings: ¥15b (up ¥3b)
Margin: 8.6% (up 1.5%)
Bodies: 750,000 (same as August estimate)
Lenses: 1,300,000 (same)
Compacts: 200,000 (down 50,000)
Nikon full year projection of total market size (Nikon's unit share)
Bodies: 5,400,000 (13.9%) (down 400,000 from August estimate)
Lenses: 9,200,000 (14.1%) (down 500,000)
Compacts: 2,850,000 (7.0%) (down 350,000)
Note that Canon has projected the body market at 6 million, but I believe those projections were for the calendar year, not Nikon's fiscal year, which starts and ends three months later.
Notes:
Nikon Imaging's profit in the fist half was ¥12.5b (14%). That's quite good for Nikon. But projected profits in the 2nd half drop to just ¥2.5b, resulting in a full year margin of 8.6%.
Nikon sold 390,000 bodies in the first half. But they only expect to sell 260,000 in the second half.
They sold 660,000 lenses in the first half, but they expect to sell 640,000 in the second half.
IMO, this implies that there will be no new bodies before the start of next fiscal on April 1, 2022.
Nikon Imaging's revenue now constitutes 33% of Nikon's overall. It was 37% last fiscal. Precision is now the largest, constituting 44% of revenue. It was 36% last fiscal.
Overall (all divisions), China is Nikon's #1 market with 35% of Nikon's revenue. It was 20% last fiscal. The U.S. has dropped to 22% from 28% last fiscal.
---

30% off Capture One products with code NIKONRUMORS
15% off Topaz Labs products with code RUMORS15
10% off ON1 products with code NIKONRUMORS
$10 off Skylum products with code NIKONRUMORS
30% off all DxO products
$60 off Topaz Labs Image Quality Bundle