Today Nikon released their financial results for the first quarter of the year ending March 2022 and the numbers are better than expected (click for larger view):
Increase in revenue in all segments
Imaging Products Business: increase ¥24.9B in revenue and ¥17.5B in profit
Significant recovery in sales unit of digital cameras
Strong mirrorless camera sales, revenues nearly doubled
Nikon also revised the revenue and profit upward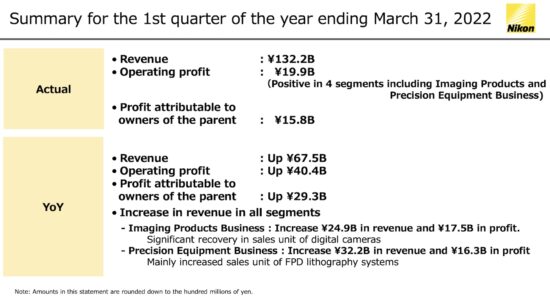 Here is the relevant data for the Imaging Products Business:
Q1 YoY: Increased revenue and operating profit
Mirrorless and high-priced interchangeable lenses have enjoyed strong sales on recovery in demand for cameras.
Higher ASP on further progress in shift to models for pro/hobbyists. Revenues nearly doubled, due in part to the weaker yen.
Q1 operating profit improved significantly YoY due to subdued sales expenses and deferred partial expenses to Q2 and beyond.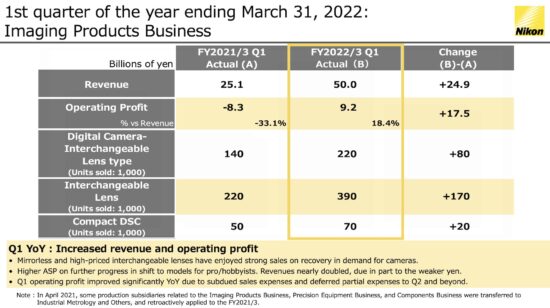 Forecast for the year ending March 31, 2022 for the Imaging Products Business:
Revenue: Surpassed by ¥19.8B YoY (Surpassed by ¥5.0B vs. previous forecast)
Operating Profit: Surpassed by ¥48.3B YoY (Surpassed by ¥7.0B vs. previous forecast)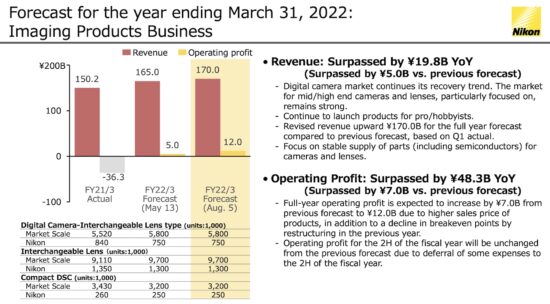 Other related news:
Source: Nikon
---
15% off Topaz Labs products with code RUMORS15
10% off ON1 products with code NIKONRUMORS
$10 off Skylum products with code NIKONRUMORS
10% off Capture One products with code NIKONRUMORS