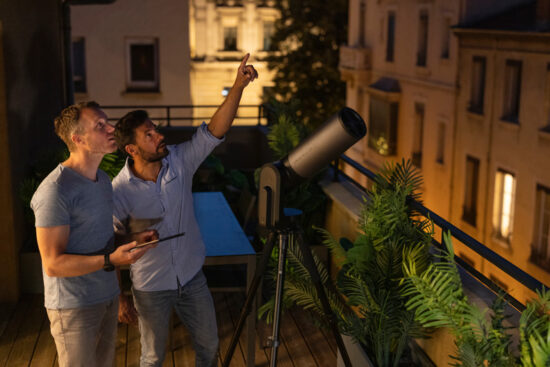 Nikon and Unistellar announced a master joint development agreement supporting digital astronomical telescope development with Nikon's optical technologies:
Nikon and Unistellar announce a master joint development agreement

July 8, 2021

Supporting digital astronomical telescope development with Nikon's optical technologies

TOKYO – Nikon Corporation (Nikon) has announced a master joint development agreement with Unistellar SAS, France (CEO: Laurent Marfisi, hereinafter Unistellar), a company that handles telescopes for the consumer digital astronomical telescope field.

Unistellar was established in 2015 with the aim of developing, manufacturing and marketing consumer digital astronomical telescopes. Unistellar's telescopes can determine the user's observation position utilizing GPS, and are equipped with Autonomous Field Detection technology that can automatically point at the targeted celestial objects by comparing them in the viewfield with a built-in coordinate database. This technology, which eliminates the time spent searching for celestial targets, and a dedicated app for smart devices, make it much easier for people without specialized knowledge to use a telescope intuitively and perform astronomical observation.

In addition, by enabling image processing during observation based on Enhanced Vision technology, clear viewing is realized even in areas such as cities where the night sky is bright and greatly affected by light pollution. Allowing galaxies, nebulae and comets to be observed in vivid colors brings excitement for observers, including children.
Via the dedicated app, the user can communicate with astronomers around the world interactively, and share observed data, which has recently led to remarkable contributions to cutting-edge research by general citizen scientists.

Nikon first released an astronomical telescope in 1920. Since then, it has manufactured various astronomical telescopes from small-diameter models to large-scale equipment installed at observatories, to optical systems equipped on satellites. In this way, Nikon has been widely supporting the development of astronomy, from that of astronomy enthusiasts and educational facilities to advanced academic research. Currently, Nikon does not manufacture or sell astronomical telescopes, but contributes to comfortable astronomical observation by offering products with superior optical performance such as the NAV-HW series of astronomical eyepieces that feature a super-wide field of view and WX series binoculars that are ideal for astronomical observation.

This agreement and the products that will stem from it are aimed at contributing to the advancement of science through delivering the excitement of astronomical observation and enhancing interest in the universe by combining the technologies and know-how of both companies.

Nikon is taking advantage of its extensive range of optical technologies and knowledge to provide innovative solutions in the astronomical observation field for consumers together with Unistellar, which is generating remarkable growth.
As well as this, through further utilizing Nikon's technologies and collaboration with other companies that are creating major advances, Nikon continues to move toward the realization of a sustainable society by contributing to the ongoing development of science technologies.
---
15% off Topaz Labs products with code RUMORS15
30% off ON1 products with code NIKONRUMORS
$10 off Luminar with code NIKONRUMORS
10% off Capture One products with code NIKONRUMORS
10% off Viltrox lenses with code NIKONRUMORS
30% off Nik Collection (no code needed)