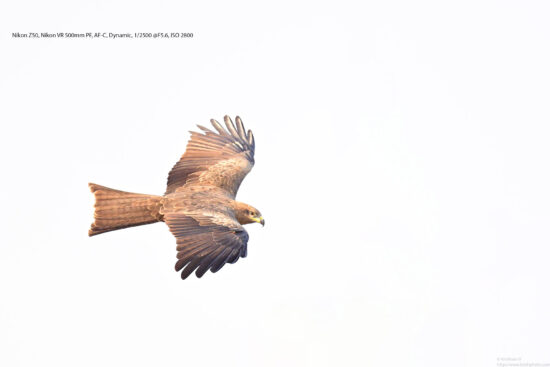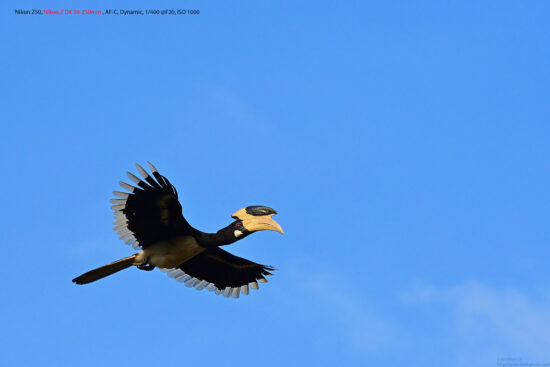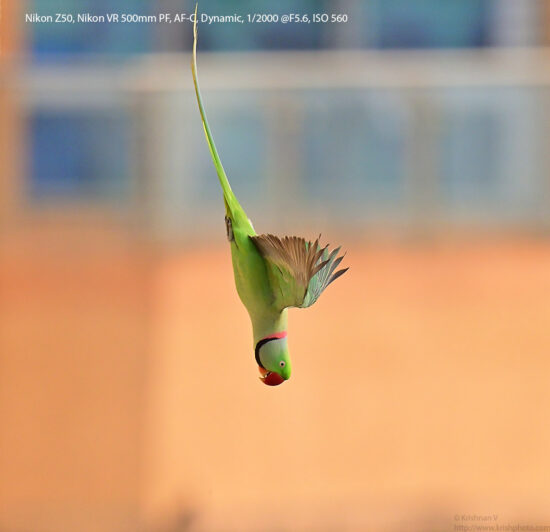 Shooting Birds In Flight (BIF) from a balcony during the quarantine with the Nikon Z50 by Krishnan Venkitachalam:
My casual shooting camera a Sony RX100 ver 1 had gone bust a few months ago. I was looking for a replacement for my Sony which has served me well for over nine years. Initially I had thought another RX100 (RX100 VII specifically) but I discovered that the cost was similar to the Nikon Z50. The Z50 is a bit larger in size but still is compact enough with the kit lens. I thought I'd give it a try. Then there is this flexibility of changing lenses which is not there with the RX100. I decided on the Z50.
We have been in lock down from the day I got my Nikon Z50. So the only option was to shoot whatever one gets from the balcony, on a 20 something floor! There are a few wild urban Alexandrine parakeets that fly about and perch on some of the nearby wires. They make a racket and are good fun to watch. I thought I'd challenge myself to come up with shots from my balcony which is something I have been doing for a few years now. But this time I set myself a new challenge, that is to shoot birds in flight (BIF) on the Z50 from my balcony. There are buildings all around but there are also a few gaps between buildings with trees. Trick would be to snag shots in these gaps. Quite an unpredictable thing, but a fun challenge nevertheless, especially when one is in quarantine and a citywide lockdown.
Them parakeets and mynahs are fast birds. One has to have quick reflexes and also a lot of practice to keep the birds in the frame. Then some more practice to keep them in and around the focus box! My plan was to nail some fast parakeets and trying various AF options using the slowish 200-500 and the kit lens Z50-250mm. All handheld. Then I also got my hands on a 500mm PF – some shots from that lens too.
I did also try a 600mm FL with the Z50. What I felt was its doable but, yep a big but. The AF was sluggish with my 60mmFL. The reason is that the Z50 does not have enough "juice" to move the AF motor on the 600mm fast enough through a larger distance. If the focus is close as in already near that distance, it's not too bad.
Quick, clean target lineup and keeping the AF point on subject is the key. Lens set to 6m-infinity on the 200-500mm.
AF settings that work for me for BIF is:
AF-C
Dynamic Area
Live viewfinder update custom d7 set to OFF,
AF ON only on back button ( A3 – AF ON Only),
Burst mode set to H*.
Lens set to 6m-Infinity. (200-500 mm lens)
VR set to "sport"  on the 200-500mm lens.
The Wide Area S and  L for me were not as good as the bird was much smaller in the box and the focus went anywhere but where I wanted. It's a slow combo for BIF, but with practice I seem to be getting better at nailing a few. Waking up the camera is a new shooting habit to build in.
With practice and correct AF settings is doable for fast birds, but not optimal for unpredictable movement of birds. But, if you can nail shots with the Z50, the hit rate with a D500 or an DSLR combo would be much higher!
I've now updated to the new firmware 2.0 and can confirm that it has definitely improved tracking. Also the Wide Area seems to be working better too. Another thing I noticed, switching off VR when in high shutter speeds helps with sharpness of the shot. Use Wide area when the target is large in the focus box.
Firmware 2.0
Full frame sequence to show the AF point location in each frame of the burst.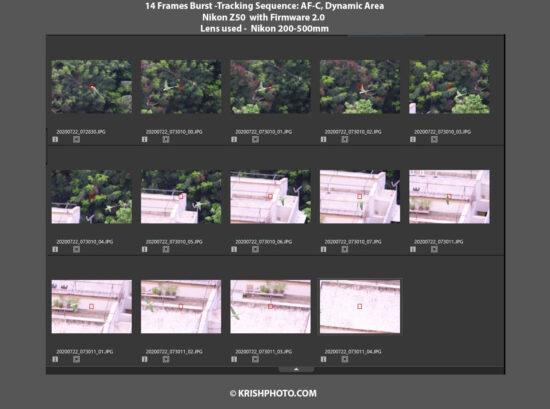 Cropped the same frames to show that the bird is sharp in the burst.


The one thing I would like to see added on a future firmware update is the same as on the D500 custom settings, the "a3-Focus Tracking with Lock-On". That could  potentially help improve AF accuracy depending on situations for BIF & other fast action shots.( Ref  D500 AF Tips document from Nikon )
The biggie that needs getting used to is waking the viewfinder in time. The other aspect is that keeping the viewfinder powered on for long chews up battery. And bird tracking and given their unpredictable flight from a perch, means more viewfinder on and hence more battery consumption.
That said, I did figure a bit of bird behavior to help me with this. Preening bird usually wont take off in a hurry unless disturbed. Watch for the poop, usually happens when it lightens itself before taking off. I also started to watch for the calls. Sometimes there is a quick set of sharp calls by the parakeet,  just before takeoff from the perch.
I also saw some interesting interactions. Especially between crows and parakeets and also, crows and black kites. The crows are the local thugs and guard their space passionately and tend to chase off anything that encroaches their turf: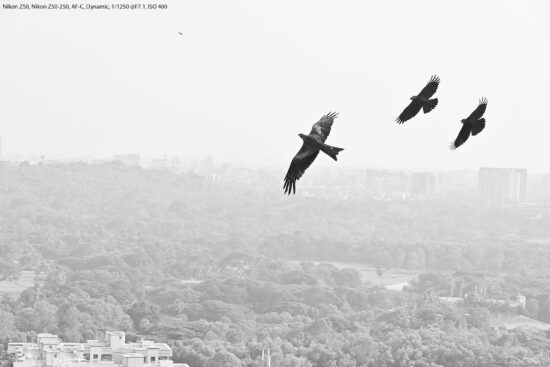 With practice and correct AF knowledge and settings, the Nikon Z50 is very usable for BIF ! Don't forget to carry extra batts in the field.
The Z50 is a capable nifty camera and has grown on me 🙂
If you have an interesting idea for a guest post, you can contact me here.