Capture One will increase their prices on January 11, 2021 (you can still make a purchase and lock in the old prices):
"At Capture One, we're dedicated to shaping the future of photography. After reviewing our products and plans for future innovation, we'll soon be updating the price of select products. For example, we'll be updating the price of Capture One for Fujifilm, Capture One (for Sony) and Capture One for Nikon to bring them in line with Capture One Pro. This is to better reflect that these products equally offer the same set of professional tools and features. We'll also increase activations to 2 per license for these products. The price updates take effect on January 11, 2021. Existing subscription plans will not be affected by these changes. New customers – and customers seeking to upgrade their license – can still purchase their preferred product or upgrade at the 2020 price before January 11."


The price increase will also impact the Capture One version for Nikon:
C1 for Nikon perpetual version: from $129 to $149
C1 for Nikon monthly subscription: from $9,99 to $19
Here are the new prices that will kick in on January 11th:
Product
Payment type
USD
EUR
GBP
Capture One
for
Fujifilm
Nikon
Sony
New perpetual license
USD 199
EUR 229
GBP 199
Perpetual upgrade from version 20
USD 149
EUR 169
GBP 149
Perpetual upgrade from older version
USD 149
EUR 169
GBP 149
Annual prepaid subscription
USD 149
EUR 169
GBP 149
Monthly (month to month) subscription
USD 19
EUR 23
GBP 19
Annual monthly subscription
USD 14
EUR 18
GBP 14
Capture One Pro
Capture One Pro Perpetual upgrade from version 20
USD 199
EUR 209
GBP 199
For reference, here are the current Capture One prices (click for larger view):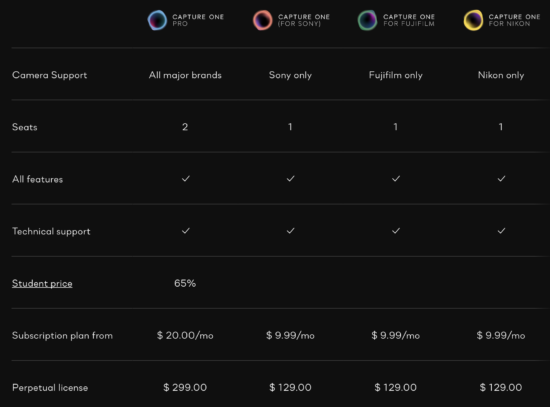 A 30-day fully-featured free trial of Capture One 21 is available here. Capture One learning videos can be found here.
Via PhotoRumors