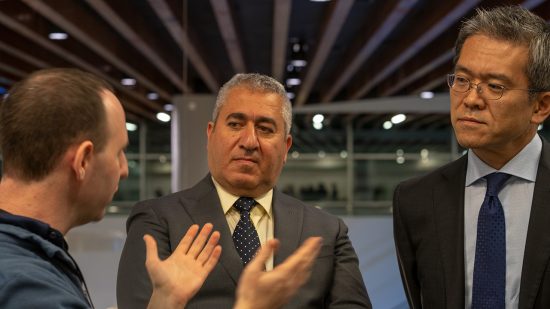 Lensvid published their interview with Nikon – nothing interesting to report, just plain vanilla answers. Nikon did not even want to do a video interview in order to have a full control of the answers given. Here are some of the Q&A:
Q: In more detail, how did this affect Nikon specifically and what have you been doing as a company to stay relevant and profitable given this change (restructuring, changing focus etc.)?

A: We expect the still camera market will decline, and we always keep this situation in mind as we develop our business. However, there is still a demand for still photography and video that smartphones simply cannot meet. Those demands are particularly strong in the mid and high-level segments. We can see there is a huge potential here and we're increasing our focus in that area. Furthermore, as we have announced, we have changed our company structure in line with this trend.

Q: Looking forward, do you have an estimate on when the decline in camera purchases will stop and does this leave a big enough market for all the major players to work with, especially given the high R&D costs associated with developing new camera technologies?

A: It's difficult to anticipate the timing and market size in future, however, we predict that the enthusiast and professional market won't disappear. We will continue to develop new innovative products and by using technologies from high-end products within others, for example, we can reduce R&D costs.

Q: Let's talk a bit about technology and your products. You recently released your new D6 flagship camera which received quite a bit for criticism online for not being innovative enough (especially compared to the competition like the A9 II and the EOS 1D-X III). Maybe if your intention was only to do an evolutionary upgrade, naming the camera D5S would have made more sense (just like you have done in the past) and not bring in so much fire?

A: We only make a major model number update when the performance has greatly improved. The D6 has the best AF system among Nikon cameras. Furthermore, the image processing engine and operability have been updated and new connectivity functions like Wi-Fi and GPS have been newly added. Considering the many updates, we decided to name this camera the D6. The D6 has a high reputation especially among sports, wildlife, and press photographers because of its improved speed and AF precision powered by the new AF system.
Also, an interesting comment from Lesnvid:
"In our face to face meeting with Mr. Naoki, we did learn one surprising thing. We tried to understand why Nikon did not include the same Live View AF system included in the D780 (which supposedly originated from the Z6/Z7 cameras). The answer that we got was that since the D6 are aimed (at least partially) at pro-level sports photographers (think Olympics coverage) there are some regulations and broadcast rights that have to do with stills and video coverage (i.e. a stills photographer working for an agency might not have the rights to shoot video at the event)."