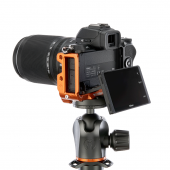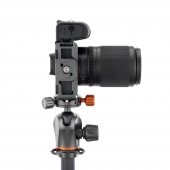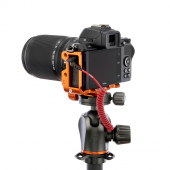 3 Legged Thing announced new dedicated L-brackets, Zayla & Zayla PD, designed specifically for the Nikon Z50 mirrorless camera, and with Arca Swiss & Peak Design Capture V3 compatibility. All four models are now in stock at B&H.
Press release:
Award-winning British Tripod manufacturer 3 Legged Thing announces its innovative, new dedicated L-brackets, Zayla & Zayla PD, designed specifically for the Nikon Z 50, and with Arca Swiss & Peak Design® Capture V3 compatibility.
STAGSDEN, England (PRWEB)February 11, 2020
Continuing their collaborative association with Nikon, 3 Legged Thing are excited to announce Zayla and Zayla PD, two brand new dedicated L-brackets. They have been designed to precisely fit the contours of Nikon's new Z 50 camera.
Zayla has a standard Arca Swiss plate profile, making it compatible with a broad range of supports. Zayla PD features a footing on the horizontal aspect which enables it to slot into Peak Design® V3 Capture clips in 4 directions, and also fits Arca Swiss clamps on both horizontal and vertical aspects.
3 Legged Thing Founder and CEO, Danny Lenihan commented: "When Nikon first announced the Z 50, we were excited about the prospect of again working in collaboration with one of the world's most recognised brand names, to create an L-Bracket dedicated to the camera. It's a huge honour for us to be given the opportunity to work on the Z 50, and create this essential accessory before the product was even launched, and is testament to the incredible impact of our Zelda Bracket for the Z 6 and Z 7."
Precision milled from a single block of aircraft-grade magnesium alloy, Zayla and Zayla PD fit the Z 50 body perfectly, giving full access to the battery door, memory card slot, and side ports with the bracket in place.
Both L-brackets attach to the camera using a ¼"-20 stainless steel Stagsden camera screw. The L-brackets feature locator tabs which fit snugly around the base of the camera to prevent any twisting once the camera is secured to the bracket. For additional security when attached to a tripod, both brackets have security screws.
The vertical aspect of both Zayla system L-brackets include two ¼"-20 female threads which enable the attachment of screw-in straps, or accessory arms. This will prove particularly useful for film makers or vloggers who may wish to add an external microphone, light, or video monitor to their setup.
There are also ¼"-20 screw mounts in the base of both Zayla and Zayla PD which can be used for the attachment of screw-in straps. For users of traditional strap systems, the L-brackets feature a strap slot on one end of the base and give clear access to the camera strap lugs on both sides.
Commenting on the collaboration Nikon UK Marketing Director, Jeremy Gilbert, writes: "Zayla is a great addition to the range of dedicated L brackets made specifically to fit Nikon Cameras. As always 3 Legged Thing have taken great pride in their work and the attention to detail in both the product and packaging is testimony to this. If you own or are considering a Nikon Z 50, Zayla would make an excellent addition to your system."
Zayla and Zayla PD will be available in two colourways – Copper (orange) or Metallic Slate (grey).
ZAYLA is available immediately via all good camera retailers, or direct from 3 Legged Thing's website. ZAYLA PD can be pre-ordered now and will be available later in March 2020.
Suggested retail prices are £79.99 / US $89.99 for ZAYLA, and £89.99 / US $99.99 for ZAYLA PD.