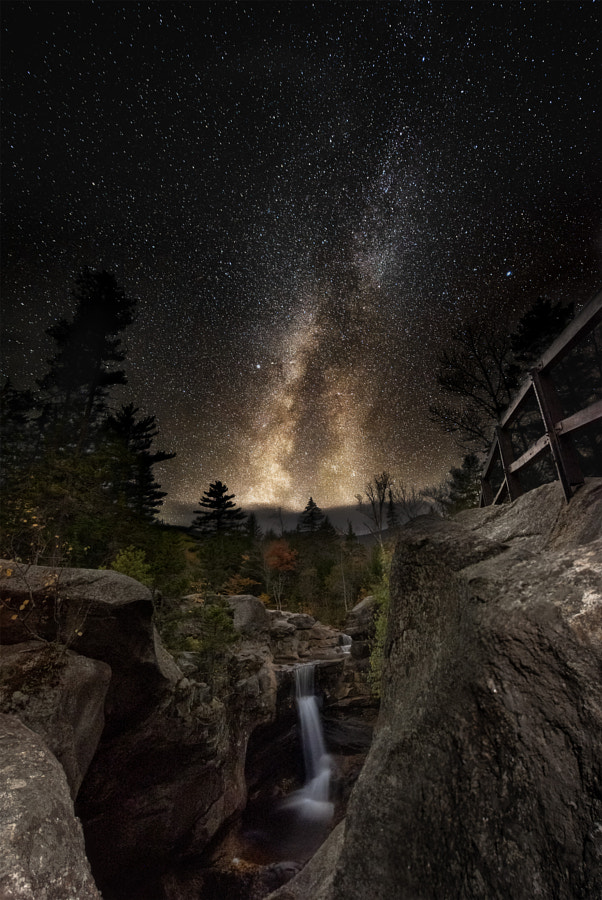 Topaz Labs DeNoise AI review by Jonathan Zdziarski (500px) – see the original blog post for more sample photos (DeNoise AI coupon code is available here):
Topaz Labs recently released DeNoise AI, a noise reduction tool for photographers, and so naturally I picked up a copy after reading about a sale on Nikon Rumors. After seeing the results turn out so good, I needed to take some time to talk about this tool. Noise reduction has been the bane of my existence ever since I started astrophotography. My wife and I have been chasing the Northern Lights for several years now, and trying to clean up our shots has always been a challenge. I'll show you some comparisons to other NR techniques I've used in this post. You'll want to click on the images to zoom in so you can see the dramatic difference this tool makes.
DeNoise AI claims to use machine learning as a means of identifying noise. They trained the software with several million images containing noise, along with several million clean images. Depending on which ML model they used, DeNoise AI likely developed a pattern recognition model based on neural nets or probabilistic models based on Bayes or Markov. It appears to use OpenCV's ML library. In the end, DeNoise is probably a sophisticated pattern recognizer that associates noisy inputs with the most "learned" clean output, then maps the color back in. I've got somewhat of an ML background, and other than the use of "AI", the product literature seems to describe a pretty straightforward, but novel approach to ML. It at least passes the sniff test.
A lot of eye rolling comes when terms like Artificial Intelligence or Machine Learning are used. To prevent abuse of these phrases, I recommend following Hannah Fry's litmus test, from her book, Hello World: Being Human in the Age of Algorithms:
The helpfulness of algorithms varies drastically. So how can you tell the bad from the good? There's a quick trick I use to weed out suspicious examples. I call it the Magic Test. Whenever you see a story about an algorithm, replace buzzwords like "machine learning," "artificial intelligence" and "neural network" with the word "magic." Does everything still make grammatical sense? Is any of the meaning lost? If not, I'd be worried that something smells like bull—. Because I'm afraid—long into the foreseeable future—we're not going to "solve world hunger with magic" or "use magic to write the perfect screenplay" any more than we are with AI.

Hannah Fry
OK, so maybe that's a little too serious for noise reduction software, but you get the idea. After spending a couple days pixel peeping with DeNoise AI, it does indeed feel magic – but in a very good way! DeNoise AI outperforms Nik Dfine and Photoshop's own noise reduction algorithms by a huge margin.
The above is a 100% crop of an image I shot in Iceland at ISO 1600. You don't have to click on the image to see how grainy it is. First, let's take a look at how Photoshop's own noise reduction algorithm performed.
Photoshop's NR performed the worst by far, even on full strength. Not only did it leave a lot of grain in the sky, but the NR it applied to the lights near the bridge introduced banding artifacts, further degrading the quality of the image. You'd have to add more grain to get rid of these, which defeats the purpose of noise reduction in the first place. Banding tends to happen when using too heavy sharpening and/or noise reduction. You can fix this by using the Spatter filter on 25, and lightly paint noise onto your image in a separate layer at around 20-30%. But I'd sure prefer not to have to.
Next up is Nik Dfine, part of DxO's Nik Collection.
Dfine made a "good effort" to reduce the noise in the sky, but didn't get all of it, in fact it turned the noise into a not-so-desirable pattern that tends to show up in printed photos, or amplified after additional effects are applied. It also left noise in the mountains by the bridge, and seems to have banded a bit as well. Dfine also added noticeable blur to the mountains, the lights, and especially the bridge; details I wanted to keep. Dfine feels like it did more blurring than it did noise reduction.
Now, take a look at DeNoise AI.
Yeah, my response on first glance was an expletive too. Look at that! All the noise in the sky has been removed, and there's no banding either – transitions are soft and gradual like just like it would have been at base ISO. But on top of that, look at the sharpness of the snow on the mountains, and the bridge. It's much sharper than Nik Dfine, yet the bursts of light are almost completely smooth, noise free, and banding free. Colors transition cleanly into each other, as your eye perceives them to. There may be some spots of the image I'd want to mask off and introduce a little more grain into, which seems similar to the "restore original detail" slider in DeNoise AI to apply it to the whole photo.
In addition to Photoshop and Dfine, I've used DxO PhotoLab's "Prime" NR, Noise Ninja, the original Topaz DeNoise, and a few others. DeNoise AI is by far the best performing noise reduction software I've used. There are several photos I haven't been able to print, or even use, due to the inability to clean up the noise to my satisfaction. This is a game changer.
Here's another example of the dramatic improvement DeNoise AI makes in typical astrophotography.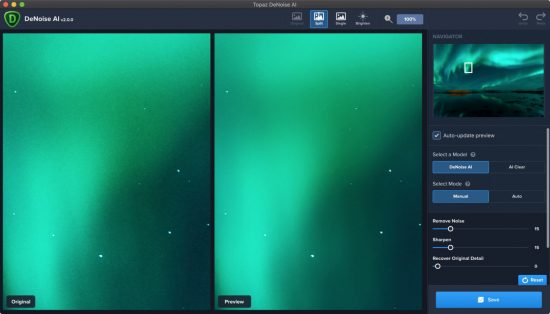 The Aurora has been smoothed out into a natural gradient with clean transitions between colors. Instead of giving me some choppy banded version, or killing the delicate balance of colors, it gave me a nice creamy Aurora with well defined stars. If you shoot night or action photography at high ISO, drop what you are doing and go buy this software.
Astrophotographers will find this tool invaluable, but it's also excellent with daytime photography as well. And it's not just effective at reducing noise, but also has a sharpening feature. Watch below how DeNoise AI not only cleans up, but sharpens an older photo I took some years ago.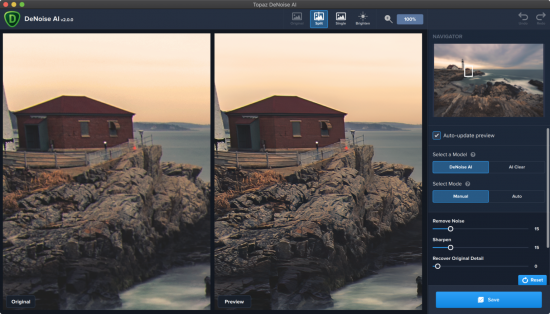 It slices! It dices! It sharpens! But wait. There's more. Not only does it sharpen, but apparently also somewhere baked into its logic, it knows how to remove chromatic aberrations. Photoshop does this too, but it's kind of interesting to see this coming out of a piece of noise reduction software. Watch the red and green fringing almost disappear in the sample below.

Topaz recommends you apply DeNoise AI as early on as possible in your workflow, but I've found it works just as well in photos I've already processed. Watch how DeNoise AI cleans up waterfalls, after post-processing. It also removes CA that I didn't even notice before.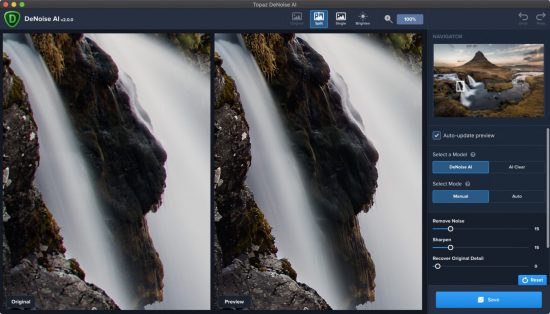 Oh my God, I'm in love.
As one final example, DeNoise AI has been great at helping to clean up old problem photos, like this one from many years ago when I was first starting out at photography, and went through a dramatic "Detail Extractor all the things" phase. DeNoise AI smoothed out all the awful pixel noise created by over-processing, giving me a usable and printable photo.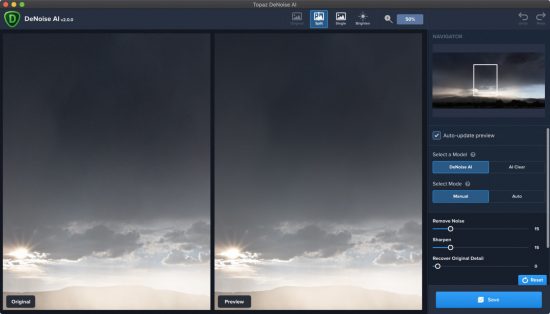 DeNoise AI is not without flaws. I've had a few photos turn out with noticeably different NR patterns across a common surface. For example, the wood planks on the side of a house.
Going all the way back to raw seems to have fixed it in this case. I've also had some experiences where the ML has just completely failed and produced strange purple artifacts seemingly out of thin air. In those cases, a bit of blending or masking in Photoshop can help get rid of most of the weirdness when it happens. It also, understandably, can't tell the difference between noise and sand or snow, so unless you want to lose the ultra-fine details in those, you'll want to either turn up "Recover Original Detail" or mask whatever other part of the photo needs noise reduction. You might also operate on a low frequency layer, to avoid the NR from affecting your detail at all. In other words, it's not always a one-stop "Instagram filter", you should expect to do a little work if your goal is to produce professional looking photography.
DeNoise AI is a clear winner in my book, but let me caution you that doesn't necessarily mean all of Topaz' AI products are. I also tested Sharpen AI, which has proven almost completely useless, and didn't live up to its marketing hype. It made virtually no difference in sharpening, stabilizing, or correcting focus on any of the photos I've tested – I have sent some samples to, and am working with Topaz Labs to try and figure out why. While Sharpen still needs work, DeNoise AI's own sharpening capabilities have been quite impressive, so there's not really much need for another sharpening tool beyond what you can already do with Camera Raw.
DeNoise AI should be useful for any serious photographer who's ever needed to clean up and sharpen photos. I wouldn't be writing about it if it wasn't truly in a class of its own. Casual photographers are likely to even benefit by cleaning up their old vacation photos. For less than $100 bucks, this is one fantastic tool. DeNoise AI will make you want to reprocess your entire portfolio. I've already started.
---
Topaz Labs has a new version of DeNoise AI with added batch processing and a new chroma noise reduction slider. The new version is now on sale for $59.99 (regular price: $79.99). You can get an additional 15% off with coupon code "BATCH15" (final price: $50.99). This offer is valid from Friday, January 24 through Friday, February 7.