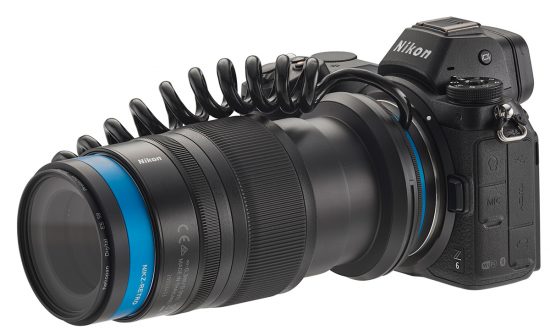 In addition to the new bellows for Nikon Z, Novoflex also announced a new NIKZ-RETRO automatic reverse adapter for Nikon Z cameras:
Products for close-up and macro photography are a specialty of NOVOFLEX and enjoy an excellent reputation in the photographic world. The Memmingen based company is now adding four new automatic reverse adapters for the camera systems Canon EOS-R, Fujifilm X, L-Mount (Leica, Panasonic, Sigma) and Nikon Z to complement its extensive assortment.

Already with the kit lenses in retro position the new reverse adap- ters enable an easy access to the fascinating world of macro pho- tography. In fact, the achievable reproduction scale is larger than in case of most of the significantly more expensive macro lenses. The reverse adapters are compatible for all prime lenses and nearly every zoom lens. Recommended are zoom lenses in the lower focal length segment. The huge number of compatible lenses as well as the use of a bellow, offer a manifold combination potential.

The new adapters transfer all control features between camera and lens. As standard they are supplied with a 58 mm filter thread. Appropriate lens adapters are available for lenses with filter diameters from 37 mm to 82 mm. In order to protect the sensitive rear lens element NOVOFLEX supplies a high-quality, multi-layered protection filter "Made in Germany" from the manufacturer Heliopan.

General advantages at a glance:

small and light-weight
all functions of the lens remain unchanged • multi-purpose combination possibilities

Advantages over macro lenses:

greater image scales
inexpensive solution

Advantages over extension tubes:

lighter and smaller
gapless transition from normal to extreme image scales

Advantages over close-up lenses:

remarkably higher image scales
greater versatility in terms of image scales

Order codes:

Canon EOS-R: EOSR-RETRO
Fujifilm X: FUX-RETRO
L-Mount: LET-RETRO
Nikon Z: NIKZ-RETRO
For US pricing and availability check Adorama, B&H and Amazon. Shipping should start in September.