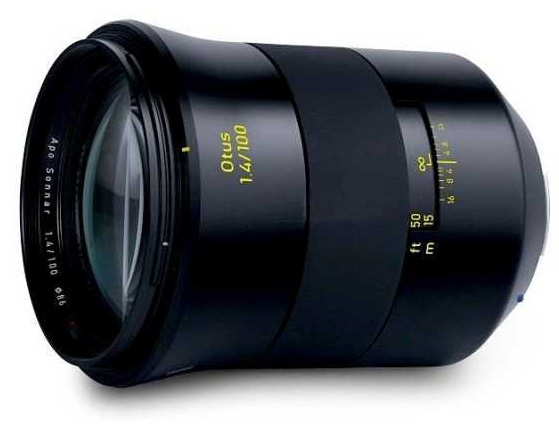 The previously rumored Zeiss Otus 100mm f/1.4 full-frame manual focus DSLR lens (1.4/100) is now officially announced (check pricing and availability at Adorama, B&H and Amazon):
Mount: ZE (for Canon EF), ZF.2 (for Nikon F)
Lens constitution: 11 groups 14 pieces
Minimum shooting distance: 1.0 m
APO Sonnar lens design
Maximum shooting magnification: 1: 8.6
Filter diameter: 86 mm
Maximum diameter: 100.7 mm
Focus ring diameter: 90.0 mm
Total length (including the lens cap): ZE: 152.3 mm ZF. 2: 150.1 mm
Total length (excluding the lens cap): ZE: 128.8 mm ZF. 2: 126.5 mm
Weight: ZE: 1405g ZF. 2: 1336g
US Price of the lens will be $4,990
Sample photos can be downloaded here
Technical specifications:
Performance
Focal length
100 mm
Aperture range
f/1.4 – f/16
Camera mount
Canon EF-Mount* (ZE) | Nikon F-Mount* (ZF.2)
Format compatibility
Full Frame
Focusing range
1,0 m (39.4″) – ∞
Free working distance
0,83 m (32.7″) – ∞
Angular field** (diag. | horiz. | vert.)
24° / 20° / 14°
Diameter of image field
43 mm (1.69″)
Coverage at close range (MOD)**
206 x 309 mm (8.11 x 12.17″)
Image ratio at minimum object distance
1 : 8.6
Lens elements | groups
14 / 11
Flange focal distance
ZE: 44 mm (1.73″) | ZF.2: 47 mm (1.83″)
Entrance pupil position (front of image plane)
35 mm (1.38″)
Features
Autofocus
–
Image Stabilization
–
Physical
Filter thread
M86 x 1.00
Rotation angle of focusing ring
315°
Diameter max.
ZE: 101 mm (3.96″) | ZF.2: 101 mm (3.96")
Diameter of focusing ring
ZE: 90 mm (3.54″) | ZF.2: 90 mm (3.54″)
Length (with lens caps)
ZE: 152 mm (6.00″) | ZF.2: 150,1 mm (5.91″)
Length (without lens caps)
ZE: 129 mm (5.07″) | ZF.2: 127 mm (4.98″)
Weight
ZE: 1405 g (3.10 lbs) | ZF.2: 1336 g (2.95 lbs)
Lens design: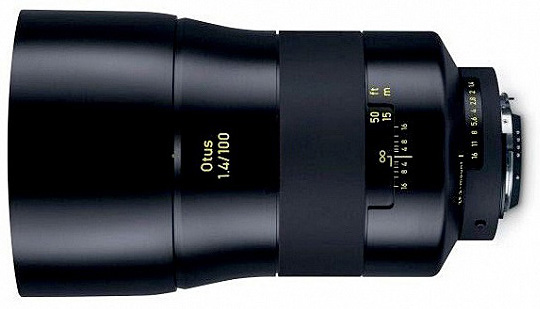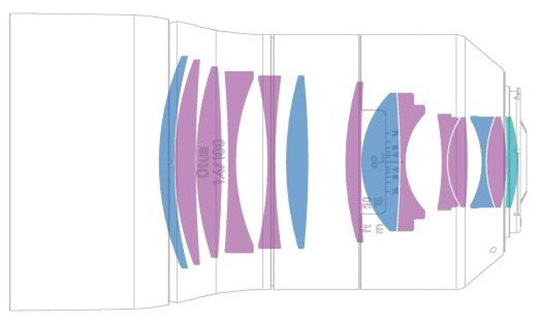 MTF charts (click for larger view):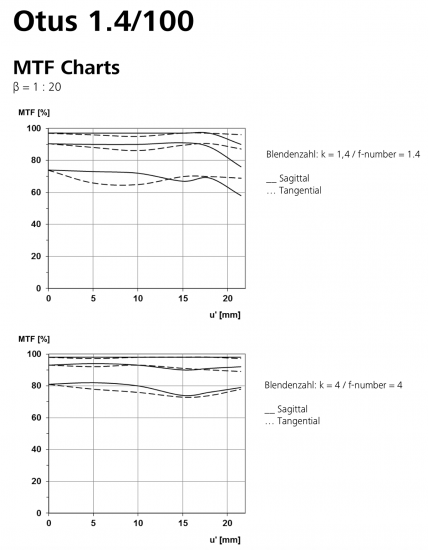 Additional pictures of the Zeiss Otus 100mm f/1.4 full frame DSLR lens:
All four Zeiss Otus lenses: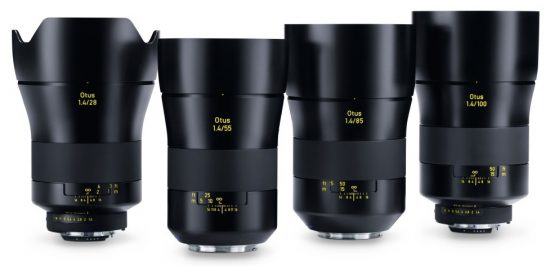 Press release:
New ZEISS Otus 1.4/100 DSLR Lens for the Most Demanding Applications
ZEISS adds a tele focal length to its line of lenses for full-frame DSLR cameras from Canon or Nikon
OBERKOCHEN/Germany, 2019-04-24.
With the ZEISS Otus 1.4/100, ZEISS is expanding its lens family for Canon1)– and Nikon1)-photographers who do not want to make any compromises concerning image and build quality. Whether in the studio or on-the-go, for portrait or product photography, the tele focal length delivers high resolution and outstanding definition in any situation – even at maximum aperture. This high-speed lens clearly sets the subject apart from the background. The exceptional level of detail and harmonic bokeh ensure the "3D pop effect", ZEISS lenses are known for.
Achieving the outstanding image quality of medium format cameras
"The extremely high imaging performance and reliable production quality set the ZEISS Otus 1.4/100 apart in this class of lenses," says Björn Pados, Product Manager for ZEISS Camera Lenses. "ZEISS' comprehensive expertise and many years of experience went into developing the lens. The images captured with a ZEISS Otus lens in combination with a high-resolution, full-frame DSLR camera are on par with those created using a medium format system."
The lens design, with aspheric lenses and special glass materials keeps chromatic aberrations and distortion to a minimum. Even when shooting against the light, the T* anti-reflective coating developed by ZEISS allows for extremely high contrast and minimizes stray light.
Robust and reliable
The ZEISS Otus 1.4/100 also features impressive production quality and ergonomics: the extended rotation angle and smooth operation of mechanical components enable highly precise manual focusing. The stable full-metal housing with internal focusing ensures a consistent center of gravity and optimum balance when taking photographs. "This makes the ZEISS Otus 1.4/100 well-suited for the rough conditions a professional photographer faces, and its high-quality mechanical design ensures it will last for a long time," adds Pados.
The ZEISS Otus lens series
The ZEISS Otus lens series was developed for professional photographers who expect unrestricted edge-to-edge image quality that extends across the entire aperture range. ZEISS launched its high-end SLR lens family back in 2013 with the release of the ZEISS Otus 1.4/55. This series continued with the addition of a short tele lens, the ZEISS Otus 1.4/85, in 2014. The ZEISS Otus 1.4/28 wide-angle lens followed in 2015.
Price and availability
Global delivery for the ZEISS Otus 1.4/100 will begin immediately, with a sales price of 4,500 Euros (incl. German VAT) or 4,500 US$ (excl. local taxes). A lens shade and protective caps for the front and back lenses are included.
Zeiss currently has three Otus f/1.4 lenses for Nikon F-mount priced between $4k-$5k: 28mm, 55mm and 85mm. You can save over $3,000 if you purchase them together with this Zeiss Otus set: