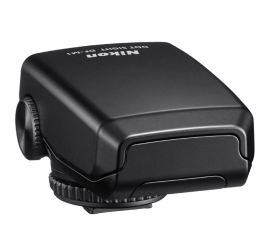 The new Nikon DF-M1 dot sight for use with the COOLPIX P1000 camera for easier acquisition of distant subjects is now in stock:
Nikon DF-M1 has a folding design and attaches to the camera's hot shoe. It has selectable red/green dot color and adjustable brightness. Here is the description from Nikon's website:
"The DF-M1 Dot Sight is designed to be used with select Nikon cameras. When attached to the camera's hot-shoe, it assists you in acquiring distant subjects by acting as a zoomed-out targeting device. Just line up the subject in the Dot Sight at a normal field of view to easily track it at extreme magnifications."
---
Like: Nikon P1000 Facebook page | Join: Nikon P1000 Facebook group
P1000 now in stock: Adorama | B&H | Amazon | WEX | Park Camera