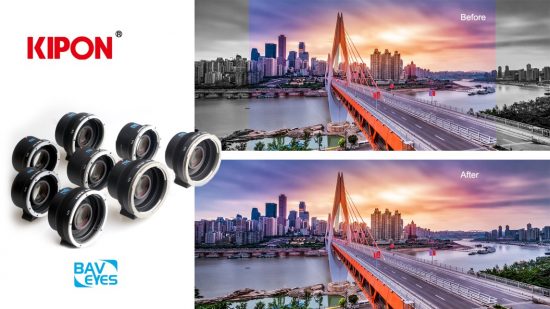 Back in October I reported that Kipon is working on new tilt-shift and focal reducer lines for the Nikon Z mirrorless system. Today Kipon announced 8 different models Baveyes/focal reducers for new Nikon Z-mount:
Baveyes Pentax645-Nikon Z 0.7x
Baveyes Pentax67-Nikon Z 0.7x
Baveyes MAMIYA645-Nikon Z 0.7x
Baveyes Hasselblad V-Nikon Z 0.7x
Baveyes Hasselblad V-EOS R 0.7x
Baveyes MAMIYA645-EOS R 0.7x
Baveyes Pentax67-EOS R 0.7x
Baveyes Pentax645-EOS R 0.7x
The new adapters are already listed for sale at Adorama, eBay and Amazon Japan (Amazon US should get them shortly).
Additional pictures, MTF charts and press release:
KIPON start to deliver 8 models new Baveyes/focal reducer for new Nikon Z mount &Canon R mount cameras-KIPON adapter

KIPON Baveyes introduces a lineup of the world's first lens adapters that bring the famous medium format optics to Sony E, Leica SL and Leica M ,Nikon Z, Canon R 35mm full frame cameras, virtually eliminating any crop factor image loss and maintaining diagonal angle of view.

The transformation results in a 0.7x factor to theoriginal lens focal length with a gain of one stop in lens speed. Foremost in the advanced adapters, is the custom designed five element multicoated formula by German optics research institution, with the ability to use full frame SLR lenses on crop sensor camera bodies and mirrorless cameras.

Many medium format lenses are legendary for contrast, flare resistance, color saturation, bokeh and are in a class of theirown compared to even the best 35mm format glass. And the Sony, Leica ,Nikon, Canon image sensors, in the heart of their robust camera bodies, give new life to these medium format legendary lenses.

The retailer price for these optic focal reducer is 695USD.