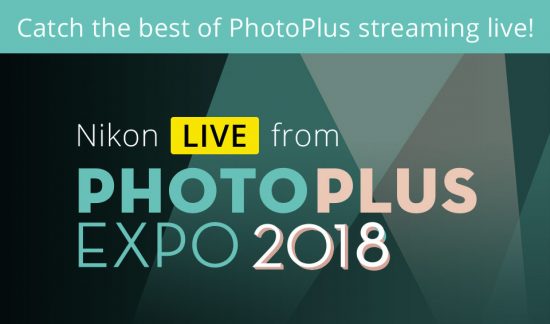 Nikon will be live streaming their 2018 PhotoPlus Expo presentations. Here is the full schedule:
Thursday, October 25th | 10:15AM – 5:00PM EDT
Friday, October 26th | 10:15AM – 5:00PM EDT
Saturday, October 27th | 10:15AM – 4:00PM EDT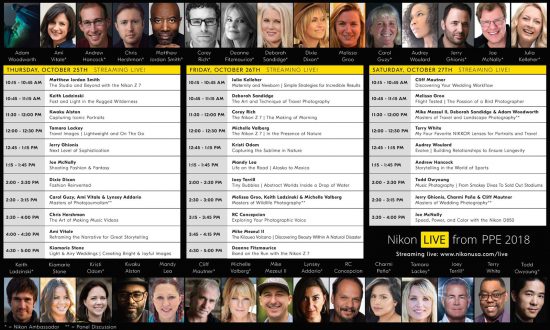 Nikon Inc. Showcases the Latest Digital Imaging Innovations at the PhotoPlus Expo 2018
Show Attendees Will Experience the Latest Nikon Products, Including New Nikon Z Mount System of Mirrorless Cameras and Have the Opportunity to Learn from Renowned Nikon Ambassadors
NEW YORK, NY – Nikon Inc. will again be exhibiting at the PhotoPlus Expo in New York City, offering attendees a refreshing and immersive booth experience plus educational and inspirational presentations from Nikon Ambassadors and photographers at the Nikon Theater. Visitors will also be able to experience Nikon's latest additions to the DSLR, NIKKOR and COOLPIX product lines, as well as the revolutionary new full-frame mirrorless Z mount System.
The new Nikon Z Series full-frame mirrorless cameras and NIKKOR Z lenses offer next-generation optical performance, and visitors to the booth will have a chance to get hands-on time with the new Z 7 and a first glimpse of the Z 6. Additionally, show attendees can also speak with product experts and experience for themselves the new NIKKOR Z line of lenses, including the NIKKOR Z 24-70mm f/4 S, NIKKOR Z 35mm f/1.8 S, NIKKOR Z 50mm f/1.8 S as well as the Mount Adapter FTZ.
In addition to the new NIKKOR Z lenses, a variety of NIKKOR F mount lenses will also be on display, including the incredibly light and compact new AF-S NIKKOR 500mm f/5.6E PF ED VR super-telephoto prime lens. Attendees will also be able to check out the redesigned entry-level Nikon D3500 DSLR and try the amazing zoom capabilities of the COOLPIX P1000, which offers an incredible 125X optical zoom.
Throughout the show, the Nikon booth will host live presentations and discussions with various Nikon Ambassadors and photographers covering topics including landscape photography, filmmaking, night photography and more. For an even more interactive experience, Nikon will host additional hands-on demonstrations and discussions with Nikon Ambassadors at satellite locations throughout the booth. A full schedule of Nikon presentations can be found below. Additionally, all presentations on Thursday, October 25, Friday, October 26 and Saturday, October 27 will be livestreamed on nikonusa.com/live.
Geared toward educators, students, photographers, videographers and content creators attending the show, Nikon and PDNedu will co-sponsor a panel discussion titled, "PDNedu and Nikon Present: Marketing Your Motion Work" on Thursday, October 25 on the show floor from 1:30-3:30 p.m. EDT. Nikon Ambassadors Chris Hershman, Deanne Fitzmaurice and Keith Ladzinski will discuss how to pursue careers in content creation, and best practices for advancing and developing within an ever-changing industry. The panel will include a Q&A session moderated by PDN Editor-in-Chief Holly Hughes and will be followed by a networking reception.
Nikon at PhotoPlus Expo 2018
Where: Booth #519 at The Jacob K. Javits Convention Center – 11th Ave. (between 34th & 35th St.)
When: Thursday, October 25, 2018: 10:00 a.m. to 5:00 p.m. EDT
Friday, October 26, 2018: 10:00 a.m. to 5:00 p.m. EDT
Saturday, October 27, 2018: 10:00 a.m. to 4:00 p.m. EDT
Schedule of Presentations at the Nikon School Theater (also livestreaming at nikonusa.com/live) 
THURSDAY, OCTOBER 25
10:15am – 10:45am EDT: The Studio and Beyond with the Nikon Z 7, Matthew Jordan Smith
10:45am – 11:15am EDT: Fast and Light in the Rugged Wilderness, Keith Ladzinski
11:30am – 12:00pm EDT: Capturing Iconic Portraits, Kwaku Alston
12:00pm – 12:30pm EDT: Travel Images: Lightweight and On the Go, Tamara Lackey
12:45pm – 1:15pm EDT: Next Level of Sophistication, Jerry Ghionis
1:15pm – 1:45pm EDT: Shooting Fashion & Fantasy, Joe McNally
2:00pm – 2:30pm EDT: Fashion Reinvented, Dixie Dixon
2:30pm – 3:15pm EDT: Masters of Photojournalism and Storytelling: Panel Discussion, Carol Guzy, Ami Vitale, Lynsey Addario
3:30pm – 4:00pm EDT: The Art of Making Music Videos, Chris Hershman
4:00pm – 4:30pm EDT: Reframing the Narrative Great Storytelling, Ami Vitale
4:30pm – 5:00pm EDT: Light and Airy Weddings: Creating Bright & Joyful Images, Kiamarie Stone
FRIDAY, OCTOBER 26
10:15am – 10:45am EDT: Maternity and Newborn Simple Strategies for Incredible Results, Julia Kelleher
10:45am – 11:15am EDT: The Art and Technique of Travel Photography, Deb Sandidge
11:30am – 12:00pm EDT: The Nikon Z 7: The Making of Morning, Corey Rich
12:00pm – 12:30pm EDT: Creativity in motion, Michelle Valberg
12:45pm – 1:15pm EDT: Capturing the Sublime in Nature, Kristi Odom
1:15pm – 1:45pm EDT: Life on the Road: Alaska to Mexico, Mandy Lea
2:00pm – 2:30pm EDT: Tiny Bubbles: Abstract Worlds Inside a Drop of Water, Joey Terrill
2:30pm – 3:00pm EDT: Master of Wildlife Photography Panel Discussion, Melissa Groo, Keith Ladzinski, Michelle Valberg
3:15pm – 3:45pm EDT: Exploring Your Photographic Voice, RC Concepcion
3:45pm – 4:15pm EDT: The Kilauea Volcano: Discovering Beauty Within a Natural Disaster, Mike Mezeul II
4:30pm – 5:00pm EDT: Band on the Run with the Nikon Z 7, Deanne Fitzmaurice
SATURDAY, OCTOBER 27
10:15am – 10:45am EDT: Discovering Your Wedding Workflow, Cliff Mautner
10:45am –11:15am EDT: Flight Tested: The Passion of a Bird Photographer, Melissa Groo
11:30am –12:00pm EDT: Master of Travel and Landscape Photography: Panel Discussion, Mike Mezeul II, Deb Sandidge, Adam Woodworth
12:00pm – 12:30pm EDT: My Four Favorite NIKKOR Lenses for Portraits and Travel, Terry White
12:45pm – 1:15pm EDT: Evolve: Building Relationships to Ensure Longevity, Audrey Woulard
1:15pm – 1:45pm EDT: Storytelling in the World of Sports, Andrew Hancock
2:00pm – 2:30pm EDT: Music Photography: From Smokey Dives to Sold Out Stadiums, Todd Owyoung
2:30pm – 3:15pm EDT: Masters of Wedding Photography: Panel Discussion, Jerry Ghionis, Charmi Pene, Cliff Mautner
3:30pm – 4:00pm EDT: Speed, Power, and Color with the Nikon D850, Joe McNally