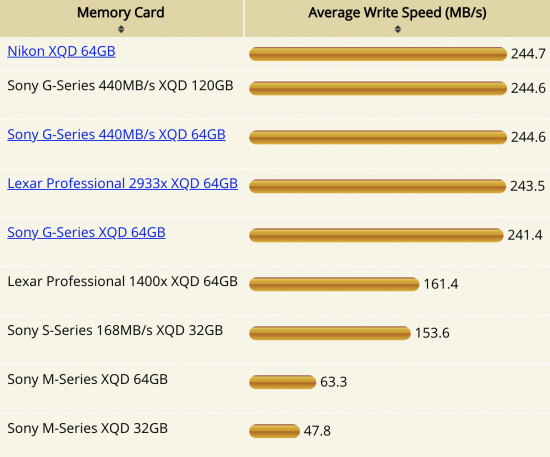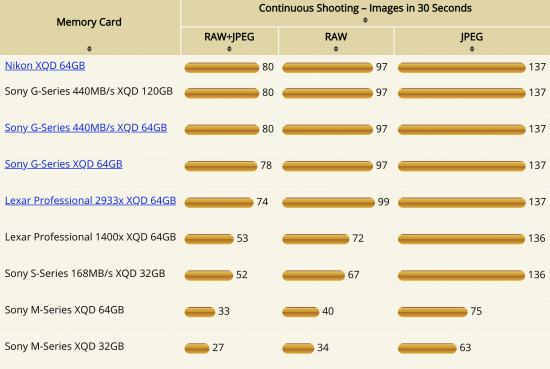 CameraMemorySpeed published their test results of different XQD memory cards used in the Nikon Z7 mirrorless camera, including the new Nikon XQD cards (not available in the US yet). Their recommendation is to use the Sony G-Series XQD memory cards (Adorama | B&H | Amazon) in the Nikon Z7 camera. Other XQD memory cards, such as the Lexar 1400x, Sony M-Series and older Sony S-Series cards reduced performance, but are adequate for those who do not exhaust the buffer when shooting.
Additional information:
The fastest cards in the Nikon Z7 were the Sony G-Series 120GB (QD-G120F), Sony G Series 64GB (QD-G64E) and Nikon 64GB XQD (MC-XQ64G). During extended continuous shooting uncompressed RAW the cards provided an average 245MB/s write speed. The Z7 was able to shoot 17-20 shots at full frame rate before the buffer was full and the frame rate dropped to accommodate the write speed. The frame rate with the buffer full averaged up to 2.8 fps. Using a card in the camera dropped the buffer number to 17 or 18 shots. The slowest card provided only 0.5fps with the buffer full.

The fast Sony G-Series 120GB (QD-G120F) card allowed 20 shots at full frame rate before the buffer limited shooting. The Lexar 2933x XQD card provided 19 shots, but over a long duration the Lexar card had a slightly slower write speed. It should be noted that in 30 seconds of continuous shooting the Lexar provided 99 shots, but over the duration of the 200 shot test used to calculate average write speed, the card was not quite as fast. Such differences are so slight one would not notice in normal shooting situations.

Switching to lossless compressed NEF, the buffer numbers were similar. However write speed was slightly down to 230MB/s using the fastest cards. The frame rate with the buffer full was slightly higher at 3.5 fps due to the smaller file size (65MB). A slow card like the Sony M-Series 32GB dropped the frame rate to 0.7fps. In JPEG shooting (large, high quality) the Z7 averaged 141 MB/s with the fastest cards, and 37MB/s with the slowest card. The average JPEG file size was 34.2MB. The camera shot 27 shots at full frame rate using the fastest cards in JPEG mode, when the frame rate dropped to just over 4fps. The slowest card tested, the Sony M Series 32GB XQD, reached 20 shots in JPEG mode before the frame rate was reduced to about 1fps.