"Nikon 1: the end of an era" is by Kieran Elson:
Today (11th of July 2018) Nikon Rumours have revealed that the official Nikon Japan website has listed the Nikon 1 as discontinued, one of my favourite camera systems I've ever owned and one I still use to this day. As a long term user of the system I thought I'd share my experience, perhaps it will prove to be of use to others buying used Nikon 1 cameras in the future. But more importantly I want show that photography does not need large equipment and that high spec lists don't mean a thing.
I've always reserved judgement about new products, there are many gems out there that go unnoticed. When I was working for a photography outlet I would try all the new gear out to see the hype for myself, quite often I was left unimpressed. Nine times out of ten it would be the products boasting the biggest numbers that left me disappointed, I'm very results orientated and cant stand false facts (to put it politely).
One day a Nikon V1 appeared in our stock, the first to try it was a keen Nikon user followed by myself. The first thing we noticed was how good the EVF was, it didn't feel like anything I had tried before. Then we noticed how good the colour rendition was, the autofocus, the accuracy, the ergonomics and so on. I was blown away with what it could do for its size, non of the other CSC's of the time remotely interested me. There was only one problem, the price, from what I remember we retailed the Nikon V1 with the 10mm lens between £799 and £899!
I rarely see something new and become sold on it out the gate, its common sense to just wait out products until problems are discovered and ironed out. But sold I was, just not on the price, I waited about 6 months (I cant remember exactly) until the J1 twin lens bundle was retailed at £369. I purchased it right in time for my trip to the French Alps, it was going to be the perfect size for long walks in the midday sun.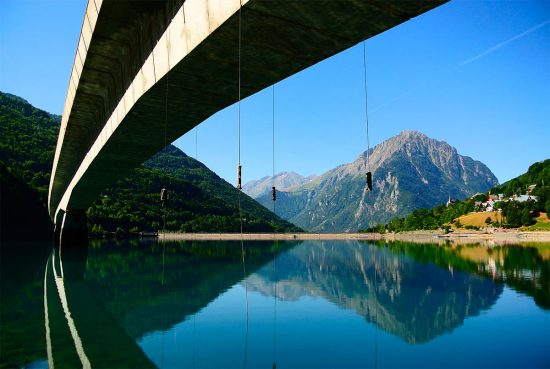 Nikon J1 with 10-30mm
What a pleasure it was to use, it was so freeing to have all my camera needs met in the palm of my hand. Even using my smallest camera bag there was free space, I barley noticed it hanging round my neck after hours of walking. I learned a lot during that trip, before I had completely written off the idea of ever using a small camera for serious work. But this little Nikon had proven me wrong.
Now I'm under no illusion that this is a DSLR replacement, a small sensor is still a small sensor no matter what kind of processor you strap to it. But when the camera is used correctly and carefully the files are fantastic, not perfect but the size trade off is well worth the very minor downsides.
Now what makes me ultimately use to Nikon 1 system is its style of photography, the colours are one thing but I love the depth of field you can capture so effortlessly. I feel that's when this system really shines, particularly with the wider lenses you can capture almost the entire frame in focus.
Its very relaxing to just find a subject and capture all the intended elements, not worrying about camera settings to optimise the depth of field. I can just capture what is, I can focus on capturing the form to make an image. Combined with the incredible speed the system works at, its a totally different experience to the traditional DSLR format.
I love making photographs using a shallow depth of field, but sometimes its nice as a viewer not be forced to view a photograph the way the lens did. Much like pinhole photography its more about shape and form, if everything is in focus the form of the image must be what catches the viewers eye. I really enjoy this process of finding shape and form, its much different to how I photograph with other camera formats.
With traditional formats its rare to have an infinite plane of focus, I find I become sloppy using subject isolation as the visual story teller. Of course there is nothing wrong with this technique, a well practised art is always relevant I just like to have alternative methods of capture.
I'm very fussy with colour rendition in digital photography, I find most cameras have a horrible colour pallet at least to my eyes. But the Nikon 1 system is one of those rare cameras that fits the bill, its not technically perfect but with minimal processing I'm able to create the colours I saw in my minds eye. I hate wasting my time in software trying to bend images to my taste only to be disappointed, its such a relief to find a camera that I can edit with confidence. For 90% of my images I simply increase the shadow brightness by about 30% and add saturation adjustments to each colour channel, and that's about it. This process usual takes about 2 mins, but occasionally I'll need to spend more time to fine tune a scene with complex lighting.
Much like my review of the classic Canon EOS 1D, the Nikon 1 system requires a little know how to get the very best out of it. There are only a few things that need attention and they are only minor, low light, ISO, RAW and flash.
First off this cameras auto focus works best in full sunlight or high contrast scenes, do not expect D850 auto focus speeds under dim artificial lighting. Secondly the ISO performance is reflected in the sensor size, keep it 400 and lower if you want excellent colours and use higher ISO speeds sparingly. RAW, to get the utmost out of the Nikon 1 sensor use RAW files, jpegs are excellent but the Nikon 1 has so much more to give in its RAW files. All the images on this page were shot in RAW, with very minor shadow and saturation adjustments. And finally the flash system, its unique and incompatible with every flash gun ever made. Now obviously you could use a slave system, but that's quite impractical to use permanently.
But that's it, that's the only cons I have for this camera system, that's much less than my other professional cameras I use to this day.
Nikon J1 with 10-30mm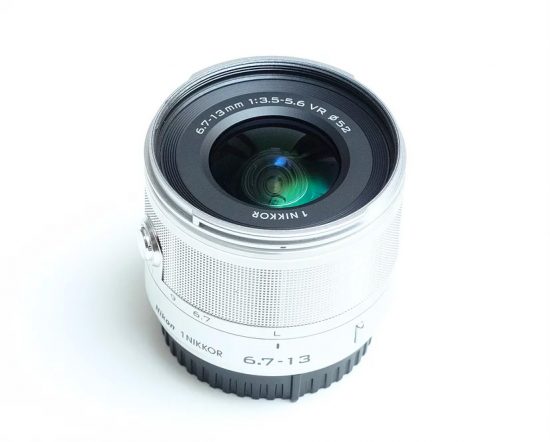 Lenses
Now lets talk about one of the biggest reasons I still use this camera in 2018, the lenses!
The most underrated lens I have ever used is the Nikkor 6.7-13mm, this lens alone is why I still use the Nikon 1 for serious photography. It is sharp everywhere, contrast is excellent, colour is excellent, flare resistance is excellent, has built in VR and it weighs 125 g (4.5 oz). One hundred and twenty five grams! To this day I have no idea how Nikon wasn't praised for this lens, nearly no reviews on it and only a handful talking about it.
If I could have only one lens for the Nikon 1 it would be the 6.7-13mm, its such a pleasure to use and brings the most out of the Nikon 1 sensor. The only problem is the price, it is priced very close to another favourite of mine, the Canon EF 17-40mm L lens. Although the 6.7-13mm is currently at its lowest price of £420 new, that's still a major investment. Even though its right up there with the most expensive lenses I've ever purchased, I have no regrets parting with my money. Sometimes its worth paying more to get the right tool, and this is definitely one of those times.
The second lens I use is the 10mm f/2.8, its an excellent lens to use when keeping equipment to a minimum. It allows the camera to fit in a jacket pocket comfortably, perfect for when I don't want to travel with a camera bag. Its sharp wide open with very fast autofocus, great for street photography if that's your style. Soft corners never bother me because I don't look in the corners, but to those that need a pristine image edge to edge use it at f/5,6.
The black and white images from this lens seem to have a little extra something to them, the files react very well in Photoshop to black and white conversions.
Perhaps the biggest surprise of the Nikon 1 system was the 10-30mm kit lens, its good, really good. It wont beat a prime lens anytime soon but it has good overall contrast and resolution, certainly can't complain when in good light using it at f/5.6. My first published image from the Nikon 1 system was from the 10-30mm, it was published online and in print. Nobody knew it was from a tiny sensor camera, just goes to show that its ultimately the image that matters not the equipment.
Most of my photos are from this lens, its reliable has great VR and a really smooth zoom ring. The macro capability is pretty good too, both on the wide end as well as the long end. Other manufactures could learn a lot from Nikon, its refreshing to have a good quality lens right out the box!
And the final lens that I use is the 30-110mm, a fit in your pocket telephoto lens. Not a lens I use very often but one I'm always glad I own, its perfect for casual portraits of the family or a visit to the zoo. The rendition is excellent and I love the colour output, the vibration reduction is also excellent perhaps a little more aggressive than on the kit lens.
Its my go to for portraits, not because its any sharper than the 10-30, but the rendition at 30mm on the 30-110 is very smooth. Again a repeating theme on all these lenses, its sharp has excellent colour and great contrast.
Much like the 10mm f/2.8 it has a fantastic auto focus system, its smooth fast and deadly accurate. Naturally though this is dependent on lighting conditions, in good light though I have no hesitations photographing action.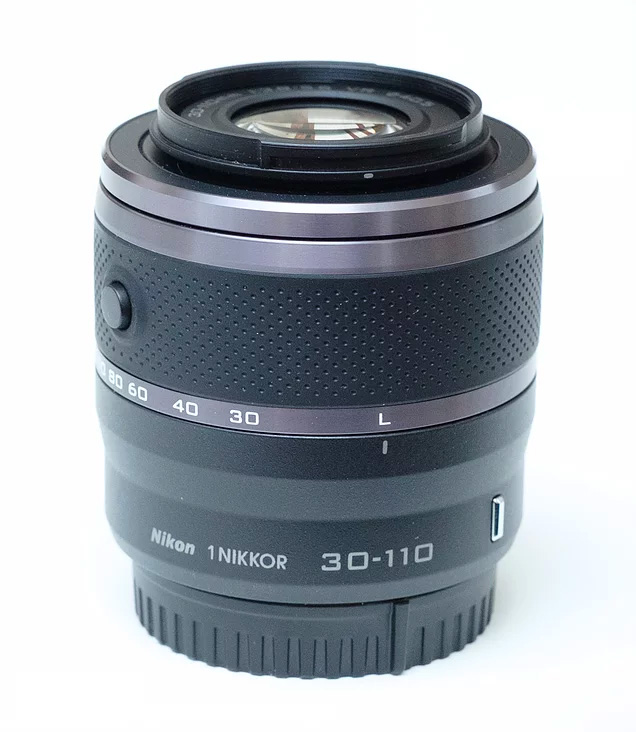 I feel that the lack of fast glass and the small sensor size is what ended the Nikon 1 line, too many people were expecting the wrong thing from this little camera. Nikon produced only two fast lenses to improve low light use and depth of field control, but only the 18.5mm f/1.8 was affordable. I did try both lenses and the 32mm f/1.2 was an excellent lens, but eventually ended up selling both lenses. A format this small will never render out of focus backgrounds like a 35mm camera, and with a combined cost of £800 I did not miss those lenses.
Nikon V1 with 32mm f/1.2
Small sensors shine in bright light and that's what I use it for, perhaps if more people had embraced its limitations the 1 system would have been successful. However, I will still be using my Nikon 1 cameras for a long time to come.
FCC disclosure statement: this post may contain affiliate links or promotions that do not cost readers anything but help keep this website alive. As an Amazon Associate, I earn from qualifying purchases. When you click on links to various merchants on this site and make a purchase, this can result in this site earning a commission. Affiliate programs and affiliations include, but are not limited to, the eBay Partner Network. Thanks for your support!