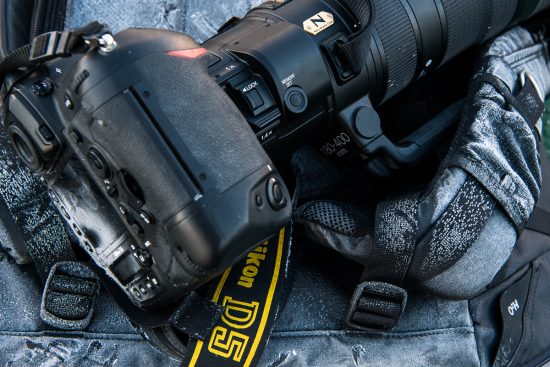 Roy Mangersnes ((Facebook | Twitter | Instagram, see his previous [NR] guest posts) published his field test report of the new Nikkor AF-S 180-400mm f/4 ED TC VR lens:
Over the years as a Nikon ambassador I have been able to test a lot of new gear that has come out and some of it I have reported on, like the 200-500mm f/5,6 (https://roymangersnes.wordpress.com/2015/09/25/field-test-nikkor-200-500mm-f56e-ed/) and the 500mm f/4 (https://roymangersnes.wordpress.com/2015/07/28/field-test-nikon-500mm-f4e-fl-ed-vr/). After my contract with Nikon was terminated they still trusted me with new gear to test in collaboration with my partner Stavanger Foto (www.stavangerfoto.no), like the D850 (https://roymangersnes.wordpress.com/2017/09/26/field-test-nikon-d850-gone-wrong/). After the latest mishap with brand new equipment I wasn't expecting to be testing anything for a while, but there I was hosting a 8 day winter expedition to the Norwegian Arctic archipelago Svalbard with my company WildPhoto Travel, testing a spanking new AF-S NIKKOR 180-400mm f/4E TC1.4 FL ED VR.
TEST CONDITIONS
As before I don't do technical analysis or in depth tests of all features. My main concern is – does it work for me in the field? After hosting over 20 boat expeditions for WildPhoto Travel (www.wildphoto.com) to Svalbard, and the last three years some in winter conditions, I knew that this was the perfect place to take this new lens to the test. During these trips we work on a moving ship in relatively low light, with temperatures sometimes dropping below minus 20 degrees Celsius. I normally bring a tripod, but on this tour I shot everything hand held. For reference I tried the lens with the Nikon D5, D850 and D500, with the D5 being my preferred body. During this expedition we had temperatures ranging from minus 5 to minus 20 degrees Celsius, with severe wind chill on some occasions. I left my photo equipment outside in the cold throughout the trip to prevent condensation issues. On the coldest days I did experience slowing down of the LCD screens but all other features of my cameras seemed to be working just perfectly, so it shouldn't affect the performance of the lens.
FIRST IMPRESSION
My first impression is that this is a solid built lens in the same category as my favourite 400mm f/2,8 and other prime Nikon lenses. Nikon say that the 180-400mm f/4E TC1.4 is built to replace the 200-400mm f/4. The way I see it this is something completely new! I never really liked the 200-400mm, but this lens is going in my bag.
The 180-400mm f/4E TC1.4 is relatively heavy (3,5kg), but there is a lot of good glass in this package. The lens features 1 fluorite and 8 extra-low-dispersion elements (ED glass) plus fluorine, Nano Crystal coatings. It is well balanced and feels really good with the D5, but even with the light D500 it is stable and comfortable in the hand. One thing that was bothering me with the 200-500mm was that you would have to turn the zoom ring very far to move from shortest to longest. This causes a lot of problems when shooting hand held because you will have to adjust your grip, but this is much better on the 180-400mm, and I believe it is well within what is acceptable. The new lens obviously also has an internal focus like the 200-400mm. In the future I would however love to see a servo on the lens, perhaps one you can turn on and off, that enables you to go from 180mm to 400mm with just a small adjustment of the zoom ring. At least the way I was using the lens; I rarely did fine adjustments to the focal length, but rather took if from 200mm to 350mm in one go. In such a case a servo would have been perfect. Anyway, that's for the future.
When it comes to use in the field there where several things I was curious to test. Sharpness obviously being one feature, but also focus speed, backlight, vibration stabilization and just how it handles was of importance. I was also curious to see how the built in extender performed and I must say I got used to it very quickly and it's positioning seem to be good for my grip and hands. I can easily take it on and off while still shooting. It also seems the lens keeps focusing while you add the extender and also while adjusting the zoom. (Keep in mind that Nikon has a disclaimer saying you should not use the extender while focusing. I did this all the time, and didn't have any issues.) There was an early problem with the 200-500mm where it stopped focusing when the zoom was used, but it does not seem to be an issue here. The problem mentioned was quickly solved with a firmware upgrade after it was pointed out by the first users.
To get the full potential of this lens, and your other lenses, make sure to have the latest firmware in your camera, including the Lens Distortion firmware.
FLEXIBILITY
The first point I want to make is about the flexibility that this lens gives me. On this expedition I brought the three bodies mentioned above, but limited my lenses to the 14-24mm f/2,8, 24-70mm f/2,8, 70-200mm f/2,8 and the 180-400mm f/4 TC14. My normal prime lens is the 400mm f/2,8 and I have also been using the 800mm f/5,6 on these expeditions previously.
For me photography is about telling stories and with this lens I can easily go from shooting close portraits and interaction to including the surrounding landscapes to add a sense of place and scale like I like to do, without having to bring another body and shorter lens. My 70-200mm f/2,8 was hardly used on this trip.
I also want to make a point about the close focus range, which is 2 meters (6.5′) at any focal length. This will make this lens a perfect lens for close up photography of critters like reptiles and butterflies, and also a very good portrait lens.
The positioning and handling of the extender switch was a bit awkward in the beginning, probably also due to the fact I was working with thick gloves, but after a little while I was turning the extender on and off like a champion. It is very easy to use the ring finger on you right hand to operate the switch, and you can easily do this while your index and thumb is busy shooting (note the disclaimer mentioned above), and without taking your eye of the viewfinder. The switch feels stable and falls into place in a comfortable and natural way. I think the positioning of the switch is much more logic than the one found on the Canons equivalent lens, especially when hand holding.
SHARPNESS
Like many wildlife photographers I am obsessed with lens sharpness, especially for my fine art work. I also have stock agencies that demand a certain level of technical quality in the files I submit. Now this is one of the reasons I never liked the 200-400mm f/4. I heard other people that where happy with it, so maybe I got a "Monday-lens", but I honestly never felt it delivered the crisp files I was looking for. Therefore the 200-400mm spent most of its time at home when I was travelling.
On this tour I was mainly using the D5, but I also tested the lens on the D500, which is a slightly forgiving camera that also gives me another 1,5x reach, and also the not so forgiving D850. I was very pleased with the result even on the high resolution files produced by the latter.
The 180-400mm with its fluorite front element delivers high quality result, as you would expect from a camera giant like Nikon. Like the 200-500mm this new lens is sharp at both the extremes all the way to the corners. I did experience some vignetting on my shoot, but I did also shoot on a D5 with firmware version LD 2.015. When I updated the firmware to LD 2.017 the vignetting more or less disappeared. With the built in extender in use there is no vignetting visible anymore, and the sharpness is still very good.
I must admit I was sceptical to a built in extender as it adds another element of glass, that's even moving, but when it came to the field I found myself using it all the time. The optical quality of the lens with the extender in use is not as good as when its not use, as expected, but it is definitely good enough for my taste.
FOCUS SPEED
During my Svalbard expedition in the beginning of April it was still early for most birds, but the Northern Fulmars where constantly following the ship. These are not the fastest of fliers but they toss and turn on the wind, close to the water surface below. When in addition the light was low and the ocean surface where covered by pancake ice it made for a challenging subject. Again the flexibility of this lens came into play as the birds come in towards the ship at changing distances, depending on the wind direction and wind speed. If there was a lot of wind they would come really close and I would fill the frame at 180mm, but sometimes I wanted to frame the bird against a beautiful background in the distance and needed the extra reach. With a small finger movement I would be able to switch the 1,4 extender on and shoot at the lens full reach to get my shot.
I tried different focus settings, like the Single point, Auto and my favourite Group Mode. I must say that the accuracy of the Auto settings keep surprising me, but with the contrasty ice on the ocean I found the Group Mode setting to be the best one. After shooting from the back deck for a while I found my groove and just like with my preferred 400mm f/2,8 lens I didn't even bother checking my files as I was shooting – I just knew they where sharp!
BACKLIGHT
Many people are afraid to shoot backlight, and always try to shoot with the light in an angle from behind to get "perfectly lit" subjects. With the dynamic range of the modern cameras you really shouldn't worry. The backlight will give you a much more atmospheric image and you will still keep details in the subject. One of the challenges for many lenses when it comes to backlight is ghosting or flares. Nikon has developed lenses that has Nano Crystal coating that takes away most of this flare, but it has only been added to the prime lenses. The new 180-400mm is such a lens. Therefore shooting backlight is no problem and the resulting images have close to no flare or ghosting.
VIBRATION REDUCTION
Over the years the Nikon Vibration Reduction technology has become better and better. According to some the new lens VR technology reduces camera shake equivalent to 4 stops. This is difficult to test in the field, especially as all my work was hand held from a more or less moving ship. All I can say is that it works for me in the conditions I was facing. My VR was constantly on during this shoot. On a couple of occasions I found myself shooting landscapes and Polar bears in late evening light at speeds down to 1/320sec, handheld with the 1,4 extender on. The ship was not moving at the time, but still… I also spent some time panning Fulmars flying next to the ship with speeds down to 1/30sec. I was using both Normal and Active mode on the lens VR, and in my experience Normal gives the best result in these panning situations, as recommended by Nikon support.
CONCLUSION
With the AF-S NIKKOR 180-400mm f/4E TC1.4 FL ED VR, Nikon hasn't only got the lens with the longest name I have ever seen, but they have also brought out an extremely flexible tool that will produce superior images in a variety of situations. A client on my tour asked me what lens I would bring to future Svalbard expeditions with WildPhoto Travel if I could only choose one – my answer is the 180-400mm f/4E TC1.4.
---
NIKKOR AF-S 180-400mm f/4E TC 1.4 FL ED VR pre-order links: B&H Photo | Adorama | Amazon | Park Camera | WEX