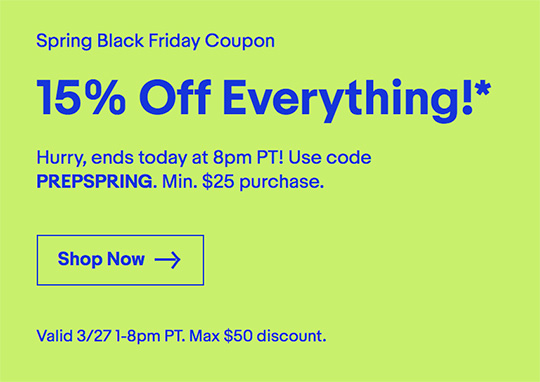 The popular one-day coupon savings on eBay is back – you can get 15% off up to $50 on ebay.com and ebay.ca:
Use coupon code PREPSPRING at checkout
$25 min. spend, $50 max discount
Can be used only once today 3/27/18 from 1 pm – 9 pm PT
T&C: This Coupon is a 15% discount valid from 1:00 PM PST March 27, 2018 until 9:00 PM PST on March 27, 2018. Discount applies to the purchase price (excluding shipping, handling, and taxes) of an eligible item(s) of $25 or more on ebay.com, ebay.ca, and cafr.eBay.ca and will be capped at a maximum value of $50. Eligible items exclude items from the Coins & Paper Money, Gift Cards & Coupons, and Real Estate categories. Only eBay users registered with an address located in the United States, Canada, Latin America, or Caribbean are eligible for the Coupon.