Wildlife Photography in Norway
The freezing, cold wind hits my face and forces me to stop to adjust my facemask. I turn around and take a glance at the sled behind me. It's heavily loaded with camera gear, tent, sleeping bag and food rations for about a week. I am in the mountains of Norway to photograph the amazing muskoxen and I want to take you behind the scene and share some of my favorite technics, my camera settings and some photos from this and previous trips with you (click pictures for larger view).
By Morten Hilmer (website | Instagram | Facebook)
I can still see the mountains towards the West but heavy clouds are approaching and they are now dangerously close. In a few hours the snow will arrive together with the wind, and then the now so peaceful landscape will turn into a whiteout of swirling powdery snow.
I still have more than three hours with the heavy pulk before I arrive at the location where I have seen the musk oxen in the previous years, and if I want the slightest chance to find the oxen, I need to get there before the storm kicks in.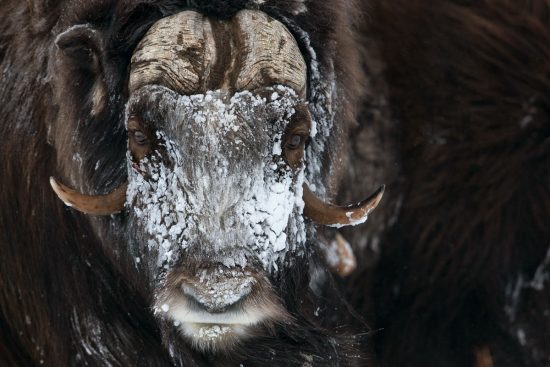 Who I am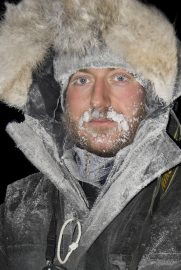 My name is Morten Hilmer and I am a full-time professional wildlife photographer and former special force soldier in the Arctic Dogsled unit – the Sirius Dogsled Patrol. I am specialized in photographing in the arctic regions and since 2005 I have spent more than 4 years in the amazing high Arctic nature.
Read more about my time in the Sirius Dogsled Patrol on the BBC Earth website.
Besides the many publications, my photographs have been awarded in the Wildlife Photographer of the year and European Wildlife Photographer of the Year photo competitions.
In spring 2017 I published my book Silence of the North.
Wildlife photography for me is all about fascination, getting close to nature, feel its authenticity and sometimes even feel reunited. Through my work, it is my mission to share my fascination and raise awareness of the importance of taking care of this awesome planet and all creatures living on it. Nature Photography is also about adventures whether the adventure is an expedition to the desolated freezing ice desert of North Greenland or a shorter trip to the local forest. For me, nothing is better than the other.
The Storm is coming
I am now getting close to the large flat plain – a widespread area in front of the big mountains in the background. I have been looking at the tallest of them called Snöhetta as I walked, but it is not totally hidden in clouds and snow. The weather is getting very bad – or from a wildlife photographers point of view – very good!
The high winds swirl up the snow and navigation is getting harder. I turn on my GPS and make another waypoint and turn on the patch tracker. I don't know how much longer I will be able to orientate in this whiteout so for a safety point of view it is important that I have this track.
I take up my binoculars and search the area for any movement or any shapes that differ from the rocks, but nothing to see. Just as I am about to take down the binocular I notice something near the top of a very small mountain not so far from me – yes it is the musk oxen. A group of maybe 15 oxen, almost hidden in the frosty mist.
I quickly set up my tent even though this place is far from perfect, but I can't afford to miss this opportunity and in a few hours light will start fading. The camp is set up, the camera bag is packed and I am now on my way up to the muskoxen.
It is slightly different what I bring in my bag, depending on what I expect to photograph, but let me share with you what camera and lenses I had in my bag for the two latest trips to Dovrefjeld.
What's in my camera bag
As for cameras I have brought the Nikon D5 which is my favorite camera because of its durability, extreme endurance in wet conditions and its low light performance. The resolution is great for what I use my photos for, and the 3 custom buttons on the front give me some great opportunities. The fact that the battery grip is integrated is nice because moister doesn't get I to the connection point, even though it would sometimes be great to have the option to take it off and have a less bulky camera.
I have also brought the Nikon D850 to test it out in these conditions and while it is a fantastic camera in every way I did have a few issues with moisture when the temperature went up to around +1 degree Celsius and all the snow started to melt. It might just have been my sample and it might have been just a coincident, but sitting there with the oxen with a camera that was showing me the blinking ERR was not so nice. It did handle the cold very well with no problem at all so it is a camera I will take with me in the future because the files are just amazing.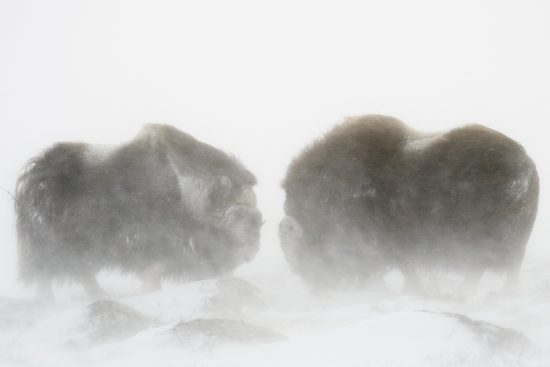 I usually bring 3 lenses. My Nikon 600mm f/4 VR because of its ability to make such a great blurred background and because it gives me another hour when the light is fading. The only downside is the weight, the size and the fact that I am stuck at 600mm.
Therefore I always bring a telephoto zoom and on the two latest trips I used the Tamron 150-600 G2 and the Nikon 200-500mm – one trip with each of the lenses.
I like the VR of the Nikon but I had some issues with moisture. It is weather sealed but definitely not as much as the bigger primes.
The Tamron is smaller and it has an extra 50 mm in one end and 100 mm in the other. Sharpness is not awesome at 600, but definitely good enough for me. I like the build quality very much and I like to have this lens in my bag – always.
For the landscapes and for night photography I bring my Nikon 16-35mm VR. Great sharpness at 20mm and quite handy.
For the accessories – have a look at my video from Scotland – it is all most the same stuff I have in my back for this trip.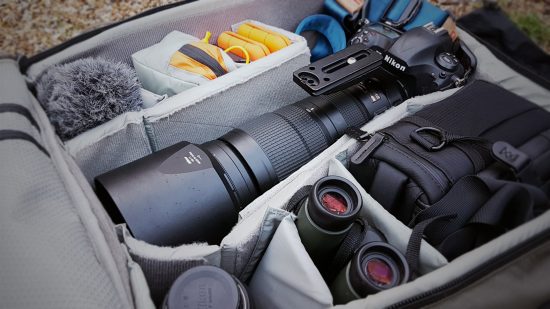 WHAT'S IN MY CAMERA BAG | How I pack my photo gear for wildlife photography in Scotland:
Photographing the musk oxen
I am now in a great position. It took a little while to get to here, especially because I had to go in a big circle not to disturb these beautiful animals. I set up my tripod and mount the big 600mm f/4.
The light is uniform and it makes exposure easy and I set the camera to full manual.
Autofocus sometimes struggles in this low contrast scenery so I always have my left hand on the manual focus ring – ready to take over. Autofocus is set to C and I am using single point most of the time to get 100% control of what the camera is actually focusing on.
I am looking at the oxen through the viewfinder and I concentrate on the beautiful animals. I feel the image is much more blurry than in real life and I realize that a lot of snow has gathered in the lens hood. I turn it around to avoid this. It also helps on the stability because the wind now doesn't catch the hood.
Most of the musk oxen are laying down resting but a few are walking around. Two young oxen are having something that looks like a play. They run against each other and just before their heads meet, they stop. What an awesome experience it is to watch this.
A few of my favorite settings
Set custom button to preview
One of the most important things for me is that I want to have my left hand on the lens – ready to zooming in or out and for taking over manually when autofocus fails. Therefore I always set one of the custom buttons to preview the image and another to zoom the image 100%. I like to have the preview button as the lowest function button on the front of the camera so that I can press it with one of my fingers without having to move my index finger from the shutter and the thumb from my AF-lock button.
Predefined AF on the custom button
Before I start photographing I always chose the autofocus method that I believe will do the best job and in my case, it is often the 3D AF on the Nikon D5. Either that one or single point AF. Then I try to predict which other AF method I will need and I setup the top button on the front of the camera to use this method as long as pressed.
Auto ISO on/off
Because of the option of doing exposure compensation in manual mode with auto ISO on, I use either this setting or full manual almost all the time. I call the Manuel with Auto ISO MAI. To me able to make a quick switch between M and MAI, I setup one of the custom buttons near the release button to toggle between Auto ISO on/off.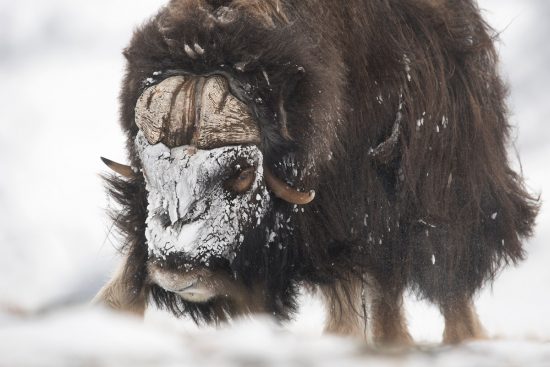 How I manage my equipment in the cold
When I am out there for several days it is very important to keep the equipment in a good condition and after spending years in the Arctic I have found a way that works very good for me.
As a rule of thumb, I try to keep my cameras and lenses frozen to avoid moisture. I do that by always leaving the camera bag outside the tent so that the only thing I bring in is the memory cards, batteries and sometimes the Vlogging camera. If I can't avoid it to defreeze I always try to brush off as much snow as possible with a stiff brush I bring with me, and will keep it in my bag so that it can acclimatize as slowly as possible.
For the batteries, it doesn't really matter how I store them – as long as they are not too cold when I am taking energy from them. Therefore I keep a bunch in my bag and always one or two in a pocket near my body. Every now and then I will change the battery in the camera with a warmer battery from my pocket – this makes them last longer.
Light is changing
I stay at this location for the rest of the day, and just before sunset the snow stops and it clears up. Within an hour the light changes dramatically and everything goes from almost black and white to an orange scenery.
This is where I love to use what I call MAI – Manuel exposure with Auto Iso.
I use this setting when I want to be able to choose both the aperture to control the level of blur in the background and the shutter speed to get the amount of movement I like. I then let the camera choose the Iso while still keeping an eye on it. I can still use exposure compensation, so for me, this is very very helpful in situations changing the light.
Light is fading very fast and it is time for me to go back to my camp while I still have a little light. This day has been absolutely fantastic and as always nature has given me another great and unforgettable experience.
If you want to see more of my work
In November 2017 I started a new video project that takes other photographers and nature enthusiasts behind the scenes on my travels. In a series of 4k YouTube videos, I share my experiences from my trips and expeditions around the world.
Visit my channel: https://www.youtube.com/MortenHilmer
Wildlife photography – Musk Oxen part 1:
Wildlife Photography – Musk Oxen part 2:
Wildlife and Landscape Photography:
If you have an interesting idea for a guest post, you can contact me here.