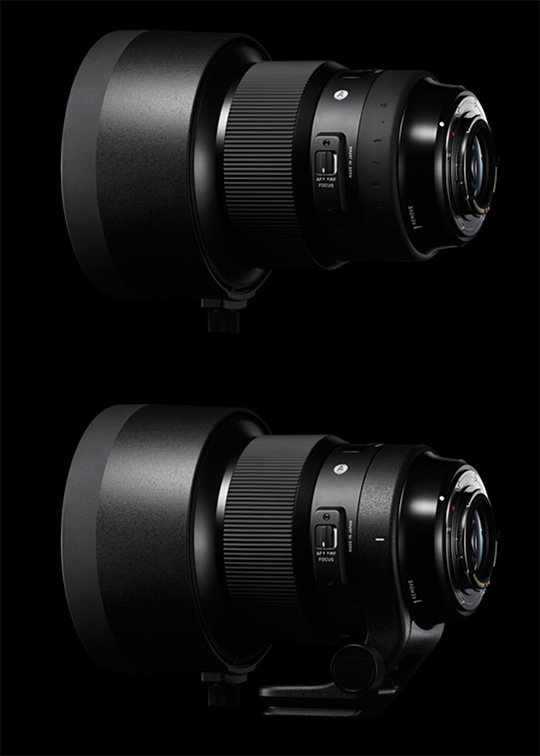 Sigma just announced the development of the 105mm f/1.4 DG HSM Art and 70mm f/2.8 DG MACRO Art lenses – only the 105mm lens will be available in Nikon F-mount (US pricing not yet available):
Sigma 105mm f/1.4 DG HSM | Art lens
Optical system delivering unsurpassed F1.4 performance
Compatible with full-frame Sony E-mount cameras
Compatible with Canon Lens Aberration Correction
Dust- and splash-proof structure
Specifications:
Lens construction
17 elements in 12 groups
Angle of view
23.3°
Number of diaphragm blades
9 (Rounded diaphragm)
Minimum aperture
F16
Minimum focusing distance
100cm / 39.4in.
Maximum magnification ratio
1:8.3
Dimensions
(diameter x length)
Φ115.9㎜ × 131.5㎜ / φ4.6in.×5.2in.
Weight
1,645g / 58oz.
The Bokeh Master with Longest Focal Length Among Sigma Wide-Aperture F1.4 Art Lenses
The brand new Sigma 105mm F1.4 DG HSM Art is the ninth lens in the Sigma F1.4 lineup. Designed for full-frame cameras and incorporating 17 optical elements in 12 groups, this lens offers minimal optical aberration and delivers incredible resolution and stunning contrast with a beautiful bokeh effect, making it an ideal solution for portrait photography. Featuring the Sports line level dust- and splash-proof design, this lens can be used during varying weather conditions. The high-speed, high-accuracy autofocus helps photographers react in an instant to capture those special moments.
Other lens highlights include carbon fiber reinforced plastic hood for durability; compatibility with Sony E-Mount cameras; and compatibility of the Canon mount lens with the Canon Lens Aberration Correction function.
Release date and price: TBD
Accessories: Case, Cover Hood (LH1113-01),
tripod socket (TS-111), protective cover (PT-21)
Corresponding AF mounts: SIGMA, Nikon, Canon, and Sony E-mount
---
Sigma 70mm f/2.8 DG MACRO | Art lens
Image quality top priority design philosophy
Optimum focus speed and focus operation realized by adopting the by-wire system
Full size, compatible with Sony E mount
Corresponds to "lens optical correction" function of Canon camera
Specifications:
| | |
| --- | --- |
| Number of lenses | 10 groups of 13 |
| Field of view (35 mm format) | 34.3 ° |
| Number of diaphragm blades | 9 pieces (round drawing) |
| Minimum aperture | F22 |
| Shortest shooting distance | 25.8 cm |
| Maximum shooting magnification | 1: 1 |
| Filter size | φ 49 mm |
| Maximum diameter × length | φ 70.8 mm × 105.8 mm |
| mass | 515 g |
The First Macro Lens in the Sigma Global Vision Art Line
Elevating the legendary Sigma 70mm F2.8 EX DG to the Art line, the brand new Sigma 70mm F2.8 DG MACRO Art prioritizes optical performance that defines the Sigma Art line, delivering stunning resolution and incredible clarity, while at the same time offering extremely smooth autofocus performance for a weightier, high-performance lens.
To achieve optimal results at every shooting distance, the lens features an extending, floating, two-group focus mechanism, which minimizes aberration at all focal lengths. In addition, the lens' optical elements design increases resolution at close shooting distances, allowing for a razor-sharp in-focus area contrasted with a bokeh area free of color streaking.
Other feature highlights include focus-by-wire system featuring newly developed coreless DC motor for comfortable and precise focusing typically required for macro photography; compatibility with full-frame Sony E-mount camera systems; compatibility of the Canon mount lens with the Canon Lens Aberration Correction function; and compatibility with Sigma Electronic Flash Macro EM-140 DG and Sigma Teleconverters.
Release date and price: TBD
Accessories: Case, Hood (LH708-01)
Corresponding AF mounts: SIGMA, Canon, Sony E-mount
---
Like: Sigma Facebook page | Join: Sigma Facebook group