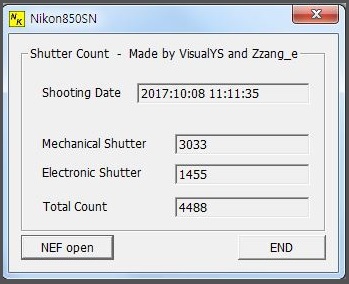 There is a new free software that lets you check both the mechanical and electronic shutter count of the Nikon D850 DSLR camera. You can download it here (click on the zip file link, see also this page). The software will most likely work also for other Nikon DSLR cameras.
Update – another option to get D850 shutter count is the ExifTool: just download and unzip the archive then double-click on "exiftool(-k).exe" to read the application documentation, drag-and-drop the jpg to the ExifTool icon to view meta information or rename to "exiftool.exe" for command-line use.
Online you can check the shutter count of your camera at shuttercounter.com and camerashuttercount.com.