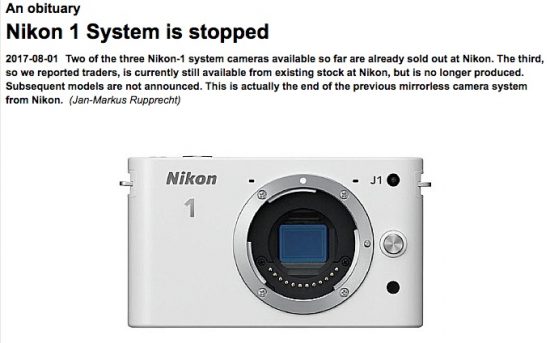 Even without an official statement from Nikon, the German website Digitalkamera.de announced the death of the Nikon 1 system in an "online obituary":
We always check which cameras are still available and which are obviously "End of Life" as it is called "EoL". This time it hit the Nikon 1 AW1 and the Nikon 1 V3. Also from 1 J5, only the existing stock is sold. What appears to be a longer time is now obvious: The Nikon 1 system is running out. There is no official cancellation for the Nikon-1 system from Nikon so far. This would not be customary either. It is rare that cameras or camera systems are officially discontinued by manufacturers. (Google transaltion)
A quick check with the official list of discontinued cameras shows us that the Nikon 1 J1, J2, J3, J4, S1, S2, V1, V2 and V3 mirrorless cameras are all listed as discontinued. The only models not officially discontinued are the J5 and AW1 – those are also the only two models currently listed in stock at B&H (the V3 is a "special order").
Nikon recently confirmed that they are working on a new mirrorless camera (this this and this post), but it is still not clear if they will continue with the CX mount.
Update: Nikon's official statement was not a surprise "Nikon continues to produce and sell the Nikon 1 line. We cannot comment on future product or speculation."