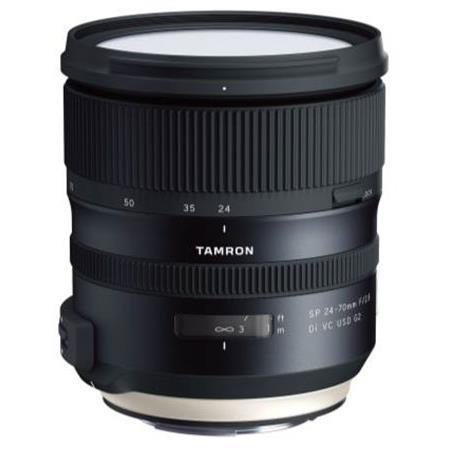 The Tamron SP 24-70mm f/2.8 Di VC USD G2 full frame lens for Nikon F-mount is now officially announced with improved image stabilization (5 stops). The price of the new lens is $1,199. For comparison, the price of the new Sigma 24-70mm f/2.8 Art lens is $1,299, while the Nikon version is $2,396.95. The previous version of the Tamron 24-70mm lens is now priced at $1,099.
Pre-order links: Adorama | B&H
Additional information:
Tamron SP 24-70mm f/2.8 Di VC USD G2 lens design

Tamron SP 24-70mm f/2.8 Di VC USD G2 lens MTF charts


Tamron SP 24-70mm f/2.8 Di VC USD G2 lens technical specifications
Model
A032
Focal Length
24-70mm
Maximum Aperture
F/2.8
Angle of View (diagonal)
84°04′-34°21′ (for full-frame format)
60°20′ -22°33′ (for APS-C format)
Optical Construction
17elements in 12 groups
Minimum Object Distance
0.38m (15 in)
Maximum Magnification Ratio
1:5
Filter Size
Φ82mm
Maximum Diameter
Φ88.4mm
Length
for Canon 111mm (4.4 in)
for Nikon 108.5mm (4.3 in)
Weight
for Canon 905g (31.9oz)
for Nikon 900g (31.7 oz)
Aperture Blades
9 (circular diaphragm)
Minimum Aperture
F/22
Image Stabilization Performance
5 stops (CIPA Standards Compliant)
Standard Accessories
Lens hood, Lens caps, Lens pouch
Compatible Mounts
Canon, Nikon
Tamron SP 24-70mm f/2.8 Di VC USD G2 lens details
1. Sophisticated design delivers superb performance and ultra-high image quality
The use of specialized, high quality glass materials assures accurate color reproduction and superior sharpness, perfect for today's high-pixel-density cameras. The optical construction (17 elements in 12 groups) uses 2 XR (Extra Refractive Index) elements, 3 LD (Low Dispersion) elements, 3 GM (Glass-Molded aspherical) and one hybrid aspherical lens element. Together they minimize axial chromatic aberrations, transverse chromatic aberrations, spherical aberrations and distortion, and allow a compact design that achieves superior image quality.
2. eBAND Coating provides superior anti-reflection properties and reduces ghosting and flare
The new A032 features Tamron's original eBAND (Extended Bandwidth & Angular-Dependency) Coating, a technology combining a nano-structured layer that has an extremely low refractive index with conventional multiple-layer coatings to provide superior anti-reflection performance. The optimal application of this eBAND Coating in combination with Tamron's BBAR (Broad-Band Anti-Reflection) Coating successfully and substantially curbs the ghosting and flare that can occur when photographing backlit subjects.
3. New Dual MPU (Micro-Processing Unit) control system provides faster and more precise autofocus and improved Vibration Compensation
This innovative control system uses a Dual MPU design with enhanced computing capacity. The MPUs have powerful, built-in DSP (Digital Signal Processor) blocks that achieve quicker and more precise AF performance, and more consistently powerful Vibration Compensation. The features combine to provide outstanding performance at night and in low light.
High performance MPU for AF dramatically improves autofocusing accuracy and speed
The A032 is equipped with its own MPU (micro-processor unit), with embedded DSP (Digital Signal Processor) blocks that enable high-speed digital signal processing, achieving both excellent responsiveness to signals from the camera and high-precision AF performance.
Dedicated MPU delivers the highest vibration compensation ability in class (CIPA level of 5 stops).
The new A032 is equipped with Tamron's proprietary VC (Vibration Compensation) system. Adding an MPU dedicated to VC processing unleashes a new-generation algorithm, ensuring the highest vibration compensation ability in the class (CIPA level of 5 stops). Even in low light or with slow shutter speeds, photographers can enjoy shake-free handheld shooting with ease and comfort.
4. Fluorine Coating and Moisture-Resistant Construction
The Fluorine Coating applied on the front element surface is water-and oil-repellant and allows safe and easy removal of fingerprints, dirt and smudges. The coating also provides an enhanced level of durability, and will sustain its effectiveness for years. In addition, seals are located at the lens mount area and other critical locations to prevent infiltration of moisture and/or rain drops to provide Moisture-Resistant Construction. This feature provides an additional layer of protection when shooting outdoors under adverse weather conditions.
5. Lens hood equipped with a new, convenient locking mechanism
The lens hood is equipped with a locking mechanism that prevents detachment due to unintentional contact during use.
6. Compatible with TAMRON TAP-in ConsoleTM, an optional accessory
The new A032 is compatible with the optional TAMRON TAP-in ConsoleTM, an optional accessory product that provides a USB connection to a personal computer, enabling users to easily update the lens firmware as well as customize features including fine adjustments to the AF and VC.
7. Electromagnetic diaphragm system now used also for Nikon-mount lenses
An electromagnetic diaphragm system, which has been a standard feature for Canon-mount lenses, is now employed in Nikon-mount lenses . More precise diaphragm and aperture control is possible because the diaphragm blades are driven and controlled by a built-in motor through electronic pulse signals.
8. Manufacturing innovation with thorough attention to details based on the rigorous quality standards worthy of the SP series
Tamron has enhanced the SP series lenses to fulfill high-level photographic requirements and provide the pleasure of ownership. While introducing a new exterior design, Tamron reviewed the SP series standards. The new SP series has been developed by setting rigorous standards for design, manufacturing and quality that apply to the optical design and mechanical design as well as such wide-ranging areas as the product's robustness and improvements in a variety of individual functions. For this model, Tamron has introduced a unique MTF (Modulation Transfer Function) tester, which was developed exclusively for Model A032, and reviewed the management method. This has helped to achieve a more consistently superb optical performance, making it a lens that fulfills the demand for higher image quality that is compatible with the latest high-pixel cameras. To maximize the optical performance of the SP series, Tamron will continue to enhance the accuracy of the component parts of each lens element unit and improve the mechanical precision of the entire lens, thereby achieving a high overall performance.
Sample photos and additional information can be found here.