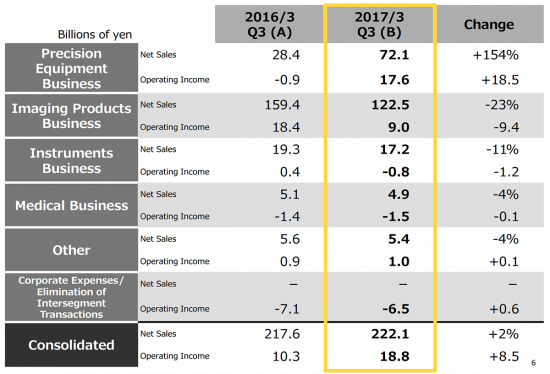 Nikon announced their Q3 financial results (for the year ending March 2017, direct link to PDF presentation) here are the highlights from the report:
YoY increase in Q3 net sales and operating income as operating income decline in Imaging Products Business was offset by Precision Equipment Business
YoY decrease in Q1-Q3 net sales but significant increase in operating income
Key restructuring initiatives progressing according to plan. Voluntary retirement
program received 1,143 applicants
Q4 net sales and operating income expected to decrease. Downward adjustment to 2017/3 forecast: Net Sales ¥50 billion, Operating Income ¥5 billion, Net Income ¥3 billion
Main causes for downward adjustments are reduced unit sales for Imaging Products Business/Industrial Metrology Business and canceled product launch for Imaging Products Business
We will adhere to the basic principles of restructuring, while accelerating implementation and considering additional actions

Next are the highlights of the forecast for the year ending March 31, 2017 for the Imaging Products Business:
Slow sales of Action Camera. Reassess R&D and sales strategy
Market slowdown exceed expectations across most product categories
Canceled launch of DL series of premium compact cameras to focus on "high value-add" and profitability
Yes, "slow sales of action camera"... is anyone surprised by this? The new KeyMission cameras were not what Nikon wanted it to be. Here are a few more numbers:
"Substantial downward adjustment of expected unit sales of initial assessment for "KeyMission" action camera series due to slow sales"
And finally the forecast for the year ending on March 31, 2017 (Imaging Products Business):