I recently received this page that was published in a Japanese magazine a few weeks ago. The article suggests that the Nikon Df2 DSLR camera will be based on the D750 and will have a 24MP sensor: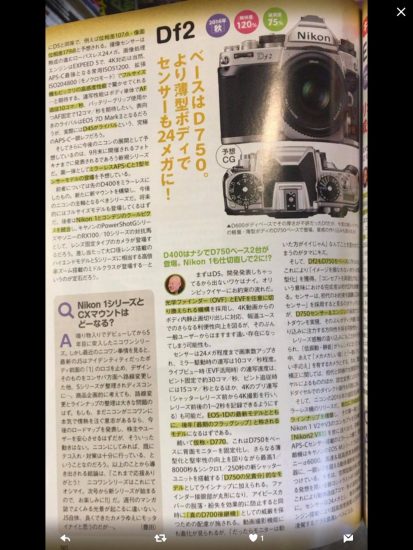 Articles in Japanese magazines on upcoming Nikon products (CAPA & Impress) have not been very accurate in the past.
For all Japanese speaking readers – if you can spot some additional information in the article, please post in the comments section and I will update this post.
Update – here are some of the translations I received (thanks!):
"There's not much regarding specs in the article except a mention of a Df2 and D770 (mid-bottom). However, I'm pretty sure this article is old because the first sentence of the middle column says, "First, a D5. It should definitely arrive since it's already in development." And the headline above it says "No D400 but two D750 based models to arrive." These two sentences indicate that this article was written before the D5 and D500 were released."

"The article says the D750 successor (D770?) will have a fixed LCD screen and 1/8000 shutter speed. Although I don't use the swivel screen much, it seems strange to take it away, especially if it's going to have better video capabilities… The article claims (I think – hard to read the edge there) there will be a "Nikon 2 VX1″, a mirrorless camera with APS-C sized sensor. Can they actually fit APS-C sensors behind the CX mount?"