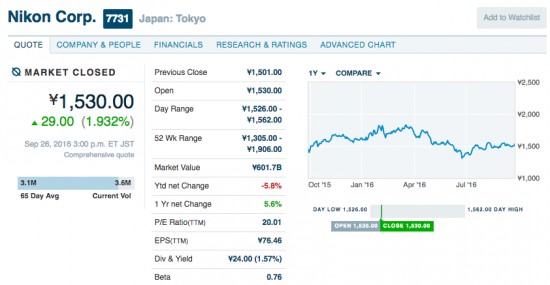 This just in from Barron's:
According to Citi Research's Masahiro Shibano and Yuta Nishiyama, Nikon now has 3 new sources of growth, in FPD (flat-panel displays) lithography equipment, SPE lithography equipment, and imaging. The analysts wrote:

Our Buy thesis rests on 1) improving visibility (for now) in FPD lithography and the likelihood that Nikon can avoid a big drop in earnings in FY3/18, 2) the emerging possibility of a big change of strategic direction in SPE lithography, where Nikon has overlooked hefty operating losses for many years, and 3) a rethink at last of the expansionary roadmap pursued through to the first half of this decade in imaging and acknowledgement of momentum to shrink fixed costs, all of which are changes different to those we have previously witnessed.
We raise our target price to ¥1,900 (FY3/18E PBR of 1.3x equivalent) from ¥1,700 (FY3/17E PBR 1.2x)

As a result, while Citi continues to see Nikon reporting operating profit of 49 billion yen in this fiscal year, it expects the company to report JPY 63 billion and JPY65 billion in operating profit in the next two fiscal years.

Nikon rose 2.7% to 1,541 yen this morning, versus Nikkei's 0.3% fall.