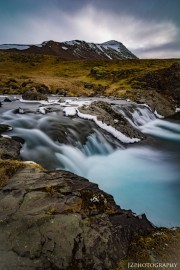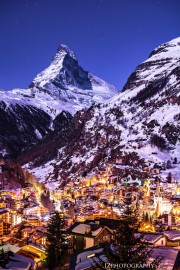 Europe With The Nikon D7100 by Jonathan Zaharek (Instagram):
This past March, my family and I had the privilege to go on vacation to 10 countries in Europe over a duration of 18 days and, if you know my family, you'll understand that our traveling is very "play it by ear". After this past trip, we need a vacation! The countries consisted of Spain, Germany, Austria, Italy, Switzerland, Liechtenstein, Belgium, Luxembourg, France, and Iceland in that order. The reason why our travels are so crazy is because all we do is plan our locations (the countries and sightseeing), then drive, and don't book a place till a couple hours before we stop. Anyways, I am an 18 year-old, self taught, landscape photographer from Ohio, but currently living (going to college) in the Adirondack Mountains of upstate New York. I have been doing photography like this for about 2 years now and have been able to travel to 44 out of the 50 states and 13 countries. I want to do this as a full time career, but I'm still waiting for that "sovereign spark". I have 9 total pictures from this trip and would like to share them with you while telling you about them…So, let's begin!

35mm @1/1000th, f/5, ISO 125
It wasn't until halfway through the trip that I actually took my first "usable" photo. This is because every place before just wasn't my "cup of tea". One of my biggest inspirations is Ansel Adams. This is because I feel as though I relate to him in the way he wanted to convey an image. Also because I travel America very frequently and photograph very iconic locations, like he did. He also was a pianist like me as well, but that's a different story. When processing a black and white image digitally, I could never just put on the B/W filter and let it be. I'll convert it to grayscale and adjust everything in the same way I would adjust a color image. This is one of my favorite black and whites ever. I stayed about 10 miles from this location at a little B&B 2000 ft up a mountain and we had to take a different route to get down but ended up having to take a detour because of some construction and ended up at the town of Loreglia, Italy overlooking the little village of Chesio. When I say barren, I mean, this place looks like no one has visited it in years. It was a scene right out of the 1600's.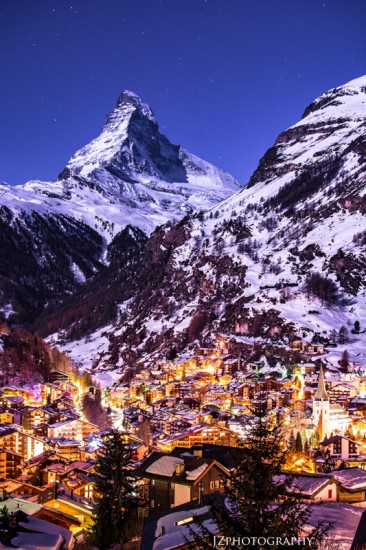 35mm @15 sconds, f/4, ISO 500
This next location is one that I have wanted to visit ever since I was a little boy. You can clearly see in the image the famous Matterhorn mountain located in the Swiss Alps. This photo was also taken at night. I was able to capture all the detail of the mountains because of the moonlight. I also had my camera set on the incandescent 4 setting giving it a little bit of a purple hue while giving the town lights more contrast and color because of the opposite white balance (this is what I do on nearly all of my night photos). This place was definitely one of the most beautiful places I've ever been. Zermatt, Switzerland is a very exclusive town and can only be accessed by train or taxi transportation. And if you want to stay there for a week, well you better get your wallets ready because a Big Mac cheeseburger costs a whopping 11.70 in Swiss francs (12.26 USD).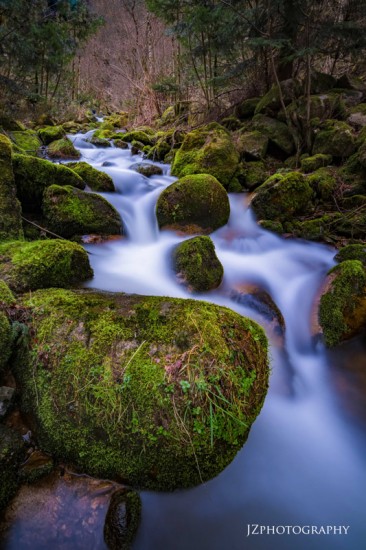 11mm @20 Seconds, f/7.1 ISO 250 with a 9 stop ND filter

11mm @20 Seconds, f/9 ISO 250 with a 3 stop ND filter
These next two images where taken in none other than the Black Forest in Southwest Germany. I'll tell you one thing, it is really hard to find a beautiful, magical seen there. If you type in the Black Forest on Google images, you'll see all these beautiful mysterious images taken from the woods. I didn't even get what I was looking for in the first place but I think I was expecting too much. The time of year that I went to all these locations also wasn't really the best. Winter just ended and Spring just started. So, a lot of the colors are muted and everything is still dead because the flowers haven't come out yet. My parents and I actually drove all over the place to find that first image. We took several back roads in the middle of nowhere until we eventually came across this. We actually took it so far to the point that we ended up going on a unauthorized (we didn't know that) gravel backroad to the top of a mountain and ended up getting our rental car stuck in snow. We eventually backed it out, but I digress. If you're going to the Black Forest, I highly recommend going in the middle of May or late September with the fall colors. For the second photo, I was returning from Nürberg, Germany and saw these trees and just stopped on the side of the road. I never really liked taking forest photos like that but something about that last location just captivated me.

70mm @ 5 seconds, f/7.1 ISO 100 with a 9 stop ND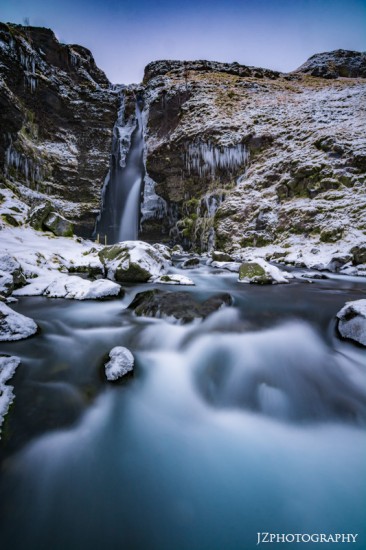 11mm @ 10 seconds, f/10 ISO 160 with 9 stop ND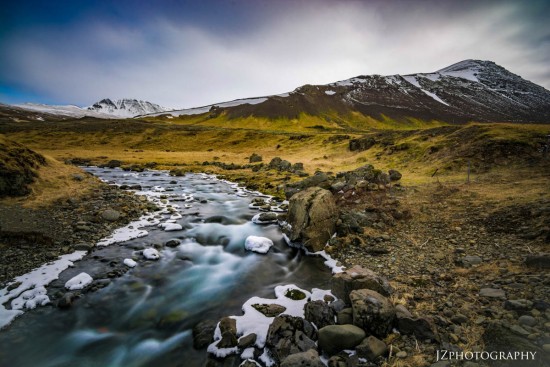 11mm @ 10 seconds, f/10 ISO 100, 9 stop ND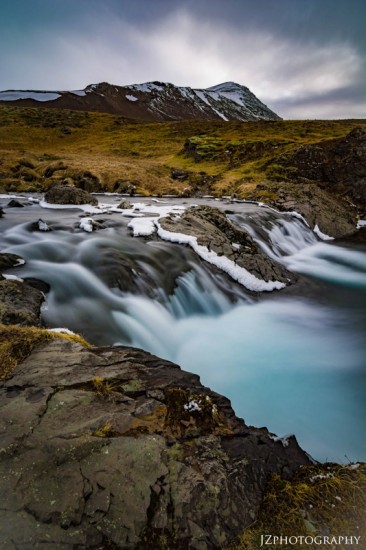 11mm @ 10 seconds, f/10 ISO 100, 9 stop ND
Words can't even begin to describe how beautiful Iceland is. Even though I think I went at the worst time of year, it was still gorgeous. I was able to have a 3 day layover for no extra charge and decided to go as far as east as I could one day and then back west as far as I could. I managed to go half way across in both directions, and sometimes I felt as though I was on a different planet, especially because of the weather changes. One moment it was 55 degrees fahrenheit, and then then 20 miles later it would be half a foot of snow and a blizzard.
The first black and white one was taken right outside of Vik. There was a small channel out to the ocean, but the view was blocked by some dense falling snow. That is why it looks foggy. I actually had to trudge off the highway in a foot of snow to get the point of view I needed. I love how the rocks go from large to smaller rocks as they wrap around.
The second image was taken at a not well known waterfall called Gluggafoss. The innkeeper of our previous lodging recommended we go to this waterfall. It was snowing too hard when we went to it but decided to go the next morning. If you saw me taking this image, you would've seen how awkward I looked. I was doing a split on two icy rocks while holding my tripod in my right hand and balancing it on another icy rock. I wasn't able to look at the viewfinder let alone the back of the camera. So I just aligned the image with my sight.
The last two pictures were on the opposite side of the island(west), north of Reykjavik about 20 miles. I was driving and glanced to my left, because we were passing over a bridge, and immediately pulled the car off to the side of the road and backed up. It was one of those moments where I instantaneously knew it was going to be a good take.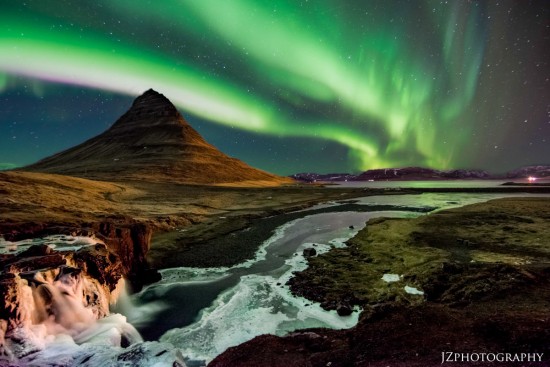 11mm @ 20 seconds, f/2.8 ISO 2000
For those of you that have never seen the Auroras, I can tell you from experience that they are nearly everything pictures show them to be. When I say they left me breathless, I literally mean they left me breathless. At one moment, they got so bright that I was able to record the experience with my cellphone's camera. During that moment, I had the settings on my camera as listed above, but the image overexposed and actually washed out everything! They were green and purple to the eye and jolting and dancing just like the videos. I took this photo at the famous location of Kirkjufellsfoss. Read these next few sentences carefully to understand how I took this photo.
I generally do this process in any astrophotograph. Because the D7100 isn't a low light monster, there can be a lot of noise at ISO's above 3200. Since the northern lights where out, I was able to lower mine because the lights added a lot of light already. I had my camera take a sequence of photos, all at the same setting for about 9 photos straight. I do this so I can reduce noise with the the smart objects filter in Photoshop "Stack Medium Filter". I take two copies of the 9 photos, auto align one of the copies, convert it to smart objects, and apply the stack medium filter, reducing noise in the foreground while distorting the sky. Then I take the other 9 images and align the sky manually so when I apply the same process, this time it reduces noise in the sky and distorts the the foreground instead. Lastly, I merge the two stacks, blending the foreground and the sky together, making the image a lot less noisy. Then I apply my basic editing process, resulting in the image above.
While I wouldn't recommend traveling like I did, getting any chance to travel overseas can be quite exciting. I would stay a week in each place if I could have, but if I did go back, I would spend the whole time in Iceland. It is a photographer's playground. Considering that my photographic career is increasing, I plan this May to purchase a Nikon D750 and the all new Sigma 20mm F1.4. I can't even begin to imagine the astrophotos I'm gonna get with that. If you have any questions please feel free to email me at jzaharek@gmail.com.
If you have an interesting idea for a guest post, you can contact me here.