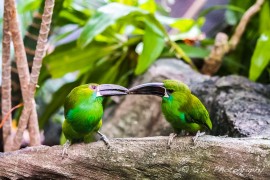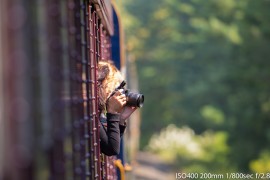 Nikon D7100 & Nikkor 70-200mm f/2.8G II lens review by Shayne Warren (this is an old guest post that somehow slipped through the cracks and I forgot to publish it):
My name is Shayne Warren, nature photography is my hobby and passion. I've been experimenting with digital photography for around 6 years, slowly teaching myself photography skills and post production editing. I prefer to use Instagram to showcase my photography.
I scoured the internet for a good 'hands-on' review of the Nikkor 70-200mm AF-S f/2.8 G II (2009) + Nikon D7100. It seemed to me that there would be a multitude of websites & forums, as I figured most people would be naturally progressing towards this combo. However, I didn't find quite what I was looking for. I've decided to add my thoughts/findings to the inter-web, in hopes that someone else may gain insight into making a big $$ investment on a professional lens. Therefore, my intention is to deliver a quick, personal hands-on review. All the technical specs you need are readily available on the nikon webpage.
In late 2012 I decided to buy a 70-200mm f/2.8 lens and coupled it with my new D7100. My hope was that the sharpness and versatility would outmatch my 55-300mm mounted on my D5100. Regrettably, I was in budget mode and opted for the $800 Tamron 70-200mm f/2.8 Di IF. Although brand new, it was an old design. Renowned for its sharpness, even on high resolution sensors. I found the lens (or at least my copy), to be very soft wide-open, especially less than 5M from the subject. This softness was awful, I had to stop down to at least f/5.6 to get close subjects acceptably sharp. I think to this day it must have been a bad copy as I couldn't fix the back-focusing issue with standard focus adjustment. It would either focus correctly at 70mm with -5 or +15 at the 200mm end. I did learn to live with this and left it fixed for 200mm and when using at 70mm, I would focus on something else and recompose. Despite its downfalls, I was able to make some beautiful images with the lens.
I will be travelling to SE Asia and was looking for a new sharp lens I could take with me. It had to be versatile and durable. I narrowed it down to the new 80-400mm VRII or the 70-200mm AF-S f/2.8 G II + TCE1.4x III, when it comes out, to get me a little longer reach when needed. I tried both lenses at the store and was having a hard time making my mind up. I traded in the Tamron and bought the 70-200mm Nikkor for versatility sake. However, I was VERY impressed with the few shots I was able to take with the 80-400mm, even wide open it performed very nicely with VR and I would recommend that lens to anybody not wanting/needing the constant f2.8 aperture. I was also contemplating the 300mm f/4, however I knew it was due for an update so I decided against it.
Handling/Feel
As soon as I opened the box at home, I knew that I had made the right choice. It's such a sleek lens and the size and weight of it is perfect for a medium sized camera body. It's a tank, the full metal housing means it weighs more, but gives the lens longevity and protection from knocks and drops. At approx. 85mm/3.3in x 210mm/8.25in and 1500g/3.3lb it's pretty hefty. If you want to feel that sort of weight in your hands, try picking up a 1.5L round bottle of water, they're roughly the same weight and dimensions. I shoot the combo with a hand-strap and even one handed sometimes. I can carry it around all day, on hikes or travelling around without it being much of a burden. My only quirk I have with the design is that it isn't possible to remove the tripod collar, only the foot that attaches to a tripod head. Now I could also see this as a positive, as your less likely to lose the collar. Or that it's always there when you need it, but for me it's just extra weight and I could lose the removable foot just as easy. The rubber grip on the zoom/focus rings functions smoothly. It's weather sealed and interacts with the internal elements nicely. I like the hood design, It has sturdy metal locking clips. I mostly leave it on while shooting to combat flare and protect the front element because I do not to use filters, besides an occasional polariser. At night I will remove it, and it reverses well, leaving room for grip on the focus ring, which I personally rarely use anyways.
There's a bunch of switches on the left side;
A/M – M/A – M: Pretty straightforward. The difference between the first two gives final priority/override to either the focus system or the user. People find the two modes useful for different situations but mine stays mostly on A/M. M being total manual focus control.
Full -> ∞ – 5M: This gives you control over how much distance the elements move inside the lens. The focus elements move quite a bit during short focus hunting resulting in slower, not slow, acquisition of focus. So if your only shooting distant subjects, the AFS will work faster with less internal movement on the ∞ – 5M setting.
VR ON/OFF: This allows you to toggle VR on of off. VR works great for slower shutter speeds, as you can still get sharp images, with good technique as slow as 1/10sec @200mm. Which blows me away. I won't get in to where you need it off in certain situations, just note that it performs exceptionally well.
VR ACTIVE/INACTIVE: This mode switches VR between stationary and moving shooting. Eg; active when shooting from a moving car, chairlift or train and inactive for standing or crouching.
Auto Focus
It's fast. The focus motor is all but silent and the speed from maximum to minimum focus is awesome. Along with the switches and the D7100 51 point AF system you can configure it to grab focus in a fraction of a second. In really low light mine will tend to hunt, but, if you can find enough contrast it will lock on. As you would expect from a lens in this category, there really isn't much to complain about. The below image of my brother was taken in a cabin lit by candle fire, with a smart phone as light from below. The combo had no problem at this low light of acquiring prompt focus. I have fairly recently started using the AE-L/AF-L button in the AF-ON mode, meaning that the camera will focus when the AE-L/AF-L button is pressed leaving the shutter release button to activate the shutter only. I find it to be the most important change I made in the way I shoot. I usually shoot in AF-C, meaning the focus system tracks the moving subject while the focus button is pressed, however, I can make a shortcut to AF-S, without changing the mode, by simply tapping the AF-ON until focused, then release it and click the shutter.
Performance
Outstanding. If you were ever wondering just how good this lens and camera combo is, then let me share with you some sample images I have made over the last two weeks. I only shoot RAW and use Lightroom to post edit the images. I leave my camera in A mode for the most part and always set my ISO as low as possible until the shutter speed drops to a slow enough speed to give soft images. The high ISO performance of the D7100 is really great, I have no problem shooting up to 12'800 with some noise reduction in post. However, I am only talking about uncropped images to a medium size, i.e. A 13' hi res computer screen.
This is a good example of high ISO, VR performance and sharpness shot RAW, wide open, hand held and 50% noise reduction. No other edit.
If you like night time/low light portraiture, admittedly not my interest, this may be interesting to you. This is as high as the ISO will go, Hi2 or 25'600. I reduced red colour saturation by -50 and applied 50% noise reduction.
As you can see, with software these days you can make useful images at every ISO.
I have been mostly using this lens wide open (f/2.8) and it is superbly sharp, I would recommend stopping down if your subject is at minimum focus distance. All focal lengths this of this lens are sharp, wide open, even on high resolution camera bodies.
I couldn't be more happy with the sharpness of this combo.
Moiré. The D7100 was the first Nikon APS-C (DX) camera to omit the OLPF or Optical Low Pass Filter. without going into technical detail about this filter, it is used to remove Moiré, which is an undesirable colour noise/aberration on an image, often seen on fine patterns e.g. textiles, fly screen and other things along those lines. Although you can't see it in the above picture it exists on 100% or higher crops.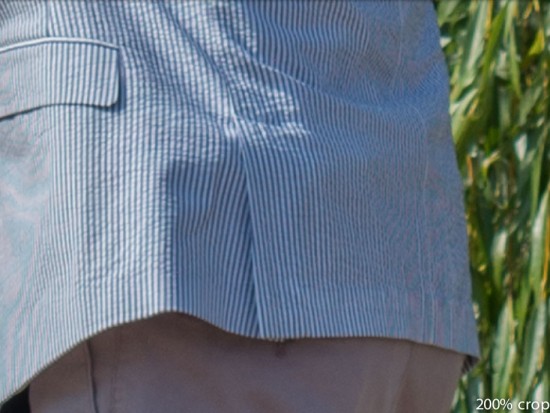 This is a 200% crop from a RAW file. Can you see the strange colours at the left and right of the jacket? I believe JPG output will have some Moiré correction, but in any case, it is easily removed in post.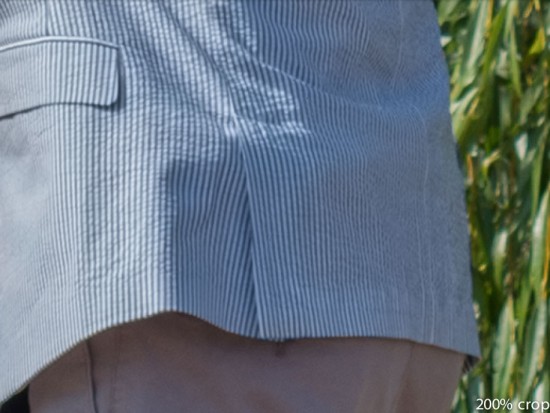 About 30 seconds to brush. Used Moiré slider to +50 and voila, no more annoying Moiré.
Bokeh
The term Bokeh is used for the smoothness of the the out of focus/blurry area of an image. On a DX sensor camera body you will not achieve the same depth of field for the same f/stop as you will on an FX. The Nikkor 70-200mm AF-S f/2.8 G II delivers really nice, gentle, smooth Bokeh, even on a DX format sensor.
I chose the above images as examples of Bokeh. I did minimal post processing and did not touch the contrast slider. You can see how lovely the blur looks and also the beautiful contrast this lens has.
This lens is not known as a macro and is technically not. However, you can get sharp crops that take you down to the micro world which is an added bonus.
Conclusion
The combination of these two pieces of Nikon's equipment to me is wonderful, albeit on the more expensive side. Although both camera and lens are probably due for an update soon, I believe that you won't get a huge deal of performance enhancements. I would recommend the lens to anybody looking for a short telephoto zoom and who wants to make an investment in a classy lens. It will give you better image quality vs variable aperture lenses, especially if you decide to upgrade to FX. The auto focus is fast, highly configureable and quiet. The build quality is superb, built to last a long time. The camera is perfect for people wanting to move up from any of the D3xxx/D5xxx or a manual point and shoot. It gives you all the controls you want without having to dig through menus and is built for all weather conditions, with a strong metal and hard plastic combination body. I really hope my review inspires/helps somebody, that finds themselves in the same situation as I was in, on making a decision about investing in either elements of this combo. Also, I would like to update this post when I have received the new TCE14x III teleconverter.
All images are my own, taken with the D7100 and Nikkor 70-200mm AF-S f/2.8 G II. Please ask if you would like to use them.
My gallery can be found at: instagram.com/swphotography_