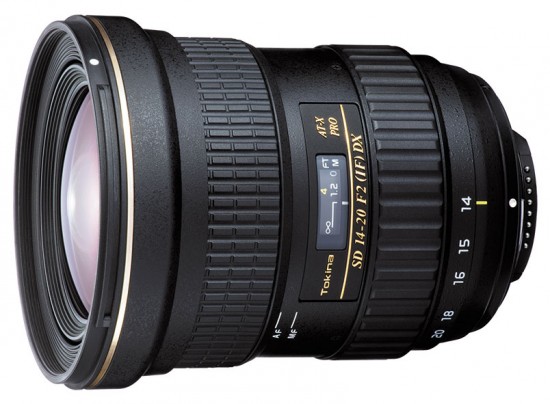 With the lack of good Nikkor DX wide angle lens choices and the new D500 camera, Tokina got the timing right to release their latest 14-20mm f/2.0 AT-X Pro DX (most of the information already leaked last year). The new lens is now available for pre-order at Adorama and B&H. Shipping is expected in mid-March, 2016.
Tokina 14-20mm f/2.0 AT-X Pro DX lens technical information and specifications:
The fast F2.0 Zoom lens of Tokina
Since the maximum aperture of F2.0 is given this lens, it's possible to support the low sensitivity photography used ISO64 and ISO100 setting. The maximum aperture of F2.0 shows its power for the photography using the blur feeling and photography with the low brightness (In the room, In the night).
Adopt highly precise Plastic Aspherical lens
The 2nd lens group in this lens is adopted the plastic aspherical lens which improved surface accuracy, and is given antireflection coat. This lens is designed tough against ghost flare.
Arrange highly precise Glass molded Aspherical lens
2 pieces of super low dispersion glass molded aspherical lens is located in the back goup of the lens, and various aberration are corrected by these lenses.
Compact Body and Excellent Operability
Tokina's exclusive One-touch Focus Clutch Mechanism allows the photographer to
switch between AF/MF simply by sliding the focus ring, forward side for AF and back toward the camera for MF. This lens is designed as the fast aperture F2.0 in all focal range, but it is a compact body. This lens has a thread in the front frame, so it's possible to attach filters of 82mm size.
Specifications
Focus distance: 14 – 20 mm
Brightness: F2.0 Canon
Format : APS-C
Minimum aperture: F22
Lens configuration: 13 elements in 11 group
Coating: Multilayer film coating
Angle of view: 91.68° ~ 71.78°
Filter size: 82mm
Shortest Object Distance: 0.28m
Macro maximum magnification: 1:8.36
Focus method: Internal focus
Number of Aperture blades: 9
Maximum diameter: 89.0 mm
Full length: 106.0 mm
Weight: 725 g
Hood (Attached) : BH-823

Product codes:
Nikon mount: 4961607634400
Canon mount: 4961607634417
BH-823 hood: 4961607711149
Sample photos (more available here):