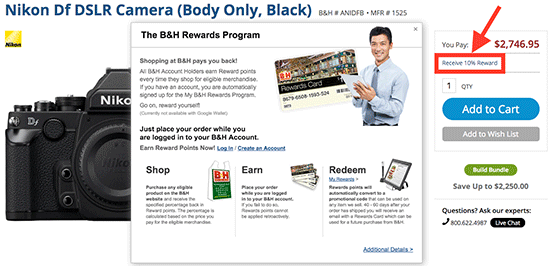 I already mentioned that since Nikon have not announced any new products in almost 6 months, they will try to make up during the holiday season with special deals. We already saw the price drop on the D750 and D810 cameras and the new lens pricing on top of the regular combo rebates. Today there is a new offer from B&H: 10% back in rewards on selected Nikon products (usually the rewards are from 0%-4%).
How it works: You will get a B&H gift card via e mail approximately 40-60 days after purchase. The reward can be used at B&H and expires 6 months after it was issued.
List of qualifying Nikon products can be found here (it includes the D610, D810, D750 kit and the Df). This is also the first significant price drop on the Nikon Df camera since it was announced two years ago.
Similar deal is also available for Canon and Sony products. More Nikon deals can be found here.