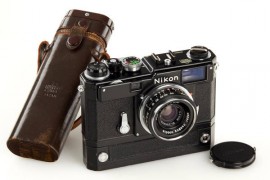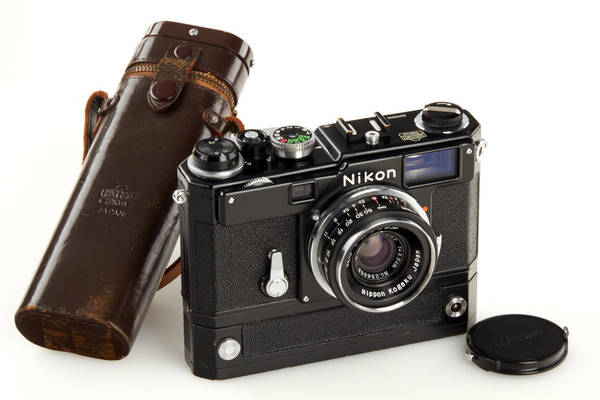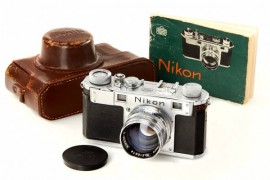 Here are Nikon highlights from the upcoming Westlicht Camera Auction that will take place on November 21st, 2015 in Vienna, Austria (the complete and detailed catalogue will be published 3-4 weeks prior to the auction date):
Nikon S 'Ansel Adams'

Historic outfit originally owned and used by Ansel Adams with documentation. The documented history of the camera starts on August, 10th 1960 with the copy of an invoice to Anselm Adams from Adolph Gasser, Camera Supplies in San Francisco for the repair of his Nikon S and the purchase of a 135mm Nikon lens. On August 11th, 1960 Adams sold the camera no.6094433 with the 50mm Nikkor no.316874 to Richard Leonhard, his long time attorney for USD 130.00 together with a Contaflex IV outfit (copy of the letter and invoice included, also the letter from 'Dick' Leonard to Adams 'Dear Ansel : It was so good to see you this afternoon. I do appreciate your quick action on the Nikon camera and lens….'. In 1987 the camera was owned by Mr. Richard Leon who asked in April 1987 Doris F. Leonard for informations about the 'Adams' Nikon. The original attached letter from May 21st, 1987 by Mrs. Leonard saying '…We have been close friends of Ansel and Virginia for 50 years …. In 1960 …. Ansel had just completed his superb book on 'The Islands of Hawaii'…and the photography for 'Fiat Lux' …. Ansel used the Contaflex and the Nikon for photographs for both books'.  In 1987 Richard Leon sold the Nikon S together with a Nikon reflex housing to Bill Fraker Jr. for USD 2350 (original invoice attached). The outfit includes the early Nikon S no.6094433 with Nikkor-S.C 1.4/5cm no.316874, cap, ever ready case, original instructions – all in fine and perfect working order.
Year: 1953
Serial no. 6094433
Start price: EUR 4,000
Estimates: EUR 7,000 – 9,000
Nikon SP black motordrive outfit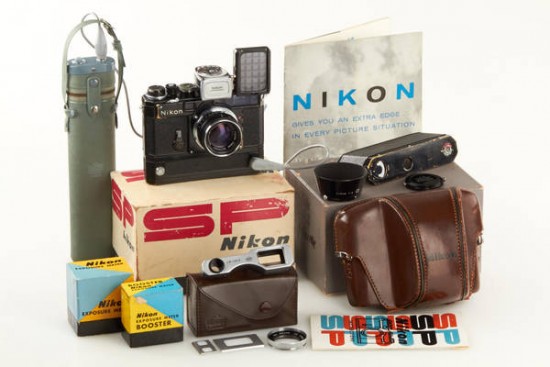 Beautiful and rare outfit in fully original and perfect working condition, black body with titanium shutter, black motor drive no.94147, original base plate, Nikkor-H 2/5cm no.760231 (with front cap, matching metal hood), grey battery pack with cables, close-up attachment no.23043 with leather case, black exposure meter and booster (with leather cases, boxes, instructions), ever ready case for camera with exposure meter with grey maker's box, instructions, a very rare brochure, Nikon SP maker's box
Year: 1959
Serial no. 6215330
Start price: EUR 7,000
Estimates: EUR 12,000 – 14,000
Nikon S3M black half-frame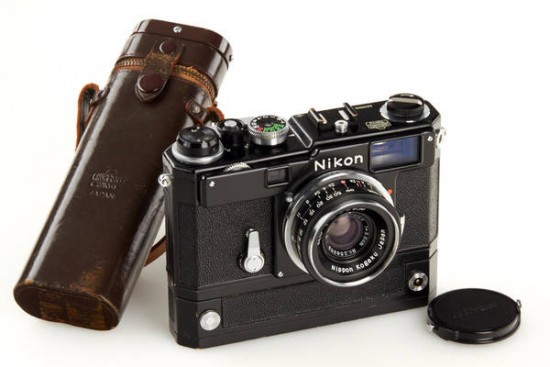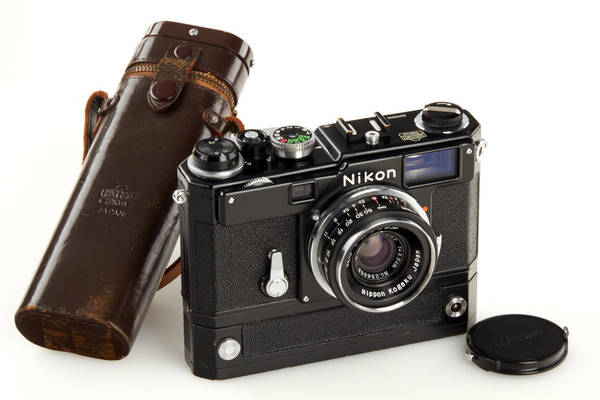 Very early black camera (production started with number 6600001) for 18x24mm half-frame exposures, film counter to 72. It is the rarest, most unique and collectable of all Nikon cameras. The body is in fine condition, clean finder with visible framelines, perfect shutter, calibrated in feet (some repaint on rear ot top plate), with black W-Nikkor.C 2.5/3.5cm no.256333 (cond.A-, cap), with black S36 Motor Drive no. 94145 and very rare small brown leather battery pack
Year: 1960
Serial no. 6600006
Start price: EUR 26,000
Estimates: EUR 40,000 – 50,000
Stereo-NIKKOR 3.5/3.5cm outfit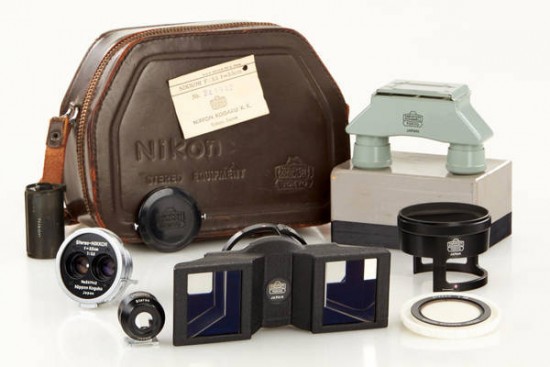 Extremely rare complete outfit with Stereo-Nikkor 3.5/3.5cm no.241942, cap, prism no.679156, hood, filter, in case, Nikon stereo finder, special Nikon metal film spool, fitted leather case stamped 'NIKON STEREO EQUIPMENT NIKON KOGAKU TOKYO', with the original inspection card and the extremely rare grey metal stereo viewer no.12748 in grey maker's box – all in perfect mint condition – the highlight of every Nikon collection – provenience: Private Japanese Collection
Year: c. 1956
Serial no. 241942
Start price: EUR 30,000
Estimates: EUR 50,000 – 60,000
Nikon (Fisheye) Nikkor 5.6/6.2mm SAP

This is the most rare Nikon lens in existence, the first of only 3 lenses produced in almost new condition with caps and leather case. The lens covers a picture angle of 230°, the front surface was aspherized. Lens no. 1015 (engraving is different to no. 1014) was sold years ago for over 40000 Euro at a camera show in Tokyo – this is probably the unique chance to buy such lens, it comes with a copy of the technical description for this lens by Masaki Isshiki (Nikon)
Year: c. 1964
Serial no.: 1014
Start price: EUR 20,000
Estimates: EUR 35,000 – 45,000
Via Westlicht