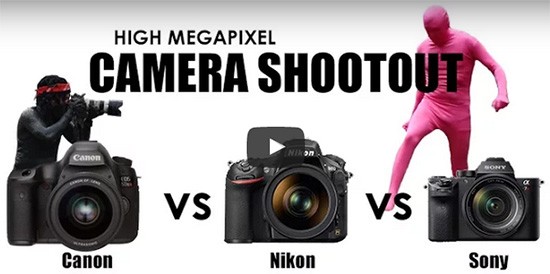 Sony A7R II vs. Canon 5DS R vs. Nikon D810 camera shootout video from Fstoppers:
Their conclusion:
"The conclusion from the The Sony A7RII is a great camera. If you don't already have a lot of money invested in a camera system and 2.8 lenses aren't a necessity right now, the A7RII may be a fantastic choice. I just didn't feel like the Sony was able to outperform the DSLR competitors in an area other than 4k video recording. That leads me to conclude that the A7RII isn't actually better than the D810 or 5DSR, it's just a really great smaller option.

Mirrorless cameras are the future and eventually this type of camera will be better in every way than our current DSLRs, but we aren't there yet. You may be tempted to jump ship on Canon or Nikon and move to the "newer" technology that Sony is producing but I can't recommend that. Nikon and Canon will eventually create an even better camera and you'll feel like switching back. This happens every 4 or 5 years."