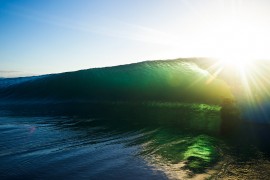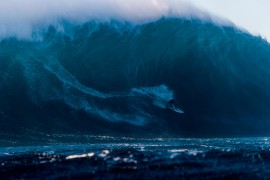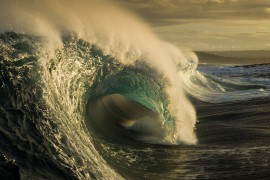 My name is Steve Wall, I'm a photographer and videographer from Sydney, Australia. My work is primarily based around documenting the most wild & raw elements of nature, with the ocean being my number one subject matter. Below I'll share a couple of images from my travels, with some insight into the equipment used and circumstances surrounding the images.
If you want to check out more of my work, you can do so on Instagram, Facebook or on my website at stevewall.com.au, thanks for taking the time to check out my photographs!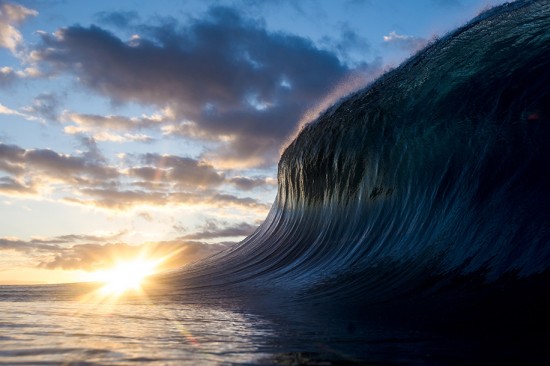 This photo was shot at Sunrise in Southern NSW, on the south-east coast of Australia. Just out of frame to the left is a large rock platform, which on the right conditions causes the waves to rise dramatically from the depths and catch the morning light beautifully. This was shot with a Nikon D4 and Aquatech underwater housing, using the Nikkor 16-35mm f/4G VR lens. When swimming with a lens wider than 50mm in the surf, it's important to be right amongst the action – you need to risk getting caught by the wave as it explodes in order to get the most dynamic angle. Settings : 1/800th, f/5.6, ISO 400, 35mm.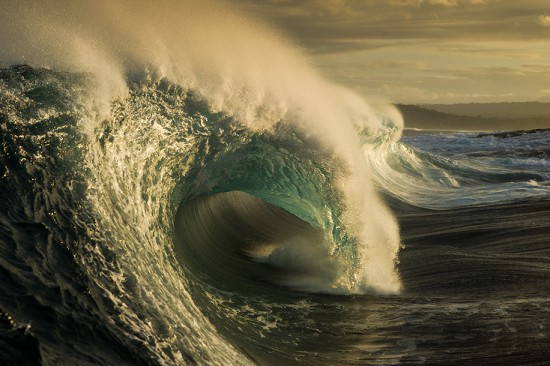 This was shot at sunset near Sydney, Australia. As a surf and ocean photographer, you need to be acutely aware of the subtle fluctuations of swell, wind and tide in order to maximise your chances of being in the right place at the right time when it comes to being there when the special moments happen. There are often beautiful waves to be had throughout the day, but golden hour at sunrise and sunset is where the magic really goes down. This was shot with a Nikon 70-200mm f/4G VR telephoto on my Nikon D3s, this lens is ideal for the water due to it's relatively small physical dimensions, making it easier to navigate heavy water conditions without wishing for a smaller and lighter weight setup. Settings : 1/800th f/5.6, ISO 200, 70mm

Brett Burcher is a professional surfer and good friend from the east coast of Australia. He is one of a select few that have the aptitude and drive to find waves such as the one shown below. Just a few moments later, he was driven, and pinned straight onto the seafloor as this wave exploded, handing him one of the most violent wipeouts he'd ever experienced anywhere in the world. In order to try and depict the true size of the waves this day, i opted to shoot from a more front on angle with a 200mm lens. Settings : 1/1250, f/5.6 ISO 200

Jase Finlay is a professional bodyboarder from Australia, one of the guys who is pushing the limits of what is possible amongst the waves, and one of the guys that is always keen to work together in an attempt to achieve a special result. When you shoot surfing, nowadays more than ever it is important to pursue different angles, and unique locations due to the bombardment of imagery shot in the water on a daily basis. With the availability of affordable DSLR waterproof housings, and even more so the GoPro cameras, and iPhone housings which truly open up water photography to more people, at a level of quality never before seen. This photo was taken from in front of the wave, an angle that a surfer would momentarily glimpse, before the wave explodes and throws them underwater. By using a jetski we are able to track with the wave, slowing at the critical moment and then quickly escaping to the safety of deeper water. Settings : Nikon D3s, 16-35mm f/4G VR @24mm 1/1600, f/5.6 ISO 200

Whilst pre planned concept shoots may yield the most innovative images, the value of spending plenty of time in the water no matter the conditions can never be discounted. You can sit there waiting for the perfect conditions, the perfect light and a sunny sky or just go and jump in. This image serves as a constant reminder of this for me, just half an hour before this shot was taken it was overcast, torrential rain, a small swell with lots of wind. I'd driven 4 hours from home through the night to be here this day, with an average surf forecast. I ran a mile or so down a beach to this location, and as I moved closer to the waves I could see the wind starting to ease, and a faint rainbow in the distance. With a spring in my step I sprinted and jumped into the water, to see the storm giving way to light and one of the best rainbows i've ever seen. I swum around with my Nikon D3s + 50mm f/1.4G prime until pitch darkness, returning to shore utterly content. Settings : 1/640, f/4.5 ISO 400
If you have an interesting idea for a guest post, you can contact me here.