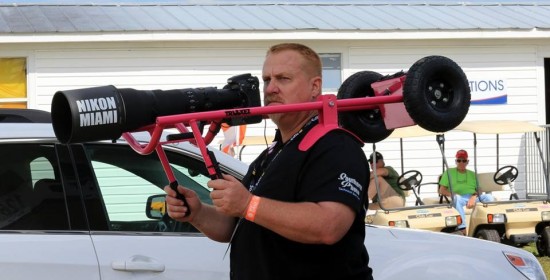 Jim Winters from NikonMiami sent me few pictures of his clever invention that he calls TRIAXEZ: a shoulder mounted "triple axis" shooting system that also has built-in remote triggers and a 12V battery used as a counterweight and power source. The wheels  make the whole rig easy to transport. His first version had a lead diving weight and no wheels, but it was difficult to carry out to the average aviation shooting spot. The 12v battery runs the camera for days if not weeks. All the wiring is hidden in the aluminum tubing, which is very light. The battery also has a port for USB charging and a cool little volt meter. The left hand controls the remote focus/trigger.
Jim uses the TRIAXEZ mainly for shooting aviation and claims that the quality of the images is great, not to mention that his shoulder/back no longer hurts after shooting airplanes for few hours. Here are two photos taken with the rig (you can see more at NikonMiami):
Related: see also this Olympus shoulder setup.