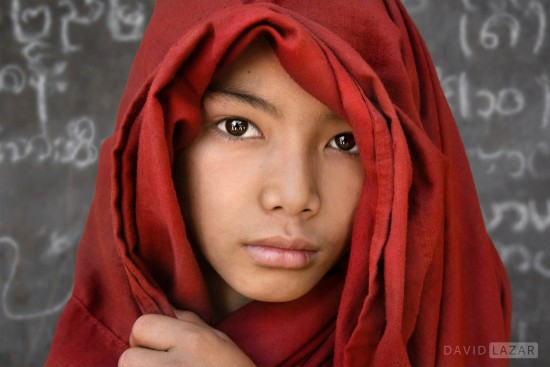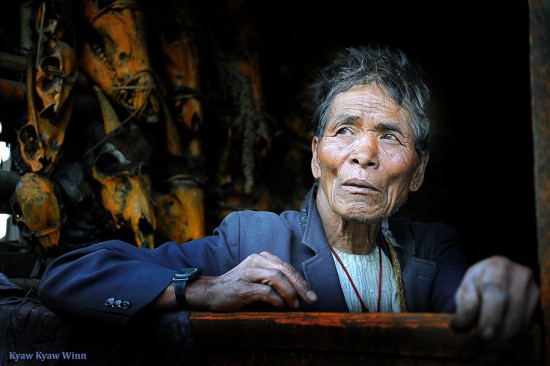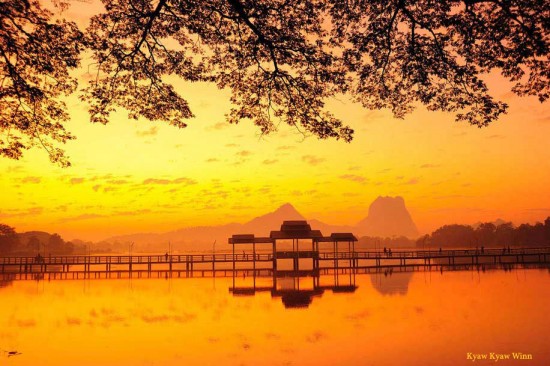 An inside look at photo tours in Myanmar and Bali with renowned Nikon shooters David Lazar and Kyaw Kyaw Winn by Bennett Stevens:
Just what is a "photo tour", anyway? It really depends on who's leading it and how it's structured, as all vary somewhat. Some have more "workshop" elements, some less. Unlike a traditional workshop, participants spend most of their time in the field, which is of course where travel photographers belong! The emphasis is on learning by doing, and any instruction is informal and personal. Some want a lot of help, some want none at all, most are somewhere in the middle. The main goals are for each participant to capture pro quality, impact images and to strengthen both their knowledge base and portfolios. Skill levels range from novice to pro, with most being intermediate to advanced. Inside access means getting a slew of photo opportunities participants could never get on their own, and this alone is a perfectly legitimate and compelling reason for joining in.
In this article we will focus on photo tours with multi-major award winning travel shooter & Nat Geo contributor, David Lazar, along with 3-time Myanmar Photographer of the Year, Kyaw Kyaw Winn, (also a Nikon workshop instructor in Myanmar). "K.K." uses a range of Nikon cameras & lenses and usually has a D3s & D800 hanging from each shoulder. His favorite lenses are super wides like the Nikon 14~24mm 2.8. He also uses the Nikon 28mm F/1.8. His walking around glass is the Nikkor 24-70 2.8 and the 70-200 2.8.
David, on the other hand, is a minimalist. He carries only a D800 with a Nikkor 24-85. Their styles, as you might guess, are quite different, but the end result is the same – success!
Bali with David Lazar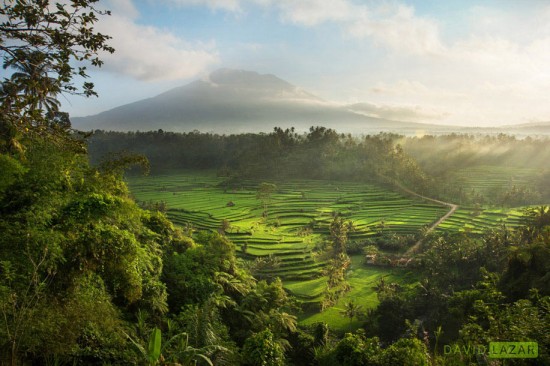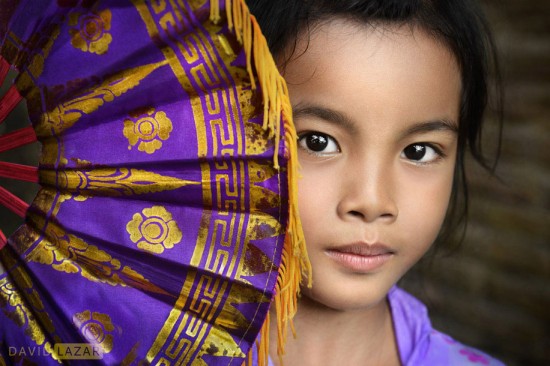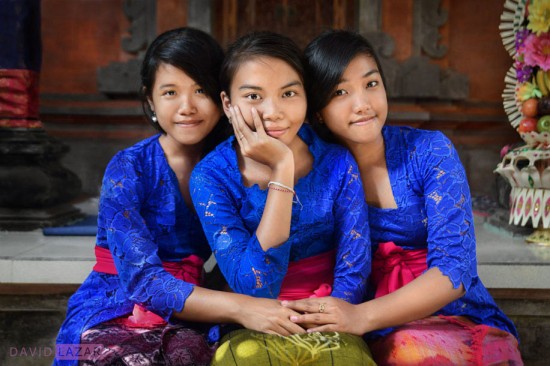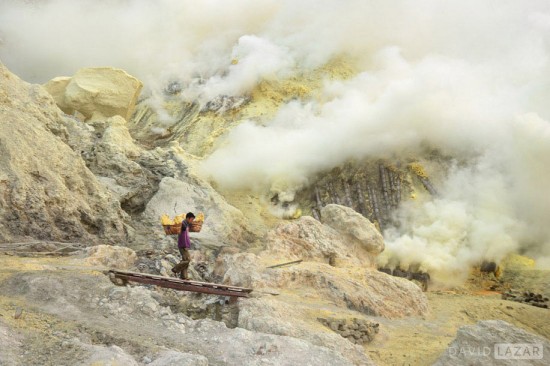 After successful photo tours in Myanmar, which he is still leading for Luminous Journeys, David Lazar wanted to try something new and challenging, if not in an obvious way. Bali had always fascinated him, but its reputation as a crowded tourist Mecca was to become his central challenge. Could he discover a hidden Bali (plus East Java) that was off the beaten track and filled with enough compelling photo opportunities to warrant a full length photo tour? Could paradise for surfers, honeymooners & party animals reveal itself as a paradise for serious photographers as well?
Last October David hit the island running – smack into me, Bali guide Pande Sura and local Nikon shooter Dukun Jawa – to do a dry run. Even though we had done our research, the inside knowledge of both Pande and Dukun would prove instrumental in shaping the final tour design.
While I focused on the mundane necessities of food, transportation & accommodation, David honed in on shooting locations that all held something special. Certain photogenic locations that had already been photographed millions of times and were likely to be over crowded, were excluded from the outset. Just like his Myanmar photo tours, he wanted to offer as wide a range of interesting photo ops Bali and Environs had to offer.
Portraits – Including the Bali Aga, the islands original inhabitants
Environmental Portraiture
Landscapes – Hidden Rice Terraces & Waterfalls, Volcanoes & Lakes
Documentary – Seaweed Farmers & Volcano Sulfur Miners
Arts & Culture – Balinese Dance, (private performance), Temples & Ceremonies
Spectacular Event – Buffalo Bull Races
Underwater Dive/Snorkel Shoot
No problem, Lazar, should we add a skydiving shoot as well?! Don't answer that.
Bali Aga – Anatomy of an Impromptu Photo Shoot
Exploring a Bali Aga village in east Bali I ask David what role happenstance plays in his image making, just "bumping into things". David adjusts his non-descript shoulder bag (as primarily a portraitist, he routinely keeps his camera tucked away so as not to announce his intentions prior to engaging his subjects) and answers thoughtfully.
"I wouldn't call it 'bumping into things' as much as engaging with people and seeing where it leads. For me it's not only been one of the keys to my work, but one of the great joys of travel photography. More often than not you are led to a dead end image wise, and that's OK because you're still working, and the more you work the closer you get to that next great photograph.  There have been a number of times when I've been led to what would become some of my most popular images, images I would have never found on my own.  Engaging with locals and subjects is an essential part of travel photography for me, and one of the things I try to teach by example on my photo tours."
Just as I nod and click off my recorder, we find ourselves in front of a Bali Aga home festooned, we are told, with wedding decorations. A boy dressed in his finery stands by the door, staring curiously at these strangers passing by. David stops, sensing a photo op. A man approaches from down the street and greets us, asking where we're from. His English is good, and he's the father of the bride! To our surprise he invites us inside to join the now waning reception.
Introductions and niceties out of the way, we are turned loose on what remains of the crowd. I hone in on the food, while Lazar chats up a group of bridesmaids dressed in blue, along with several others. Before long he asks to take their photo, reaching into his bag as he does. The gaggle giggles their assent.
I don't see much of a photo there, but I know what he's doing. By involving the entire group in the fun first, he'll be able separate the subject or subjects he really wants to photograph from the pack soon enough. The others will likely lose interest and he'll be able to focus on the task at hand. Even as he's taking the group photos I see him checking around the large indoor/outdoor "living room" for the best background.
I'm barely through my third chicken satay stick when true to form, Lazar politely separates the three most photogenic of the young ladies and moves them in front of the family temple about 10 feet away. At this point the giggling is minimal and the ladies are clearly pleased to have been chosen. Lazar sits them into position, checks his settings and takes a few prelims. Satisfied, he begins to work in earnest. They have no idea who he is, but can see the work is important to him, that he's not just a frivolous tourist. And so they take his lead and morph into working models. They still have fun between poses, Lazar modeling different hand positions, motioning them this way or that. Twenty or thirty frames later the work is done and a good time is had by all.
But he doesn't snap and run. Instead he tells him he's a professional photographer and promises to send them copies of the images, which he will. There are occasions when he goes a step further, and actually prints images and gifts them to certain people on his return. To David Lazar, goodwill and good travel photography go hand in hand.
Myanmar with Kyaw Kyaw Winn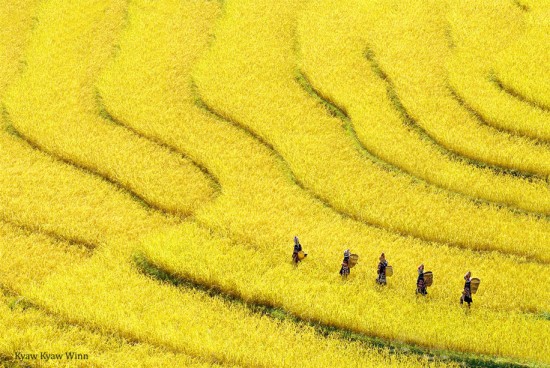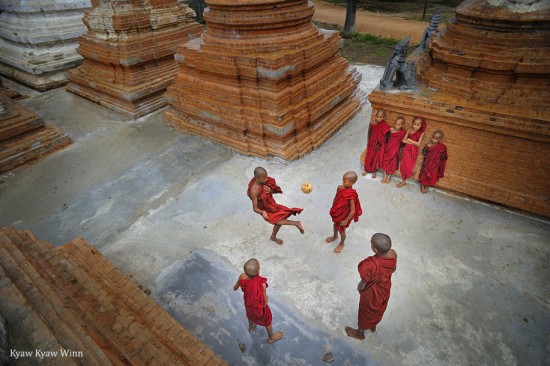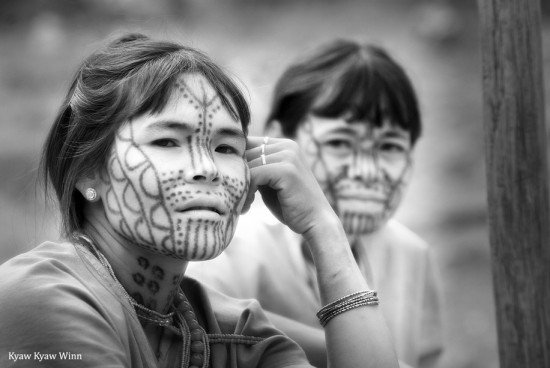 It's a half hour before orientation at Kandawgyi Palace hotel in Yangon, and "K.K." is putting the finishing touches on his slideshow presentation. I am nervous that its last minute and clients from six countries will soon be judging him on first impression, but K.K. is smiling broadly and telling me to relax. It's the Burmese way I know, but relaxing just before showtime doesn't come as easy for me. I have been corresponding with the participants for months, assuring them of this and that, looking at their images, learning about their expectations, going over them with K.K.. Despite my nerves, I have seen him in action long enough to know that he will work his magic, that somehow all expectations will be met or exceeded, with any bumps in the road overcome by his sheer positivity and passion for photography.
And that's the unifying force of the successful photo tour – a shared passion for photography that engenders an uber positive esprit de corps and willingness to expand one's horizons. Dedicated landscapers discover a love of people photography in a place like Myanmar. Portrait shooters are sucked into the surreal templescape of Bagan or the ethereal rice terraces of the Golden Triangle.
K.K. Winn's shooting schedule is as loose and fun loving as he is, within certain parameters. He carefully plans the major shoots, but leaves the spaces in between for the providence of travel photography. K.K's keen eye leads from one spontaneous photo op to another, from novice monks playing ball among Buddhist zedis in Bagan to a line of pink robed nuns "interrupting" a landscape shoot in Hpa An. When the young nuns walk past on the wrong side of the street, K.K. runs after them and lays on the charm. Two minutes later they are walking on the 'right' side, where we can capture them with the scenic background. Everyone scrambles for position, careful not to get in one another's shot. Not always an easy task!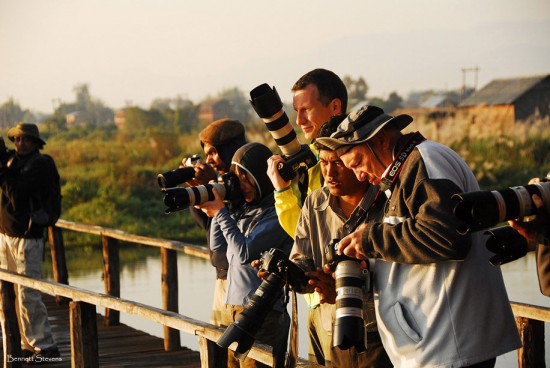 Bagan and the Ananda Pagoda Festival is where we run into Steve McCurry and his photo tour group. K.K. Winn and Steve know each other in passing – they both worked on the "7 Days in Myanmar" book project, along with 28 other of the world's top photographers last year. They exchange smiles & polite greetings and move on.
I watch our group as they watch Steve work, then K.K.. Steve works his D800e slowly, zeroes in on a subject he wants. One he is taken by is a very young monk standing amidst a sea of older monks in maroon robes. He spends quite a bit of time in front of the boy, 6 or 8 feet away, moves closer and takes a few shots, relaxes back a few steps, and later repeats the process. There is almost no interaction between photog and subject. During the 15 or so minutes Steve spends on the boy, K.K. has made a couple of laps around the long line of monks, often interacting with subjects. Steve & K.K. may move at very different speeds with different styles, but the one thing they share in common is the most vital – a passion for, and a dedication to their craft.
Driving by an outdoor boxing match one evening after dinner, K.K. asks the driver to pull over. It turns out the event is sponsored by a large monastery led by an abbot K.K. knows well, who grants us corner ringside access, right on the canvas. Suddenly participants who never imagined working for Sports Illustrated find themselves morphing into an excited rookie press pool, learning new camera settings, cranking up the ISO, borrowing K.K's ultra wide angle, snapping away eagerly and coming up with some fine shots!
And this is how things go, in different ways day in and day out throughout two weeks on Myanmar photo tour. The days are a mix of free shoots, arranged models/set ups, people, landscapes, street & festival. Subjects include grand golden temples, monks and monasteries, nuns and nunneries, ancient ruins, floating villages, Intha fishermen, children riding buffalo, ethereal rice terraces, craftsmen carving giant Buddhas, colorful market sellers, river fortunetellers, long-necked Padaung women working looms, tattooed Chin ladies smoking giant cheroots, and innumerable other ethnic peoples in the act of living. There's even an aerial shoot from a balloon over the 2,220 temples of ancient Bagan…
At the farewell dinner back in Yangon, which includes a closing slideshow of K.K.'s and participant's images, I realize fully how needless my initial nervousness was. All eight photo tour goers are aglow. Tired, but aglow. Even for the advanced, it has been some of the best if not the best photography of their lives. One man, the most staid & circumspect at the outset, stands up and delivers effusive words of praise for Kyaw Kyaw Winn.
Tomorrow is departure day, but nobody wants to say goodbye.
Bennett Stevens is a documentary & travel photographer, in addition to being photo tour director at Luminous Journeys Photo Tours in Myanmar and Bali. His personal website is www.BennettStevens.com.