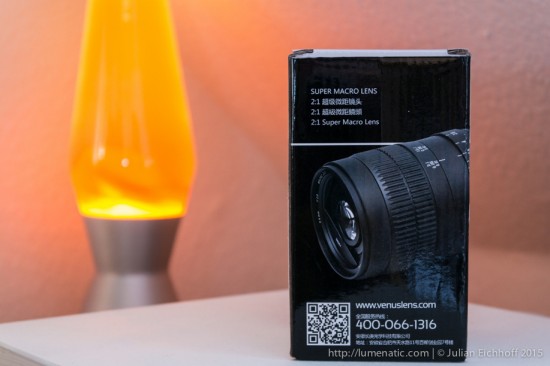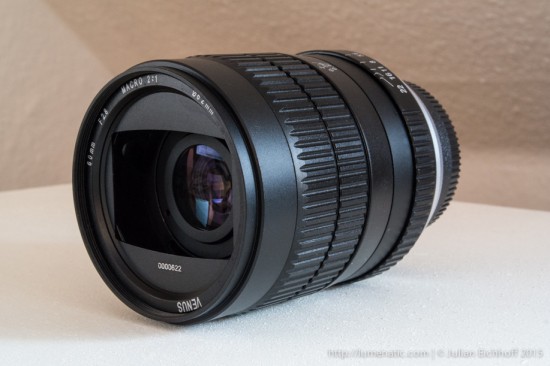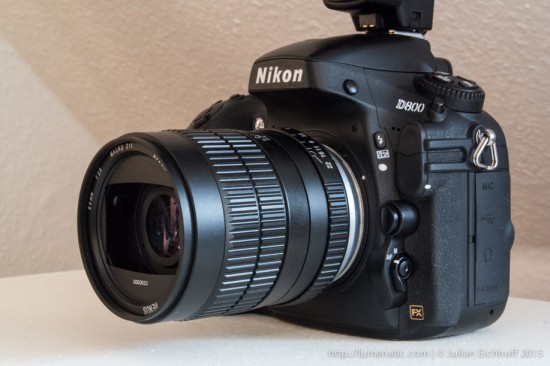 Last month Venus Optics announced their new 60mm f/2.8 Ultra-Macro lens ($379) – the world's first 2:1 magnification lens with infinity focus. Here is a review of this lens by Julian Eichhoff  (Website | Facebook | Twitter, see also his Samyang 12mm f/2.8 fish-eye lens review):
The Venus 60mm f/2.8 macro lens
Venus Optics, a Chinese manufacturer, released a 60 mm f2.8 ultra macro-lens. It is a special lens, because it can achieve a magnification of 2:1 (comparison: The 105 mm f2.8 Micro Nikkor "only" achieves a ratio of 1:1).
If you are not familiar with these numbers: The reproduction ratio describes the size of the image on the sensor in relation to the real-life size of an object. At 1:1 a 10 mm object will produce a 10 mm image on the sensor. At 2:1 the image of the very same object will be 20 mm.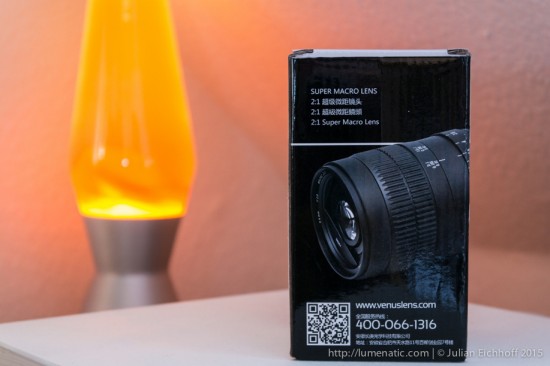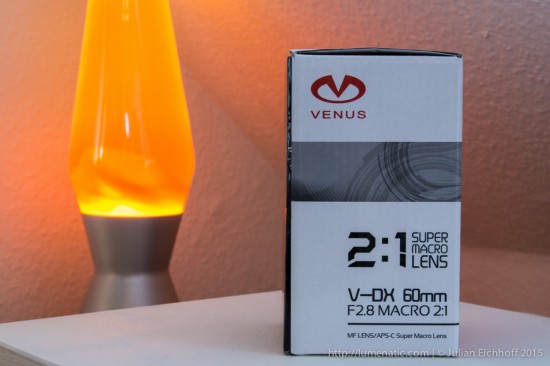 I ordered the lens for 379 USD directly from China, shipping was free (that's a special offer during the introduction phase of the product). Roughly ten days later the lens arrived in a giant bubble wrap envelope. I also received a free bonus item – a 62 mm UV filter. Usually I do not use UV filters, but one could think about it when using this lens due to its optical construction – more on that later.
Unboxing and first impression
The lens comes in a vacuum-sealed bag (never seen that before…) together with an instruction manual and a nice bag made of a neoprene fabric. To be honest, I did not know what to expect because not many reviews were available when I ordered the lens. I braced myself for a cheap toy with a lot of plastic. But the lens proves to be solidly build with nearly everything made of metal (except the optical elements of course :-p). Even the focus ring is made of metal, which is commonly made out of rubber.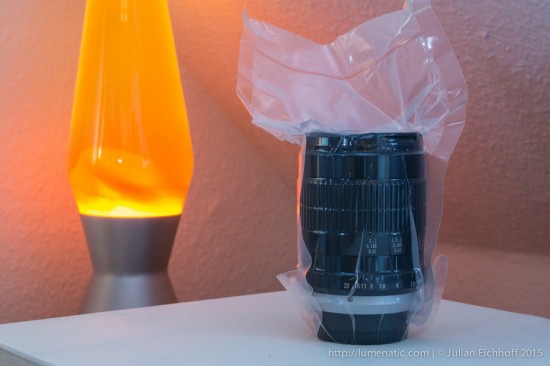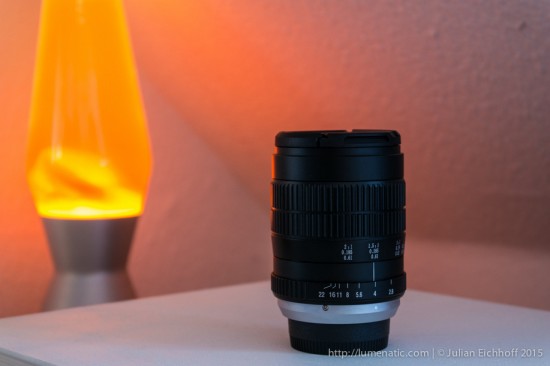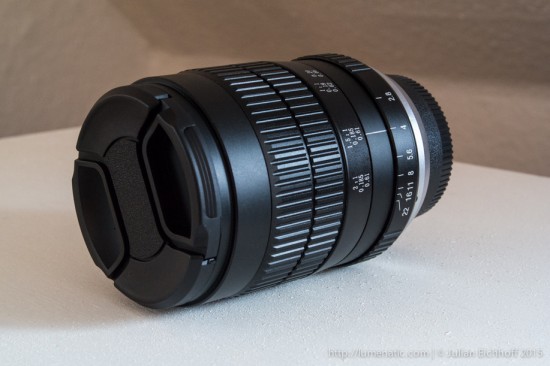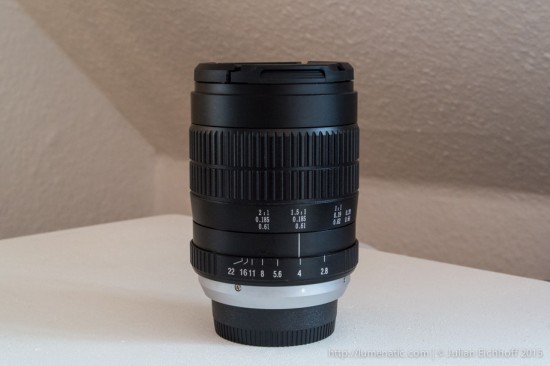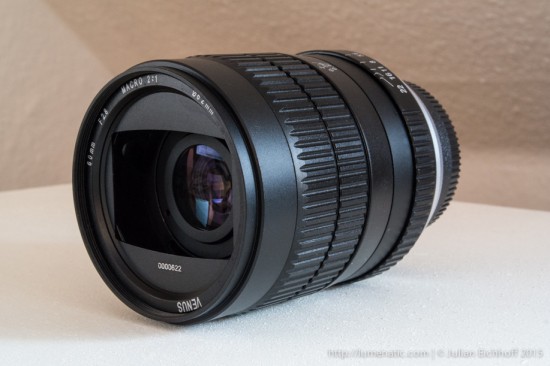 The lens is fully manual. Notice the absence of electrical contacts or mechanical coupling elements apart from the bayonet.
The construction is interesting. When focusing into the distance the optical elements retract into the lens barrel. That is why one could think about using an UV filter– it would protect the inside of from dirt and dust. I emphasize "one could", because I opted not to use a UV filter. Your choice might be different and either one is ok.
The front of the lens barrel is covered with a mask that approximates a rectangle. Again something I have not seen before. Perhaps this mask is some kind of two-dimensional lens hood to reduce flaring. Perhaps it is supposed to protect the inside of the lens barrel when the optical construction retracts during focusing. Any enlightenment on this is welcome.
None. The end.
Jokes aside – As mentioned above the lens is fully manual. Camera-wise you have to shoot in manual mode. Shutter and aperture priority as well as program mode not possible since neither does the camera know what aperture is being used, nor can the camera control the aperture. Also there is no autofocus.
The camera won't know what lens you have mounted unless you manually enter the information. Most cameras have a "Non CPU lens data"-setting, where you can dial in the focus distance and the maximum aperture. Both the D800 and the D750 have that function, but don't have a 60 mm option for this menu item. You can choose between 58 and 70 mm.
The actual shutter speed and ISO value are written into the EXIF data, also the focus length you have entered manually (58 mm in my case). But there will be no information on the aperture you have used for the shot. Lightroom displays "f/0.0". So either you have to remember or write down the aperture value for each shot or do without it.
Handling
The aperture is set by rotating the corresponding ring on the lens. The lack of automatic aperture actuation means, that with each step you close the aperture down, the viewfinder becomes darker. At f2.8 and f4 this is not a problem with sufficient light, but once you reach f8 and up the viewfinder becomes very dark, even in bright sunlight.
In order to be able to focus on your subject I used a small LED flashlight, which I switched off for the exposure. It is not a very good solution, since you need one hand for the flashlight and the other for the camera – it's a bit shaky.
The minimal focusing distance (at 2:1 magnification) is ridiculous: approx. 6 cm (2,36 inches). Here is proof of my words: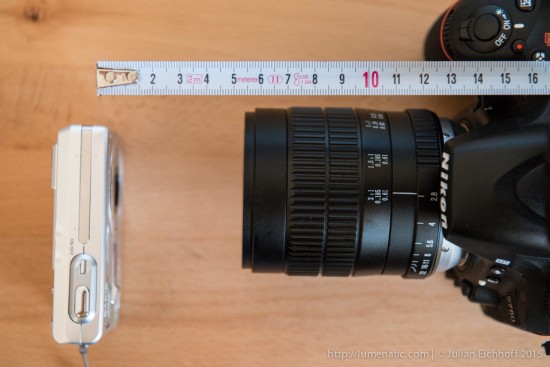 Getting a sharp shot at 2:1 magnification requires a steady hand (or a tripod 😉 and some skill. At this magnification you are focusing on such a small area, that the slightest movement back and forth will move your subject out of focus. Use a tripod if possible, for moving subjects like insects burst mode is your friend ("spray and pray" is allowed in such cases 😉
Image quality
Once you have nailed the focus down the lens produces very sharp images. The facets on insect eyes become visible, something that I barely achieved with the Nikkor 105 mm at a reproduction ratio of 1:1.
Despite the statement on the Venus Optics website (see box below) vignetting definitely is an issue at full frame bodies. Dark corners appear both hat 2:1 magnification ("macro mode") as well as infinity ("normal mode"). Maybe a lens correction profile will be added to Lightroom in the future, although I am not sure how Lightroom could determine when to apply the profile (remember – non CPU lens, for the camera the lens is an unknown alien being).
The Venus Optics website states that "slight vignetting will appear for Full-frame camera at normal shooting, while no impact for Macro shooting" Source: www.venuslens.net => Specifications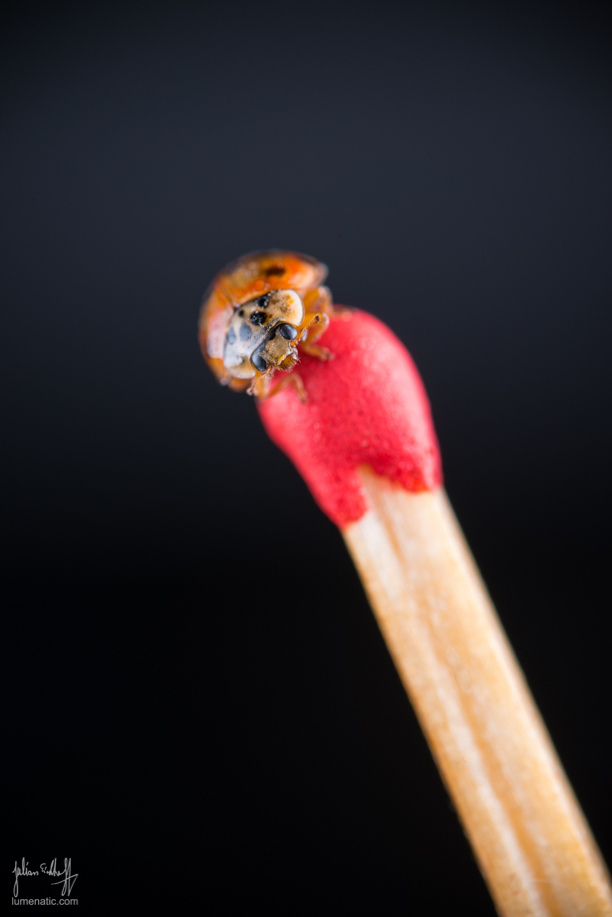 If you like to see a short behind-the-scenes report of that baby ladybug shot, visit my website.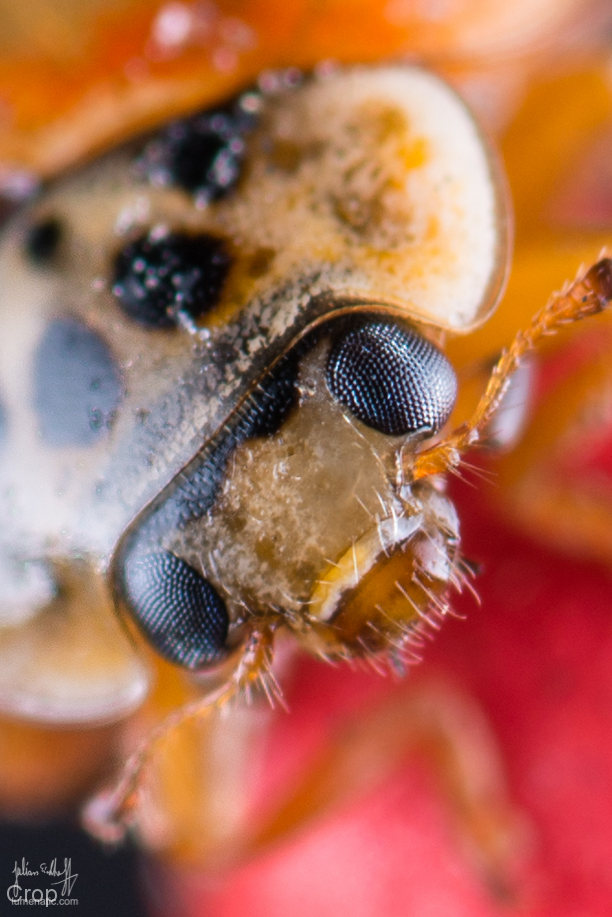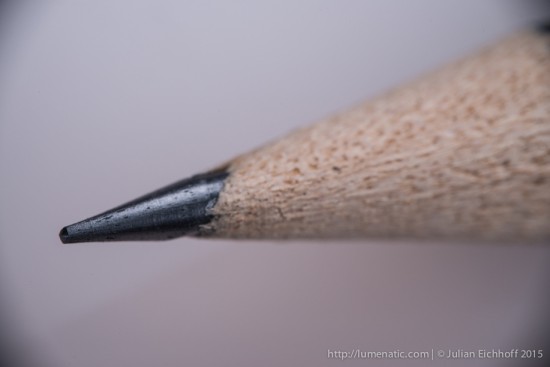 The tip of a pencil at 2:1 magnification. Very sharp, although strong vignetting occurs.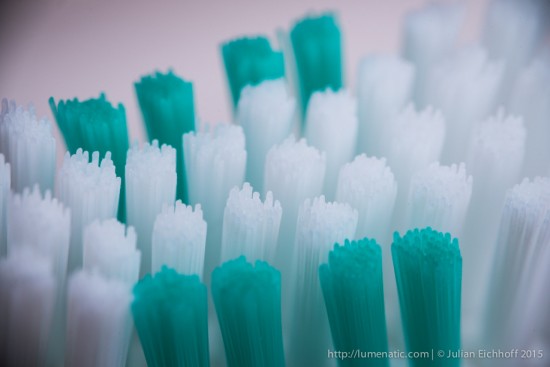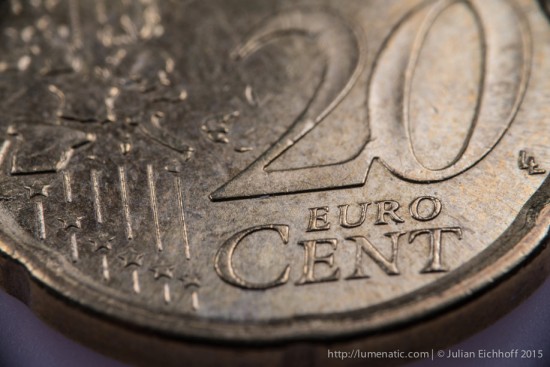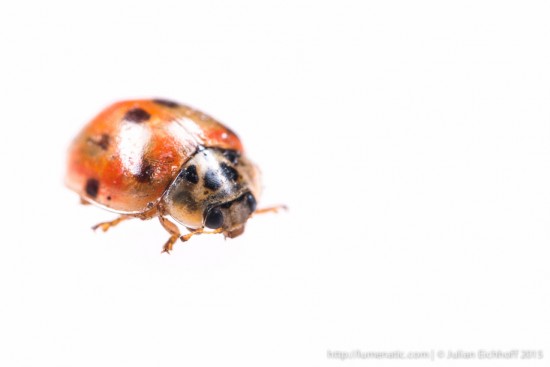 This is a crop, hence no vignetting.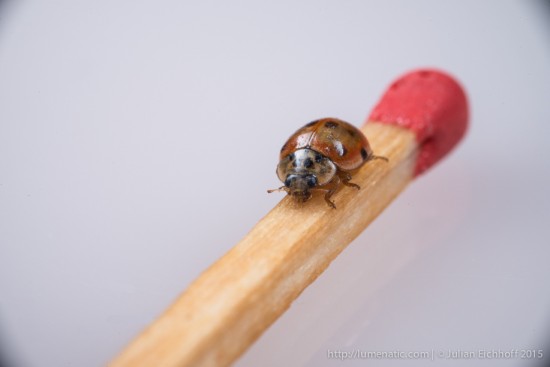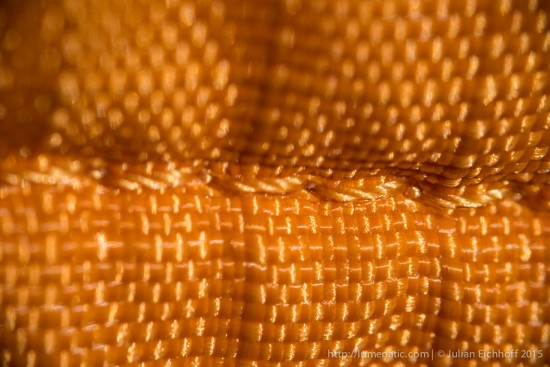 The stitching inside my Crumpler photo bag. On the cropped image you can identify the single fibers in the woven structure of the nylon fabric.

Here are some sample images in "normal mode" (focus set to infinity). As described above, vignetting occurs in contradiction to the statement on the Venus Optics website.
And here is a pretty nasty example, photographed against the sun. A black frame is visible, vignetting, very unpleasant flare and reflections. The image looks so $#!tty that one could call it art *duck*. I have to say that this was the only image of that kind. All other test images in "normal mode" did not show the black frame or the reflections.
The Venus 60 mm f2.8 macro lens opens the door for stunning macro photographs without breaking the bank. The lens is very well built (full metal housing) and produces sharp images. Vignetting is an issue on full frame cameras, not only when the aperture is fully open. Definitely not a beginner lens! Handling this all-manual lens requires some skill, experience and a steady hand, focusing requires a lot of light when the aperture is not fully open.
Despite its shortcomings and limitations it is an exquisite macro lens at an affordable price. Bottom line – Recommended!
About the author: Julian Eichhoff is a photographer based in Hanover, Germany. He is married and has two kids. In his day job, he works as a mechanical engineer. You can follow Julian on his blog lumenatic.com, Facebook, or Twitter.
If you have an interesting idea for a guest post, you can contact me here.