Gary Yost (www.garyyost.com) talks about the making of the Full Moon Pacific Blanket time-lapse video in the San Francisco Bay Area:
I've been a volunteer fire lookout on the East Peak of Mt. Tamalpais for the Marin County Fire Department for four years and its aerial location has provided many opportunities for me to see the San Francisco Bay Area in unique ways.  Mt. Tamalpais State Park closes to visitors every evening from sunset until dawn, and once the park is locked up, only the lookouts and rangers have this highest vantage point in the Bay Area (2,547ft).  In 2012 I made the short film "A Day in the Life of a Fire Lookout" that conveyed the magical feeling of what it's like to spend 24 hours at the peak of the mountain, on a night with no moon so that the Milky Way is visible (a unique phenomenon smack dab in an urban setting of 7,000,000 people). I used a Nikon D700 to produce that seven-minute short and it garnered a Vimeo Staff Pick, inspiring me to continue telling stories about my "neighborhood."
Since then I've made quite a few other short films, including "The Invisible Peak" — an award-winning film about the strange history of Mt. Tam's West Peak.  The West Peak was the site of the now-defunct Mill Valley Air Force station, originally built as part of the Nike missile defense system in the 1950s.  The old Nike radar has since been replaced by the FAA with a modern (and huge) radome… a landmark most people in the Bay Area refer to as the "golf ball."  I first became fascinated by this radome and the ruins of the Air Force Station on West Peak during my fire lookout shifts because the huge white ball was always right there just west of my lookout; it was my silent partner, omnipresent.   (I can even hear it scan me if I have the FM radio on…. a little bit scary.)   During 2013 I spent months researching the West Peak's history and, with the help of my friends Peter Coyote, George Daly and Jamie Clay produced a 22-minute short documentary to raise awareness of the restoration work that needs to be done there.  I used a Nikon D4, a D800 and Nikkor lenses to shoot the entire film, including both the time-lapse and real-time sequences.
I'd always wanted to capture the night-time summer phenomena of the Pacific ocean fog as it famously blankets the Bay Area so frequently after dusk.  It has such ethereal qualities, especially in the moonlight and it's a shame that nobody can get above it to see it! I had heard that August was going to feature a supermoon, which seemed like the perfect opportunity to film what the fog looks like when lit by moonlight from above.  I scheduled a shift during this full moon thinking that it would be a great opportunity to show people something new.
When you're in the fog (anywhere below 1500-2000 feet), it just appears as a drab grey blanket, but when you're above it, it becomes dynamic and almost looks alive.  The fog forms from nowhere and becomes a magical mysterious tsunami of vapor that erases almost all traces of civilization at night.  It's an elemental dance… the water rises up into the air and blankets the earth.  The fourth element is fire, and  it's what we humans bring to the landscape.  This fire energy is an artifact of our civilization as evidenced by the lights of our vehicles and cities.  When the fog is thin and diffusing the city lights it looks so much like the cities are on fire that I've always compared it in my mind to what the roiling fires of hell were imagined to be in those 15th century Hieronymus Bosch paintings.  But after midnight, when the fog fully comes in and deepens to 2,000 feet, it completely smothers the Bay Area and a tremendous hush falls over the mountain.  All traffic noise and city lights cease and all you can hear are crickets and the wind.  The sight of jets taking off and landing at the SFO and Oakland airports are the only man-made movements that can be detected, adding another sense of surreality to the scene.
What I enjoy most about creating imagery is showing people what they wouldn't normally see… revealing the unseen and the mysterious.  This project felt like a great way to do that and before my August 9th shift I carried my D800 and a few (of my lighter) lenses up to the lookout along with the food and bedding I'd need for the weekend.  It's a hike from the parking lot up to the peak and I didn't want to push myself too hard, so I took the most minimal gear necessary… a carbon fiber tripod to deal with the high winds, along with the D800 and Nikkor 16-35mm/f4, 28mm/f1.8 and the light but long 70-300mm/f4-5.6 (plus lots of 64G SD cards, of course).  I used the excellent and indispensable Sun Surveyor iOS app to pre-visualize the location of the rising moon, and by the time it rose at 7:10pm I had everything set up for my first shot.   Visualizing the rising moon is always a "Where's Waldo" exercise for me because the horizon-level haze frequently tends to obscure it.  That evening the haze was even worse due to all the forest fires in Northern California from recent lightning strikes and I managed to grab focus and position just after it crossed the haze line.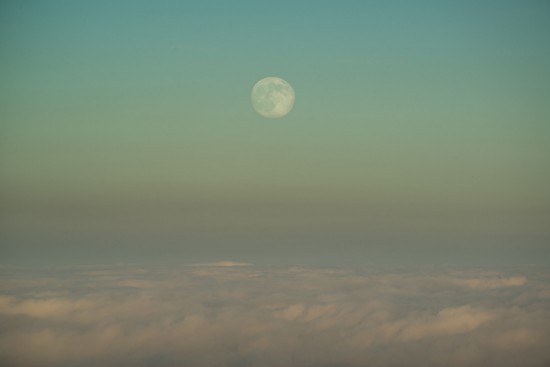 From that moment until the moon set near to the radome at 5am, I was in motion;  either setting up a shot or scouting for the next shot.  Everything was filmed from the Fire Lookout's catwalk, and in fact 90% of the shots were from the eastern catwalk because the westerly winds from the ocean were so strong that night (>25mph) and shooting from any of the other three sides would've been impossible.  The fire lookout makes a fantastic wind break!  As it was, I hung my camera bag on the tripod center hook to help, and most of the shots didn't need any stabilization with the Warp Stabilizer in After Effects.  A few of the telephoto shots did, such as the full moon closeup at 0:27.  That one was pathetically jumpy and the Stabilizer helped but you can still see the moon swimming around a bit.  My Sigma 120-400mm lens would've more stable for that because there's a tripod mount foot on the lens itself, but for the sake of compactness, I didn't carry it up there that day.  By 3am the wind died down and it was indescribably peaceful up there, with a warm wind blowing at 10mph and the crickets chirping away.  Air traffic had almost ceased by that time and the scene must've looked very similar to how it would've looked 1,000 years ago.
Once the moon had set I was finished and packed up all the camera gear.  But the oddest thing happened after the sun rose!  I looked out the west side of the lookout and saw a perfectly circular rainbow halo around the shadow of the fire lookout as it was projected on a cloud below me.  I quickly unpacked my gear and captured the phenomenon, which I later Googled and learned that it's called a Sun Glory — an optical effect that happens due to light waves when photons tunnel through air inside the water droplets and is then are emitted backwards towards the viewer. Glories can only be seen when you're between the sun and the clouds, so you have to be quite high to be in the position to visualize them.  My wife has seen them from airplanes but I'd never experienced one before.  If you're on a mountain with clouds below you, they're possible to visualize right here on earth and you can watch this short 40-second time-lapse of the Glory here:
What's particularly interesting is that on Monday when I was processing the shots, I noticed that there was a Moon Glory in the Blanket video at the edge of the fire lookout's moon-shadow, between 1:56 and 2:01.  I didn't even notice that when I made the shot at 3:30am but it popped right out at me in Lightroom.    I couldn't find any references to Moon Glories anywhere on the Internet, so I assume that this is one of the most rare optical phenomena on earth.  Check it out!
Once I was back home I transferred the 4,748 D800 raw files to my iMac's external Thunderbolt drive.  At 40Mb each, that was 190Gig of data captured just in one night!  In the old days it would've been impossible to easily work with this much data, but now it's really no big deal.  I processed each shot with the workhorse combination of LRTimelapse and Lightroom, making sure to get the white balance dialed in to accurately reflect what my recollection of the palette of the scene was on Saturday night.  Lightroom's healing brush was also essential because I hadn't cleaned my sensor in awhile and some of the shots showed severe dust spots.  Luckily the camera was locked down, making these corrections easy.  If not for that tool, which you can apply to all of the frames of a time-lapse sequence by synchronizing to the corrected frame, a few of these shots (particularly the opening sequence) would've been ruined.  Finally I ran my post-processing passes in After Effects: motion stabilization on the files that needed it with Warp Stabilizer; deflickering on 3 of the shots with Digital Anarchy's Flicker Free; and motion blur with ReVision Effects Reel Smart Motion Blur on a few of the shots that needed a bit of temporal smoothing.
Finding the music to add to a piece like this is always one of my greatest pleasures, and getting to the point of bringing the assets into FCPX to start editing is incredibly exciting for me.  I had remembered that a harpist I know (Rüdiger Oppermann) had composed a wonderful harp/organ/bell piece called "Tsunami."  That perfectly described the visuals… a tsunami in the air.  I sent him a note asking for permission and then I was ready to start editing.  It only took a few hours to compose the visual narrative in FCPX because essentially I was reproducing the moonrise/set timeline and only had to cut that to the music.  The biggest challenge for me was matching the tonality of each shot to its neighboring shots.  Variations in lighting and color balance were fairly extreme and detracted heavily from the flow of the piece.  So, once the edit was finalized (after a few drafts) I exported an XML from FCPX and brought that into Davinci Resolve Lite.  Resolve is my color grading tool of choice because it's so amazingly powerful and provides great ways of comparing multiple shots.  Using animated Power Windows and simple 3-node graphs, I was able to color-correct the entire 3-minute piece in about an hour and then exported all the graded footage back to FCPX.  I urge anyone who's serious about color grading to take advantage of this incredibly powerful (and FREE) software.  It's effectively like Photoshop for color manipulations over time.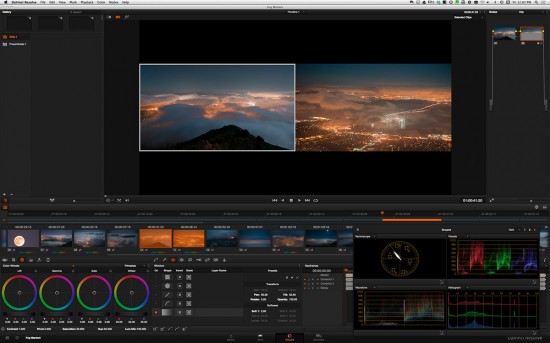 This has been another tremendously gratifying experience for me.  I was able to show my family, friends and the world a little bit of what it's like to be in such a special place.  Our planet is so beautiful, and when I see events like these I often am inspired by this quote from the noted agrarian writer, Wendell Berry.
"The care of the Earth is our most ancient and most worthy, and after all our most pleasing responsibility. To cherish what remains of it and to foster its renewal is our only hope."
Thank you for watching.
Gary Yost is a filmmaker and photographer living in the San Francisco Bay Area who focuses on telling stories about the interesting people and places where he lives.  Yost has been using technology to tell complex stories for a long time.
As the leader of the team that created Autodesk 3DS Max he gave millions of people 3D modeling and animation tools, enabling them to use computers to visualize anything they could think of… and a lot of those things were too large, too small, too fast or too slow to show with conventional video.  These days, Yost refers to nature as "his grand animation stand" and spends much of his time on Mt. Tamalpais in Marin County.
You can view his work at: garyyost.com
If you have an interesting idea for a guest post, you can contact me here.