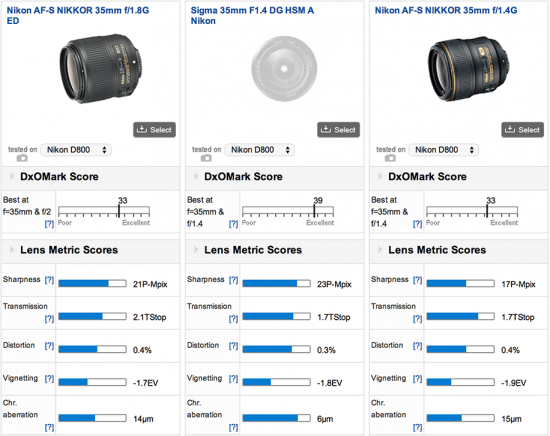 DxOMark published their test results for the Nikon 35mm f/1.8G ED full frame lens ($596.95):
Nikon's new modestly priced models, starting with the 50mm f1.8, then followed in quick succession by the 85mm, 28mm and now the new 35mm all perform to a remarkably high level. In fact the 50mm, 85mm and 35mm challenge the firm's ultra high-speed models in optical quality.

While they can't match the mechanical standard of those models they certainly make a compelling alternative if weight and price are a consideration, and the new 35mm looks set to be a popular choice for street photography and reportage.
| | | | |
| --- | --- | --- | --- |
| Lens Model | Price | DxOMark Score | Sharpness P-MPix |
| Sigma 35mm F1.4 DG HSM A Nikon | 899 | 43 | 30 |
| Carl Zeiss Distagon T 35mm f/1.4 ZF2 Nikon | 1843 | 38 | 23 |
| Samyang 35mm F1.4 AS UMC Nikon | 599 | 37 | 20 |
| Nikon AF-S NIKKOR 35mm f/1.8G ED | 600 | 36 | 27 |
| Carl Zeiss Distagon T 35mm f/2 ZF2 Nikon | 1005 | 36 | 24 |
| Nikon AF-S NIKKOR 35mm f/1.4G | 1797 | 36 | 22 |
| Nikon AF Nikkor 35mm f/2D | 365 | 28 | 21 |