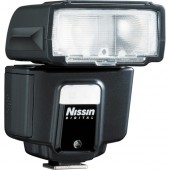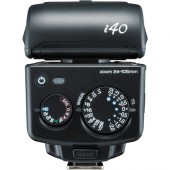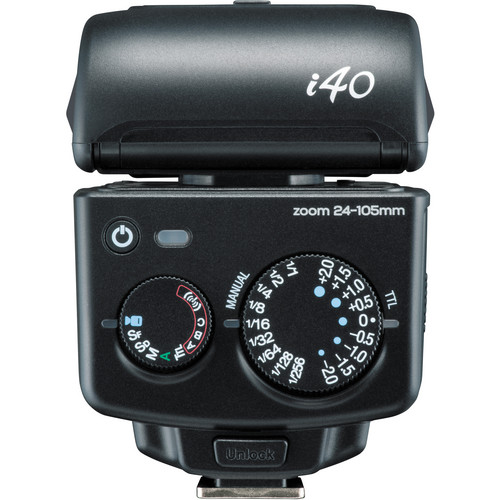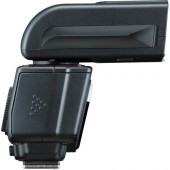 Last month Nissin announced their new i40 compact flash with LED lights for Nikon cameras. The i40 is now shipping and is currently in stock ($269). Additional information:
Specifications:
Type
For Canon, Nikon, Sony and FT system
Guide no. (at ISO 100 in m)
40 (at 105mm zoom head position)
27 (at 35mm zoom head position)
Focal length coverage
24 – 105mm (16mm when using built -in wide panel)
Power Source
Four size-AA batteries
Battery storage
Directly insert into the body
Recycling Time
0.1 – 4 sec
Number of flashes (Approx.)
220 – 1,700 flashes
LED light run time (Approx.)
3.5hrs (With New batteries set)
Flash duration
1/800 – 1/20,000 sec
Color Temperature
5,600K
Exposure control
E-TTL II/ E-TTL (Canon) 、 iTTL (Nikon), PTTL (Sony), TTL (FT)
Wireless Mode
Wireless TTL slave (* 3), non-TTL Slave (SD, SF mode)
EV compensation on flash
+/- 2EV in increments of ½ of EV
Bounce position
Up: 0-90°,Down: 0°, Left: 0-180°,Right: 0-180°
Flash exposure control
st & 2nd curtain synchronization, High speed synchronization, redeye reduction, slow synchronization (depends on camera), FE/ FV lock (set on camera)
AF-assist beam effective range
0.7 – 5m
Operation panel
2 Selector dials (Function dial and Power dial)
Manual mode power ratio
1/256 – 1/1
LED Video light
Built in LED video light with 9 steps of output level adjustment
Accessories
External Diffuser, Soft case, Flash stand (with screw)
Dimension (Approx.)
85(H)x61(W)x85(D)mm/ 3.35(H)x2.4(W)x3.35(D)inch
Weight
203g/ 7.16oz (without batteries and external diffuser)
Size comparison with a standard flash:
Nissin i40 features:
The pocket size of Nissin i40 weights only 203g of weight (*1). It is suitable for filling shadows on even the sunniest of days, suitable for family shooting, indoor/ outdoor shooting and especially suitable for traveling. Professional functions are included: Wireless TTL mode; Supports up to 1/8,000 seconds shutter speed; Flash output of GN40 at 105mm; Video light function with 9 steps of output level adjustment; Simple operation panel with two selector dials to operate the flash; Flash head tilts up and rotates horizontally to right and left for making bounced lighting more versatile by utilizing more angles. A Soft box is supplied. Nissin i40 with Canon, Nikon, Sony and FT version.
Focal length range coverage of 24-105mm˙Powerful output˙Soft box
The Nissin i40 has a flash output of GN40 at 105mm. The zoom range auto adjusts from 24mm- 105mm. The flash comes equipped with a built-in diffuser that gives a 16mm lens coverage. A Soft box is included for soften light output and reduce the shadows.
Professional flash head design
The flash head rotates horizontally 180° to right and left and tilts up 90°which is suitable for close up photography. This makes bounce shooting more arbitrary, with more angles that can be used.
LED Video light
Nissin i40 has a video light function, which has 9 steps of output level adjustment.
Various Functions
(1)Supports high-speed synchronization
Supports up to 1/8,000 seconds shutter speed. (*2)
(2)Wireless TTL mode
Supports Canon E-TTL/ E-TTL II, Nikon i-TTL and Sony ADI/ P-TTL. Various slave settings offer flexible wireless flash combination.
Selector dial˙Simply operation panel
Nissin i40 has two selector dials controls : Function dial and Power dial. The Indicated lamp A/B/C will show the position of adjustment. Even beginners can quickly get started.
Four size-AA batteries
4 AA batteries to operate the i40, it can reduce the frequency of changing the batteries and reduce the recycling time.
Metal hotshoe ˙Quick release button
Durable metal hotshot design with quick release button, easy to install and reduce the chance of damage caused by installation.