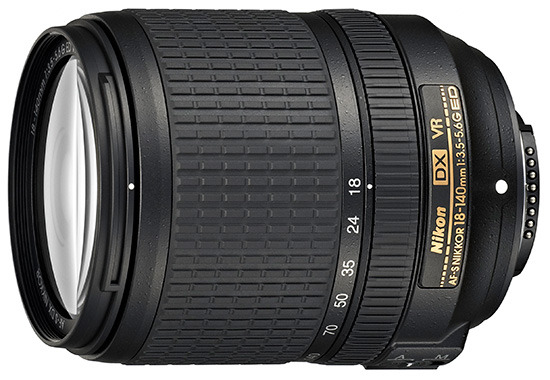 Nikon officially announced the SB-300 Speedlight, Nikkor AF-S DX 18–140mm f/3.5-5.6G ED VR lens and Coolpix L620 and S6600 compact cameras. Detailed coverage of the new products:
Nikon SB-300 Speedlight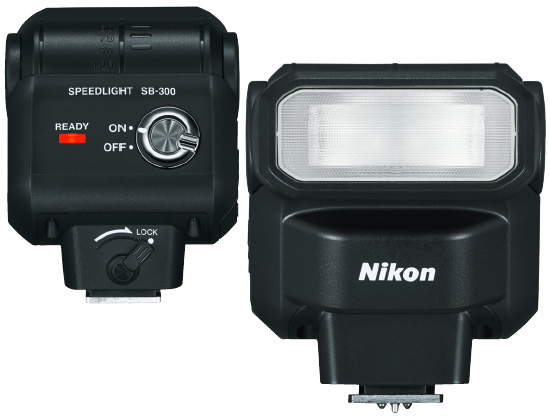 Links: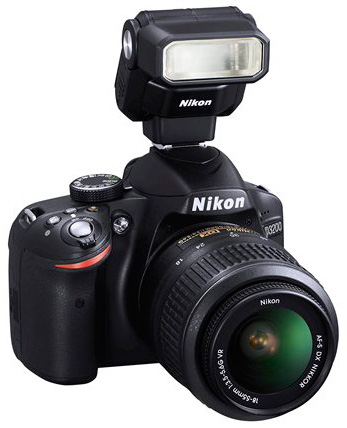 Lighting simplicity 
The right lighting can transform an everyday shot into an extraordinary memory. Even if your camera has a pop-up flash, an external Speedlight provides capabilities and control that every shooter can appreciate—so much more than simply illuminating a dimly lit scene. The compact, lightweight SB-300 AF Speedlight makes it easier than ever to harness the power of a Nikon Speedlight. With its simple operation, excellent performance and approachable price tag, the SB-300 AF Speedlight belongs in the camera bag of every D-SLR or accessory-shoe equipped COOLPIX owner. Take control of the lighting around you.
Soft, balanced lighting with fill-flash and tilt capabilities
With the SB-300 AF Speedlight, you'll enjoy a flash that's soft and balanced for excellent color, skin tones and lighting throughout your entire composition—not just on your main subject. Use it in bright situations to fill in unwanted shadows (fill-flash), or use its 120° tilt capability to bounce your flash off the ceiling or a nearby wall for even softer, less direct lighting on your subject (bounce technique).
Lighting tailored to each shot
Nikon's i-TTL (intelligent Through-The-Lens) flash coverage technology tailors the characteristic of the flash to the shot. An imperceptible pre-flash fires milliseconds before the main flash to gather information about the scene—shadow areas, subject distance and reflectance. Your i-TTL capable camera and the SB-300 AF Speedlight then work together to achieve the best exposure and white balance setting possible, all in a fraction of a second.
Nikon NIKKOR AF-S DX 18–140mm f/3.5-5.6G ED VR lens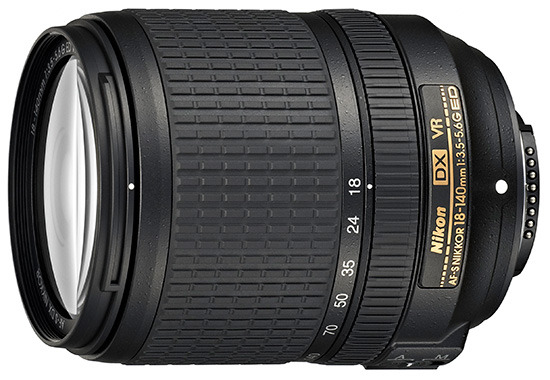 Links:
A compact all-in-one lens that's ready for anything
If you're looking for an outstanding grab-and-go lens—the kind you'll keep on your camera for nearly every situation—check out the new AF-S DX NIKKOR 18-140mm f/3.5-5.6G ED VR. Optimized to draw full potential from Nikon's high-resolution DX-format image sensors, it delivers beautiful ultra-sharp photos and videos with softly blurred backgrounds. Its versatile 7.8x zoom range (18mm to 140mm) lets you shoot everything from wide-angle family portraits to telephoto close-ups on the sports field. 4* stops of VR image stabilization means sharper handheld photos and video, especially when shooting in low light or at maximum focal length. You can even get as close as 1.48-feet from your subject for macro-style close-ups!
7.8x wide-angle to telephoto zoom
Developed with high pixel count D-SLRs in mind, the AF-S DX NIKKOR 18-140mm f/3.5-5.6G ED VR delivers vibrant, detail-rich photos and videos across its entire zoom range. Zoom out for an 18mm wide-angle view that's great for group shots, landscapes or any time you need to fit more into the frame. Zoom in for 140mm of telephoto reach—enough zoom to capture close-ups of your favorite player from the sidelines. In between, you have standard views similar to what you see with your eyes and medium telephoto views ideal for portraits. Whatever shot comes your way, you'll be ready to catch it.
The VR image stabilization advantage
The AF-S DX NIKKOR 18-140mm f/3.5-5.6G ED VR versatility is strengthened by 4 stops of VR image stabilization. Capture sharp, shake-free handheld photos and videos in low-light situations, when you want to use slower shutter speeds, and at telephoto distances, when even the smallest amount of camera shake can ruin a shot.
Advanced Nikon technology and superb NIKKOR optics
AF-S DX NIKKOR 18-140mm f/3.5-5.6G ED VR is an advanced lens designed to get the most from highresolution Nikon D-SLRs. In addition to VR image stabilization, it uses ED (Extra-low Dispersion) glass, which virtually eliminates reflections and lens flare for better contrast and Aspherical (AS) lens elements for minimizing aberration and improving image integrity and color. Nikon's remarkable Silent Wave Motor (SWM) provides ultra-fast, ultra-quiet autofocusing, a major advantage when recording video. And, of course, the AF-S DX NIKKOR 18-140mm f/3.5-5.6G ED VR has NIKKOR's renowned quality of construction and outstanding optics.
* Based on CIPA Standard. This value is achieved when DX-format compatible lenses are attached to a DX-format digital SLR camera and zoom lenses are set at the maximum telephoto position.
Nikon Coolpix L620 camera
Links:
Specifications:
With a 14x Zoom-NIKKOR glass lens and a comfortable grip, great far-away action photos and videos are easy to capture and even easier to love
Lens-shift VR image stabilization ensures sharp, clear images
18.1 megapixel BSI CMOS image sensor allows for better images, even in low light situations
Choose from 18 built-in scene modes, which automatically optimize the camera's settings for great results
With Easy Auto Mode, the camera determines the scene and automatically sets itself accordingly
Large, high resolution 3.0-inch display provides crisp, colorful viewing and playback
Capture Full HD (1080p) videos in stereo with the one touch record button
Powered by a pair of AA batteries for added versatility and convenience
Built-in Special Effects help you take and share both stills and videos with a creative touch.
Choose from Monochrome, Sepia, Selective color and more for a fresh, original look to your images
Nikon Coolpix S6600 camera
Links:
Press release:
Nikon's New AF-S DX NIKKOR 18-140mm f/3.5-5.6G ED VR Lens and SB-300 Speedlight Help Photographers Capture the Beauty in Every Shot
Versatile New DX-format Zoom Lens and Compact Speedlight Help Photographers to Creatively Capture with Clarity and Precision
MELVILLE, N.Y. – Today, Nikon Inc. announced the new AF-S DX NIKKOR 18-140mm f/3.5-5.6G ED VR lens and the compact SB-300 Speedlight, both versatile and exciting tools to help capture amazing images and HD video. Ideal for shooting everything from portraits to landscapes, the 18-140mm f/3.5-5.6G ED VR presents a great zoom lens option for DX-format D-SLR users. Sporting Vibration Reduction (VR) image stabilization, users will be able to capture sharp handheld photos and videos in a variety of shooting scenarios. The SB-300 provides a compact and easy-to-use adjustable Speedlight option for photographers who want to explore creative lighting at an affordable price point."Nikon's system accessories are designed to let the user capture their memories in vibrant detail and tell compelling stories through imagery and HD video," said Bo Kajiwara, Vice President of Marketing, Planning and Customer Experience, Nikon Inc. "While the new 18-140mm lens presents a versatile and powerful lens option for DX-format shooters, the SB-300 Speedlight introduces the benefits of flash photography to a wide range of users, specifically those who use either Advanced Performance COOLPIX or D-SLR cameras."The 18-140mm f/3.5-5.6G ED VR: A Versatile Zoom Lens for DX-Format ShootersA valuable and practical asset for everyday photographers and enthusiasts, Nikon's newest lens features a 7.8x zoom range that helps capture beautiful images and HD video from a variety of focal lengths. Whether shooting portraits, landscapes, travel or architecture, the 18-140mm offeringdelivers astounding image quality when shooting wide-angle or far-away telephoto. Equipped with VR image stabilization, the lens also features four stops* of VR image stabilization, helping to ensure sharp photos and video even in low-light situations or while handheld.
The AF-S DX NIKKOR 18-140mm f/3.5-5.6G ED VR lens is built upon core NIKKOR technologies designed to render photos and HD video with the utmost clarity and color reproduction. Constructed with one ED glass element and one aspheric lens element, the 18-140mm lens sports a seven-blade diaphragm for natural image blur and a Silent Wave Motor (SVM) that provides quiet and precise AF operation. Additionally, photographers can operate the lens using one of two focus modes, M/A (AF with manual override) and M (manual) for complete control.
The SB-300: Illuminate Creative Possibilities
The SB-300 Speedlight is small enough to fit comfortably into a shirt pocket yet it is built for the user looking to take flash photography to the next level. Providing more power and coverage than a built-in flash, the versatile and portable SB-300 is a simple and valuable lighting accessory compatible with both Nikon D-SLR and Advanced Performance COOLPIX cameras. This new Speedlight covers a wide-angle 18mm in DX-format and operates via simple on-camera controls, making it easy for beginner photographers to use light to their advantage.
The SB-300 tilts up 120 degrees, allowing for the use of creative bounce flash to soften shadows and diffuse the flash, resulting in more flattering portraits and even exposures.  For additional convenience, the firmware is upgradable through supporting D-SLRs, and this Speedlight is powered by two AAA batteries. Additionally, the SB-300 features thermal cut-out protection to prevent overheating when capturing rapid flash images in succession.
Price and Availability
The AF-S DX NIKKOR 18-140mm f/3.5-5.6G ED VR lens will be available in late August 2013 for suggested retail price (SRP) of $599.95**. The SB-300 will also be available in late August 2013 for a suggested retail price (SRP) of $149.95**. For more information on NIKKOR lenses and accessories as well as other Nikon products, please visit www.nikonusa.com.
*Based on CIPA Standard. This value is achieved when DX-format compatible lenses are attached to a DX-format digital SLR camera and zoom lenses are set at the maximum telephoto position.
**SRP (Suggested Retail Price) listed only as a suggestion. Actual prices are set by dealers and are subject to change at any time.