The Nikon Coolpix A ($1,096.95) was announced in early March, 2013 and it was marketed as the world's smallest compact camera with a DX sized sensor. A month later Ricoh announced their new GR model which is smaller (Ricoh GR: 4.6×2.4×1.4″/117x61x36mm; Coolpix A: 4.4×2.5×1.6″/111×64.3×40.3mm) and lighter (Ricoh GR: 8.6oz/244g; Coolpix A: 10.6oz/301g) and most importantly $300 cheaper. The shutter on the Coolpix A can go up to 1/2000, while the Ricoh GR can shoot at 1/4000.
General
The Coolpix A is made in Japan – it seems that this is a big deal because it's proudly listed on two different spots on the camera.
The camera does not have an AA filter. I was able to see some moire effects in some of the test images.
The battery life is pretty good – I think it can easily take more than the suggested 230 shots. The Coolpix A has a separate battery charger – I was glad that Nikon did not decide to cut costs and provide "in-camera charging".
Following their goal to keep the camera compact and pocketable, Nikon did not add VR and kept the lens at f/2.8 (instead of f/2).
Two programmable buttons (one on the front and one one the back of the camera) will allow you to assign various functions for easy access.
During continuous mode, the buffer of the Coolpix A slows down after approximately 15 images but will continue to shoot at a slower rate:
Size comparison between the Nikon Coolpix A, Sony RX1 and Fuji X-Pro1 with a 28mm f/2 equivalent lens:
The built-in flash of the Coolpix A is pretty small, but you can go bigger since the camera is compatible with Nikon's Speedlights:
Menu
One of the advantages of the Coolpix A is its menu and setting – if you own a Nikon DSLR, you will feel very comfortable finding the setting you are looking for:
Camera info screen: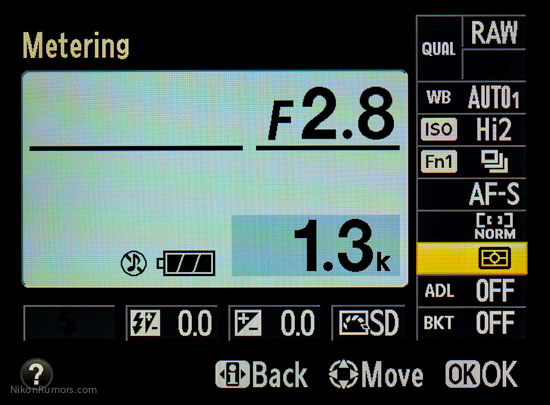 Framing grid: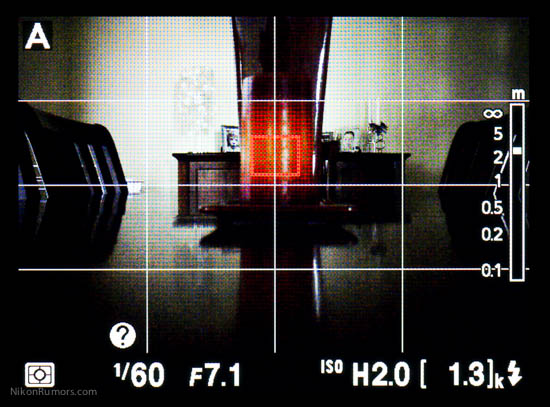 You can display also the virtual horizon level:
Auto focus/manual focus
The AF/Macro/MF selector is located on the side of the camera:
The manual focus is as simple as it can get – no focus confirmation, focus peaking or digital split image (found in the Fuji X100s). You only get a distance scale that can be controlled with the small ring on the lens (focus by wire):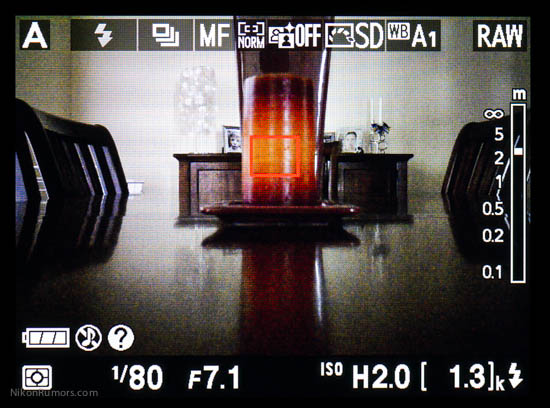 You can zoom in while in manual focus for closer view of the subject.
In macro mode I could not focus closer than the advertised 3.94″ (10 cm).
Auto focus with the Coolpix A in low light is not on par with the latest compact cameras. I did several comparisons in dark environment with the Fuji X-Pro1 and in most of the cases the Coolpix A could not focus at all where Fuji was able to lock the AF pretty quickly.
ISO performance
Next are several 100% crops at different ISO levels (click on image for full size view):
ISO comparison with other cameras
A quick ISO 6400 comparison between the Nikon Coolpix A, Fujifilm X-Pro1 with a 28mm f/2 lens and the Sony RX1 (full frame):
Lens center sharpness
I am sure many readers were not happy with Nikon Coolpix A aperture of "only" f/2.8. This time I have to defend Nikon's decision – a 28mm f/2 lens will probably be twice as big (see the Fuji XF 28mm f/2 lens in the above comparisons) – keep in mind that this camera was designed to really fit in a pocket. This is how the lens performed at various apertures (100% crops, click on images for larger view):
I found the lens to be almost equally sharp all the way to f/11 (you can see also some moire patterns in some of the samples).
Lens corner sharpness
In the corners, the lens has acceptable sharpness from around f/4 to maybe f/8 (click for larger view):
Sample images
Full size JPG versions of the sample images with ISO and aperture information are available on flickr:
Accessories
The main accessories for the Coolpix A which I did not have the chance to try are:
DF-CP1 optical viewfinder ($379)
UR-E24 adapter ring for attaching lens hoods and filters ($99)
HN-CP18 metal lens hood ($99)
Additional information
The Nikon Coolpix A manual can be downloaded here.
See all previous Coolpix A posts.
The camera is currently in stock and can be purchased from B&H for $1,096.95.
Conclusion
The Nikon Coolpix is a true pocket camera that combines the proven 16MP DX sensor and a compact sharp lens. This combo can deliver excellent image quality. When talking about the camera's disadvantages, it is important to stay within what is reasonable for a compact solution of this size. In addition to the slow AF and 1/2000 shutter speed, my only other major complain is the price tag of $1,096.95. I think Nikon will sell tons of those if they lower the price to at least $700 ($100 cheaper than the Ricoh GR).