DxOMark published the second part of their Best lenses for the Nikon D800 camera series and this time they are covering telephoto lenses:
70-200mm lenses
"The best lens tested is a Nikon model, but it is not the most expensive model. In Overall scores, the Nikon 70-200mm f/4G ED VR comes out on top, with a score of 28. With a price of $1399 this makes it not only the top choice, but also a good value for money option – as much as a lens costing over $1000 can be considered value for money."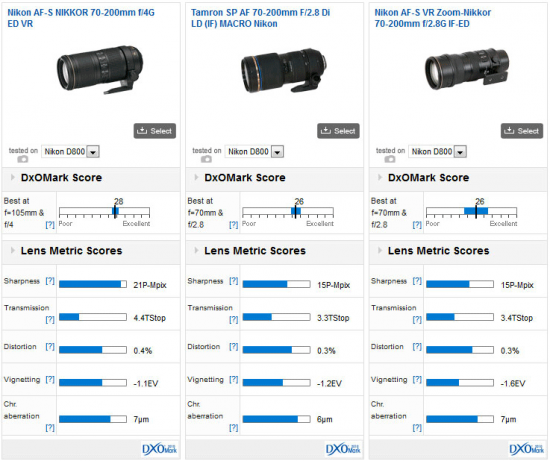 70-300mm lenses
"Of the four lenses, the Nikon AF-S VR Zoom-Nikkor 70-300mm f/4.5-5.6G IF-ED comes out as the top choice for two reasons – firstly, it has the highest sharpness score of the quartet, managing 12P-Mpix and secondly, because it features Nikon's Vibration Reduction system. With such a long focal range, having VR is a real benefit in achieving sharp shots while handholding and so this lens makes the best choice."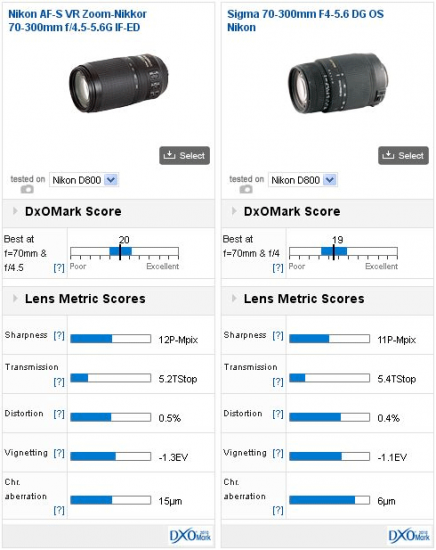 Super zooms lenses
Of the four lenses tested by DxOMark, there are two that really stand out. The first is not a true super-zoom in the sense of being an all-in-one lens, but instead offers the longest focal length that will be of interest especially to those shooting sports or wildlife. It is the Sigma 120-400mm f/4.5-5.6 DG APO OS HSM. With a sharpness score of 12P-Mpix, it beats the other lenses and doesn't really lose out greatly in any other area, hence why it top scores with a DxOMark Overall score of 19.