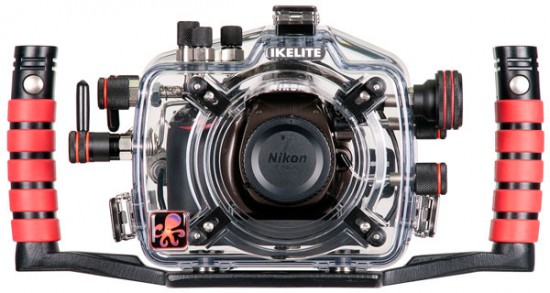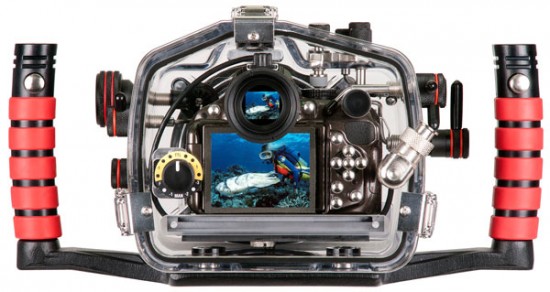 Ikelite released new underwater housing (product #6801.52) for the Nikon D5200 camera with 200ft/60m depth rating and MSRP of $1499.95:
Specifications
Controls

All important camera functions are accessible
Controls are not provided for Diopter Adjustment Control, Info Button, Self-Timer and Flash Mode/Compensation Button

Width

9.8in (249mm) including controls

Height

6.9in (175mm) including controls

Depth

6.7in (170mm) including controls

Weight

5.4lb (2.4kg) without tray & handles

Buoyancy

Slightly negative in freshwater

Depth Rating

200ft (60m)

Built-in Flash

No

Strobe Connection

Ikelite digital TTL electrical bulkhead

Tray Mounting

12-24 thread with 3in spacing (76mm)

Main O-Ring

0132.59

Port O-Ring

0105

Spare Parts

5020 Silicone lubricant in 4 1cc tubes
5512.69 O-Ring kit
0200.91 Housing body cap
9104.5 Electrical bulkhead cap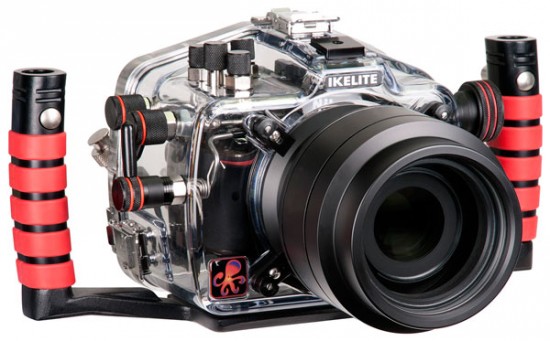 Key Features
Superior flash control
Direct connect flash is the most reliable and efficient way to fire an external underwater strobe. The camera's built-in flash does not need to fire, providing the extended battery life and no lag between exposures. Our proprietary circuitry allows direct communication between the camera and current Ikelite DS Substrobes for the most accurate through-the-lens (TTL) metering control of an off-camera flash. Electrical bulkhead and TTL circuitry are provided standard and included in the base purchase price.Rather than reaching out to your external strobe, exposure with a current DS Substrobe can be adjusted quickly through the back of the housing using a large dial control. TTL mode provides four 1/3 f/stop increments over or under flash compensation to fine tune exposure. Or control strobe output completely through the back of the housing using one of the 7 manual power settings provided in half-stop increments.
Ergonomic handling
Controls are provided for every camera function except the Diopter Adjustment Control, Info Button, Self-Timer and Flash Mode/Compensation Button. Flash compensation with Ikelite DS Substrobes can be accessed conveniently through the housing with a large rear dial. Shutter, video recording start/stop, and a large zoom control knob can all be comfortably reached without removing your hands from the handles. Comfortable rubberized grips provide quick-release attachment points for strobes and accessories. The tray and handles may be removed from the housing for convenience in traveling. The complete housing is neutral or slightly negative in freshwater depending on choice of lens port.
Reliable performance
A clear view of the camera and o-ring seals facilitates easy assembly and operation. Heavy-duty polycarbonate construction is durable and corrosion-free to ensure performance in even demanding conditions. Lens ports can be removed and replaced quickly with a simple positive locking system which provides visible assurance when the housing is assembled properly.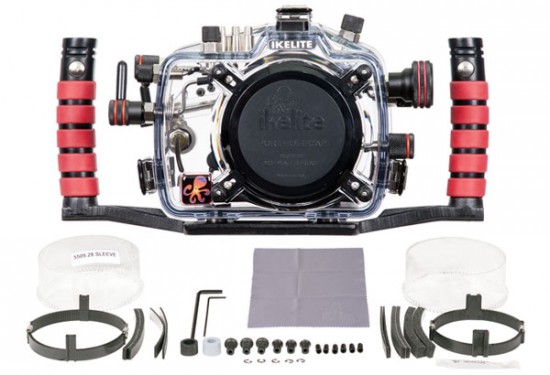 The housing includes (lens port not included):
Housing
Port Hole Cap
Tray and Handles
Standard Zoom Clamp & Sleeve Set
Large Dia. Zoom Clamp & Sleeve Set
1/16″ Hex Head Wrench for Gears
1/8″ Hex Head Wrench for Knobs
Lens Cleaning Cloth
Spare Control Tips
Spare Push button E-Clips
Silicone Lubricant