Hello there. This is Ryu Voelkel and Matt Cohen and we are sports photographers based in Berlin, Germany and Oakland, California respectively. We won't get into who lives in a better city, but we have been given an opportunity by NR to do a post on sports photography.
On our sports photography website/podcast called Big Lens Fast Shutter, we educate our listeners on how to become better sports photographers.  No trade secrets are safe with us as we dole them out to our listeners like food samples at super markets. Yes, we are here to demystify the world of sports photography.
We have taken the liberty and chosen 3 topics in sports photography. Both of us chose a photo to best describe each of the topics and what gear we used to shoot it with. Voila, let's get on with it.
Panning 
Ryu: As you may already know, panning is a popular technique where one uses a very slow shutter speed (slower than the speed needed to freeze the action) to track a moving object within the frame.  Popular application will be in car racing where the car is in focus and the background is blurred out.  Here I used a Nikon D4, 400mm f2.8, and a 1.4x teleconverter in shooting an ice dancing pair at a figure skating competition called Eric Bompard in Paris, France.  I used 1 full second as a shutter speed as I really wanted to see how far I could stretch this panning shot in terms of the area of focus.  I shot about 1.5 hours of ice dancing and I only got handful of the shots that were useful and this was my favourite one.  This was also shot during their practice session and not during the competition.  More often than not, you will have better access during trainings and warm-ups than during the competition.
Matt: One of the most exciting parts of college football games is when the teams emerge from the tunnel and take the field.  It's also a great time to try different looks because it happens once per game, every game, and you know exactly where it's going to be.  I took advantage of the fact that it was a night game, Put the 14-24mm f2.8 on the D3S and dropped the shutter down to 1/15 to get enough blur.  I ducked behind a trash can to avoid getting trampled and waited for the team to run by me.  This was the only frame out of the 7 I shot where a player's face is perfectly frozen.  Side note: The player with the wrist band in front of the frozen player is…Andrew Luck.  So yeah, this really is a game of inches.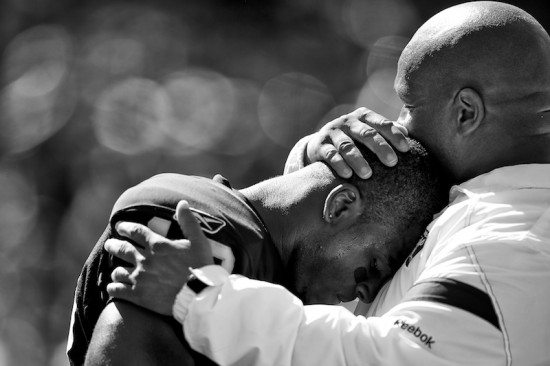 Non-action
Ryu: Sports is not just about action.  What we stress in our podcast is to be aware of all the non-action sports moments out there.  From the crowds reacting to a play to a coach consoling a player, there are many moments within a game that don't scream "ACTION!"  I've chosen this one and it is from a women's golf competition called Evian Masters in Evian, France.  This was shot early in the morning at the 1st tee with a Nikon D4 and a 14-24mm f2.8.  The day before this shot was taken, I found out that the sun was rising from the direction where the golfers teed off, creating a shadow.  Lady Luck was besides me the day of the shoot as the sun was up for the first few hours of the day.
Matt: As I was shooting warmups for the Raiders-Patriots game at the Oakland-Alameda County Coliseum, I noticed the Raiders head coach Hue Jackson walking around and talking to each player individually.  I was tracking him back-slapping and psyching up his players. When he got to wide receiver Jacoby Ford however, they shared an emotional moment, one usually reserved for father and son rather than player and coach.  It didn't last long, and I was way too close for the 400mm f2.8 I had on.  So I scrambled back several feet and got one picture of their embrace before Jackson walked away.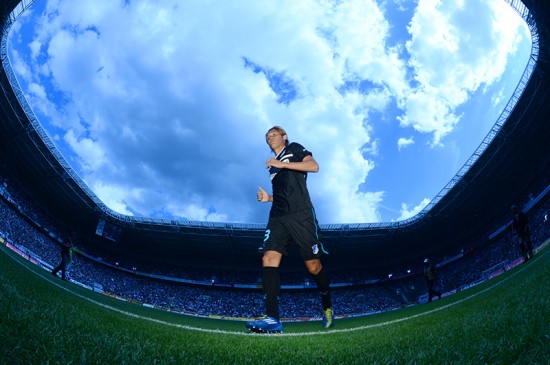 Non-tele shots
Ryu: You might think that you need a big lens to shoot sports.  Let me put it this way: it helps.  It helps a lot. But it's not all about soothing your masculine side by bringing out the 400mm f2.8 on a monopod and flinging it with your non-throwing arm.  There is no rule that says, "thou shalt not use any lens shorter than 200mm" in sports photography.  I'm a sucker for wide angle and this one was shot using a D4, 16mm fisheye, SU-800, gelled 2 x SB-800 at a match between Borussia Moenchengladbach (a mouthful, yes) and Hoffenheim of the German Bundesliga.  I also used a WB of about 2900, giving a blue look to the photo.  The subject was lit with an orange-gelled SB-800 controlled by a SU-800 to give back some skin tone.  I was waiting for Usami to finish his pre game warm up and I knew that he would be getting back to the dressing room through the tunnel.  I've shot enough football (yes, it's called football) that I know the routines of the teams before kickoff.  If you want to shoot a shot like this, it is imperative that you know the sport front and back.  This is a low success shot in that 9 out of 10 times the focus isn't set correctly, the flash doesn't fire, and / or someone is already at the position you want to shoot.  But low and behold, luck was on my side that day.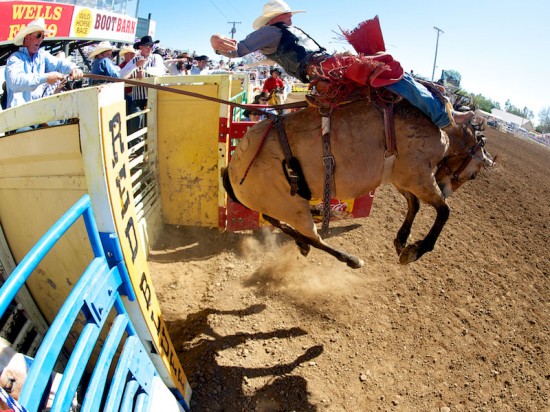 Matt: Sports photography often comes down to problem solving, and the number one problem is not being able to get exactly where you need to be to get the shot you want.  Sometimes you can set up a remote (basketball backboard / soccer goal / the fence at a racetrack etc) but sometimes you can't set up a remote in a certain spot for the same reason that you can't hold your camera there: danger to yourself or the athletes.  There is a lot of unpredictability in rodeo, as no one ever knows exactly where the bronc or bull will go.  Often the best action takes place right in front of the bucking chutes, but since you can't stand there to get trampled or interfere with the ride, you're stuck 40 yards away with a 400mm lens.  Since I'm always trying to get pictures that are different, I solved this problem by putting my 16mm f2.8 fisheye + D3 on the end of my monopod.  I used a Manfrotto tilt head to bring the camera to a horizontal position and fired it with a Pocket Wizard in the hand holding the end of the monopod. This is a very hit and MISS technique as you have to set everything manually (focus distance, shutter/aperture/ISO) and with the camera a few feet away on the end of the monopod, there's no adjusting when the action goes to you or away from you or the sun decides to duck behind a cloud.  But when it hits, there's nothing like it.
We here at Big Lens Fast Shutter are passionate about bringing sports photography to the masses, as we believe this genre of photography is not just for the pros.  On flickr, we hold monthly themed competitions ("You Win" and "Podium") .  Our most popular section called "Training Ground" where we whip you into sports photography shape by critiquing your photos live is now on video.
Thank you for reading this post and hope to see you soon on our site.  🙂
Ryu and Matt