Nikon announced the 800mm f/5.6E FL ED VR lens back in July of 2012. After the official release last week, I still could not find any sample images from the new lens on the Web except the three photos on Nikon's website and the few old images from the 2012 Olympics.
The Nikkor AF-S 800mm f/5.6E FL ED VR lens has some unique technologies:
Two fluorite lens elements that offer superior transmissivity from the infrared to ultra-violet range and demonstrate superior chromatic aberration compensation throughout the visible range. It seems that Nikon found a way to successfully implement fluorite lens elements. Here is a quote from Nikon Imaging website:
"In the past, correcting this problem for telephoto lenses required special optical elements that offer anomalous dispersion characteristics – specifically calcium fluoride crystals. However, fluorite easily cracks and is sensitive to temperature changes that can adversely affect focusing by altering the lens' refractive index."
Electromagnetic diaphragm mechanism for seamless mechanical control and enhanced stability in auto exposure control during continuous shooting (used also in Nikkor PC-E lenses).
The included TC800-1.25E ED teleconverter has been designed exclusively for the 800mm lens and can deliver 1000 mm focal length with combined maximum aperture of f/7.1. This is the first teleconverter equipped with an ED element.
The lens hood for the 800mm f/5.6 lens (model: HK-38, product number: 4985) is listed for $1000!
The patent for the Nikkor AF-S 800mm f/5.6E FL ED VR lens was filed in October, 2011 and is pretty close to the actual lens design: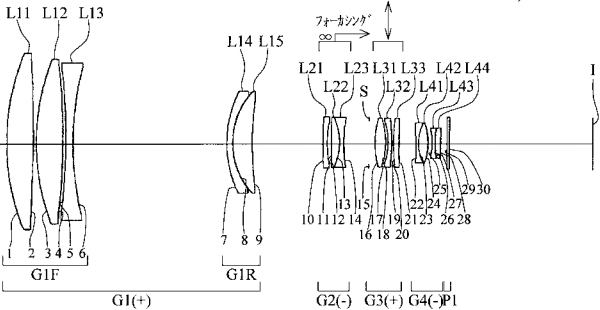 The Nikkor AF-S 800mm f/5.6 lens seems to have one of the best MTF charts ever seen from a Nikkor (or any other?) lens. Please note that different manufacturers have different ways of measuring their MTF charts.
Nikkor AF-S 800mm f/5.6E FL ED VR lens MTF chart ($17,896.95):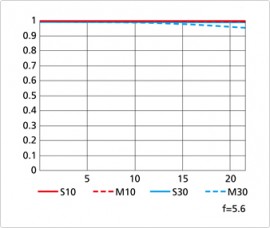 Nikkor 600mm f/4G ED VR lens MTF chart ($9,799):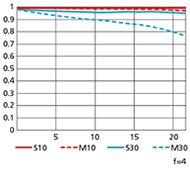 Canon EF 800mm f/5.6L IS USM lens MTF chart ($13,249):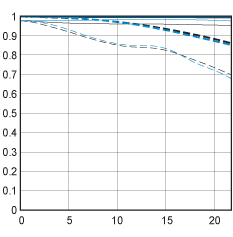 Sigma 800mm f/5.6 EX APO DG HSM lens MTF chart ($6599):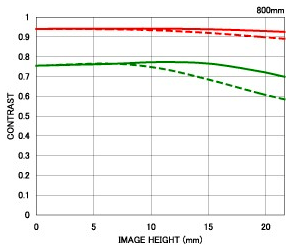 Next is a specifications comparison between the 800mm f/5.6 and 600mm f/4 Nikkor lenses – currently the top two big guns in Nikon's lineup
Lens
AF-S NIKKOR 800mm f/5.6E FL ED
AF-S NIKKOR 600mm f/4G ED VR
Focal Length
800mm
600mm
Maximum Aperture
f/5.6
f/4
Minimum Aperture
f/32
f/22
Format
FX/35mm
FX/35mm
Maximum Angle of View (DX-format)
2°
2°40′
Minimum Angle of View (DX-format)
2°
—
Maximum Angle of View (FX-format)
3°10′
4°10′
Minimum Angle of View (FX-format)
3°10′
—
Maximum Reproduction Ratio
0.151x
0.14x
Lens Elements
20
15
Lens Groups
13
12
Compatible Format(s)
FX
DX
35mm Film
FX
DX
FX in DX Crop Mode
35mm Film
VR (Vibration Reduction) Image Stabilization
Yes
Yes
Diaphragm Blades
9
9
Nano Crystal Coat
Yes
Yes
ED Glass Elements
2
3
Super Integrated Coating
Yes
Yes
AF-S (Silent Wave Motor)
Yes
Yes
Internal Focusing
Yes
Yes
Minimum Focus Distance
19.36ft.(5.9m)
15.7ft.(5.0m)
Focus Mode
Auto
Manual
Manual/Auto
Auto/Manual
Auto
Manual
Manual/Auto
Auto/Manual
Filter Size
52mm
52mm
Accepts Filter Type
Slip-in
Slip-in
Dimensions
Approx. 6.3×18.2in.
160x461mm (Diameter x Length)

Approx. 6.5×17.5in.
166x445mm (Diameter x Length)
Weight
Approx.161.6oz.(4590g)

Approx.178.5oz.(5,060g)