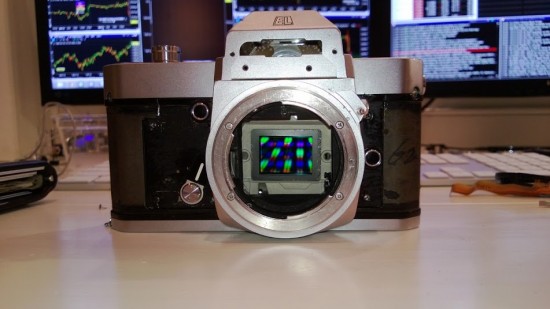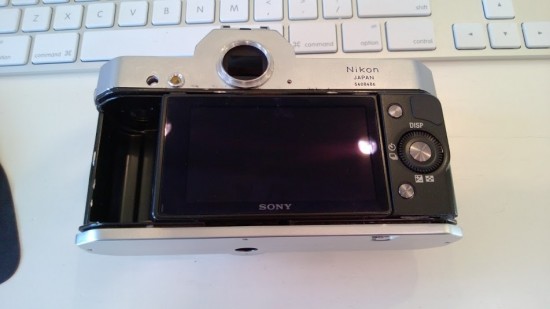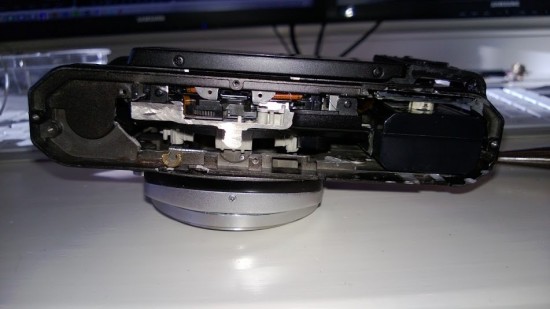 Since Nikon seems to have given up on the digital retro camera look (think digital Nikon F with APS-C sensor, EVF and F mount), Brendan Taylor took up on the task and is currently working on fitting the digital guts of a Sony NEX-5N camera inside an old Nikon Nikkormat. You can find many pictures of Brendan's project on his Google+ account.
Update – here are some details from Brendan, you can check also his new website www.cameramods.com dedicated to this project:
"The flange focal distance is indeed a big consideration and probably the most taxing part of the build. I had the choice of placing the sensor at the original intended film focal plane of the Nikkormat, but that would mean having the screen of the digital camera protruding too far out from the back of the Nikkormat. Digital sensors tend to be much further from the rear of the camera than film planes, to accommodate the electronics behind it. The alternative that I have chosen is to seat the sensor in the most convenient location where the screen is flush to the rear of the camera, and then precisely measure the difference in flange focal distance and machine a custom made extension tube. At the moment that extension is looking like approx 9.5mm but I have to wait until the sensor has been fixed in place before getting an exact measurement.

The project is just meant to be a fun. The finished camera wont have the full functionality of a Nex 5N but the reason I chose the Nex is because of the focus peaking feature that means manual focusing is very easy. I love vintage cameras and although I would hate to ruin a working collectible camera, it's sad to see them collecting dust. I will try to get around to creating a website that will detail the build from start to finish soon."
Starting with the Leica M9, followed by the Fuji X100, Olympus OM-D E-M5 and several other models, digital retro cameras have been a big hit during the past 2-3 years. Nikon has not shown any signs that they might join the trend anytime soon.