Nikon D600
Nikon 1 18.5mm f/1.8 lens

Nikon UT-1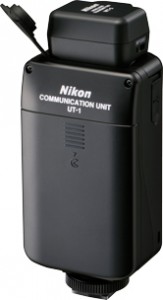 Videos
Nikon D600 product tour:
Nikon D600 time lapse:
Press release
Performance that Fuels the Passion: The New Nikon D600 Puts FX-Format in Focus for Photo Enthusiasts
As Nikon's Smallest, Lightest and Most Affordable Full-Frame HD-SLR, the D600 Packs in Powerful, Pro-Grade Photo and Video Features with Wireless Sharing and Capture Capabilities
MELVILLE, N.Y. (September 13, 2012) – Today, Nikon Inc. announced the 24.3-megapixel (MP) D600, a camera that is designed to deliver the image quality and performance benefits of a full frame FX-format sensor to the enthusiast looking to take their dedication to the next level. The Nikon D600 offers a remarkable value, merging the perfect combination of a lightweight, compact form factor and superior image quality, making the leap into FX-format photography more attractive than ever.
Whether shooting stills or Full HD video, advanced features and Nikon technologies like the newly developed high resolution CMOS sensor and EXPEED 3 image processing engine are designed to meet the needs of the most demanding creative vision. Additionally, Nikon's new optional WU-1b wireless adapter allows users to shoot high quality HD-SLR images and transfer them to their mobile device, making it easier to stay connected, without the need for wires.
"For many, image making is so much more than a hobby; it is a way of life that changes the way the world is perceived. The Nikon D600 represents a new category of camera for this user and demonstrates Nikon's devotion to the passionate photographer who is always looking for new ways to express their creativity through their photos and HD videos," said Bo Kajiwara, Vice President of Marketing, Planning and Customer Experience, Nikon Inc. "By offering users the advanced FX-format and key features inherited from our professional cameras, along with new functions like optional wireless capabilities, Nikon is inspiring photographers by providing an imaging experience that satisfies like never before."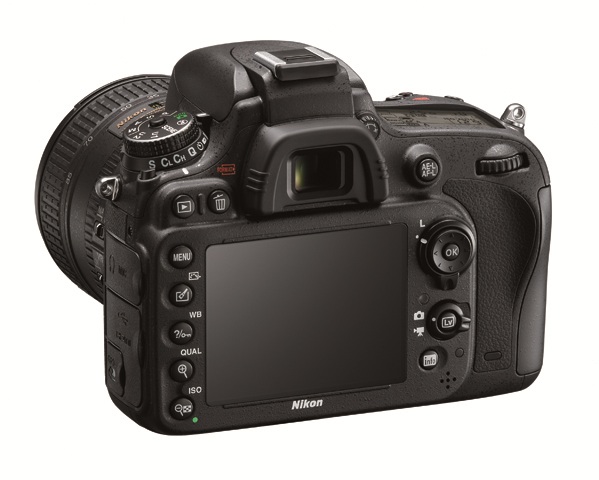 Superior Image Quality
Nikon's FX-format offers photographers exciting image quality possibilities, from dazzling dynamic range and exacting detail to stellar low-light ability. The D600 employs Nikon's newly developed, large 24.3 MP FX-format CMOS Sensor (35.9 x 24mm) to offer photographers a versatile camera that provides amazing image quality and sharpness, with ample resolution to tackle almost any project. Because the needs of the advanced amateur varies widely, the new CMOS sensor provides a wide ISO range from 100-6400 (expandable from 50-25,600) to give photographers maximum low-light flexibility yielding clean images
with minimal noise and accurate color. The full ISO range can also be used while capturing HD video in challenging light. Nikon's exclusive EXPEED 3 image processing engine interprets the massive amount of image data flowing from the sensor to quickly process images and HD video. The result is striking images and impressive HD video that exhibits faithful color reproduction and tonal range throughout the frame.
Precision Technology Engineered for the Enthusiast
Enthusiasts of all types demand the best from their gear, and the Nikon D600 is a camera engineered with intuitive features that give photographers an edge in the field. Whether shooting lush landscapes, action sports or the elusive animals of the Serengeti, Nikon's Scene Recognition System and 2,016 pixel RGB sensor excels in any situation. By recognizing the scene prior to capture, the system meticulously analyzes factors such as color and brightness with extraordinary precision and compares all the data using Nikon's exclusive 30,000 image database. The result is enhanced AF performance and flattering exposures.
For precise AF performance in a wide variety of shooting conditions, the D600 features a 39 point AF system with the new MultiCAM 4800FX AF module. This AF array is well suited to a wide variety of shooting styles and disciplines, offering AF modes to let users select a single point, continuous AF, Dynamic AF or use 3D tracking to keep pace with a moving subject throughout the frame. Additionally, the system features nine cross type sensors for maximum accuracy, while seven AF points are fully functional when using compatible NIKKOR lenses and teleconverters with an aperture value up to f/8 for extreme telephoto applications.
To keep up with action sports, active wildlife or the photo opportunity that unexpectedly arises, the D600 is ready to shoot in 0.13 seconds, with a 0.052 second shutter release. The camera emphasizes speed and performance, from overall operation and image processing, helped in part by the exceptional EXPEED 3 processing engine. The camera is also capable of bursts of images at 5.5 frames per second (fps) at full resolution with full AF, to capture decisive moments. To further enhance speed and workflow, images and video can also be rapidly transferred to dual SD card slots that are compatible with the latest SDXC and UHS-1 high speed standards.
Enthusiasts will also appreciate other thoughtful features made to appeal to more advanced photographers, such as the 100% frame coverage seen through optical viewfinder. The wide and bright view makes it easy to compose in a variety of conditions, and affords the ability to enjoy shooting for hours on end with minimal eye fatigue. Additionally, the D600 features several scene modes and features to enhance creativity, including one-touch access to Picture Control functions through a new dedicated button. Photographers can also shoot images in High Dynamic (HDR) mode for amazing highlights, and create awe-inspiring time lapses with ease.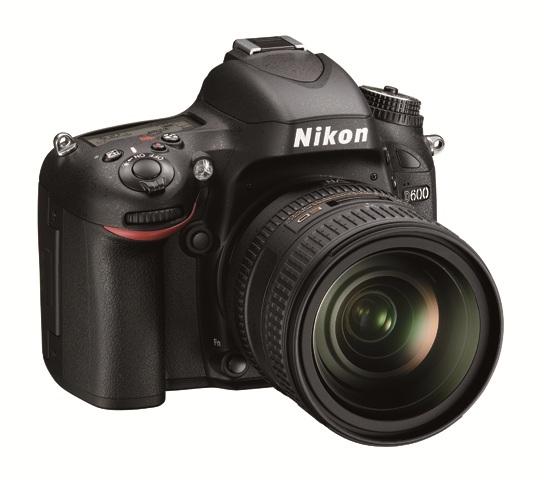 Experience Full HD
The Nikon D600 has advanced video features that are ideal for those ready to embrace the world of HD-SLR video, as well as those already enjoying its benefits such as manual control, depth of field, low-light ability and lensing options. This camera gives users the ability to record Full HD at varying frame rates and resolutions including 1080p video at 30, 25 or 24p, and 720p video at 60, 50 and 30p. When shooting HD video at the highest quality setting, up to 20 minutes can be recorded, or up to 29 minutes and 59 seconds in normal quality for added convenience when shooting static shots such as interviews and events. The large 3.2-inch 921K dot LCD screen makes it easy to preview images or video captured, navigate the menu system or confirm critical HD focus, while automatic brightness control adapts seamlessly to changing lighting conditions.
Sophisticated video features help to increase the production value on any project, including full manual control of exposure, and the ability to switch between FX and DX-format (1.5X) at Full HD for a telephoto boost and alter depth of field. Users can opt to focus manually or can take advantage of the full-time AF while recording to help ensure faces are in focus or track a moving subject. Additionally, videographers have the ability to capture audio with the onboard microphone or record stereo audio externally using the mic input. Audio can be monitored through the headphone jack and levels can be displayed on the LCD with peaking.
In addition to the ability to play back HD video and images through the HDMI terminal, users are also able to experience pro-grade video features in the Nikon D600. For monitoring and streaming applications, the image can be displayed on the LCD screen while simultaneously shown on another monitor through the HDMI, with or without shooting data. What's more, the D600 adds the ability to transfer uncompressed video via the HDMI connection, which can then be routed to a digital recorder or similar device.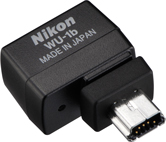 Remote Sharing and Capture
Photography is a form of expression, which can now be shared more ways than ever before through social networks and online communities. To accompany the D600, Nikon has also announced the optional WU-1b Wireless Adapter that allows users to connect wirelessly to the camera. A companion Wireless Mobile Adapter Utility application for Android™ based mobile devices is also available at no additional cost. 1 Furthermore, an application for the iPhone® and iPad® mobile digital devices will be available on September 15, 2012.2
When connected, users are able to share their images taken with the D600 through their mobile device to their social circles, as well as send and download images from their camera to a compatible device.3 The adapter also allows users to remotely fire the D600's shutter from up to 50 feet from the camera, which is ideal for capturing photos from unique vantage points.
NIKKOR, Speedlight and System Compatibility
Supporting the D600 is Nikon's heritage in optical excellence, more than 70 NIKKOR AF and AF-S compatible lenses for maximum versatility. Those with DX-format lenses will also be happy to know that these lenses can also be used on the camera as well as the ability to set DX crop for stills or video to extend the reach of telephoto or telephoto zoom lenses.
The new Nikon HD-SLR is also a gateway to Nikon's renowned Creative Lighting System (CLS) which illuminates a whole new world of creative image making using multiple Speedlights. A built-in Speedlight commander can control multiple Speedlights such as Nikon's SB-700, SB-910 or Wireless Close Up Speedlight System, and the camera can also control up to two individual speedlight groups for further creative control.
Constructed to Inspire
Built to withstand the wide variety of shooting conditions enthusiasts face, the body of the D600 is sealed and gasketed against dirt and moisture. The camera uses magnesium alloy top and rear construction to provide a lightweight camera with maximum durability. The shutter has been tested for 150,000 cycles, and sensor cleaning is also employed. The battery is rated for approximately 900 shots, affording photographers the ability to shoot all day. Additionally, the optional MB-D14 Multi Power
Battery Pack extends the grip for comfort and can effectively double the battery capacity when using two batteries.
The D600 is also built with an emphasis on handling with thoughtful ergonomics and button placement, in a body that is compact enough to carry comfortably on any excursion. The hand grip has been improved for comfort, while the overall impression from using the camera is reassuringly solid. To avoid accidental engagement, the shutter button has been recessed, while the Mode Dial can be locked.
Price and Availability 
The Nikon D600 will be available on September 18, 2012 for the suggested retail price (SRP) of $2,099.95*, for body only, or with the AF-S NIKKOR 24-85mm f/3.5-4.5G ED VR for the SRP of $2,699.95*. The WU-1b will be also available on September 18, 2012 for an SRP of $59.95*. The MB-D14 Multi Power Battery Pack will be available in late September for an SRP of $322.00*. For more information on the new Nikon D600 and other Nikon products, please visit www.nikonusa.com.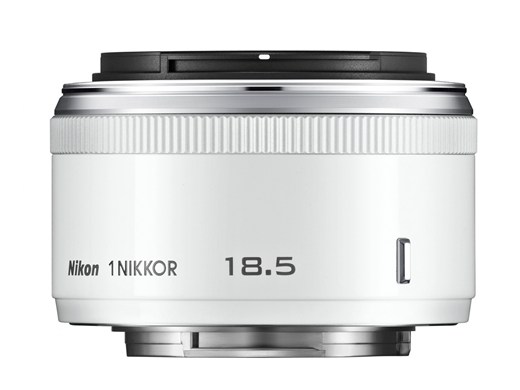 New 1 NIKKOR 18.5mm f/1.8 Offers Nikon 1 System Shooters Compact Performance and Creative Control
Nikon Expands 1 NIKKOR Lens System with an Affordable Fast Aperture Prime Lens
MELVILLE, N.Y. (September 13, 2012) – Today, Nikon Inc. announced the latest addition to the Nikon 1 system, the compact and lightweight 1 NIKKOR 18.5mm f/1.8, a fixed focal length addition to the 1 NIKKOR family of lenses. The 18.5mm f/1.8 gives Nikon 1 System shooters a fast prime lens that is consistently able to deliver outstanding image quality and sharpness for stills and HD video, whether shooting awe-inspiring landscapes, flattering portraits or documenting the family vacation in glorious HD video.
"Nikon's new 1 NIKKOR 18.5mm offers extremely fast performance alongside the accuracy and image quality that photographers have come to expect from a NIKKOR lens," said Bo Kajiwara, Vice President of Marketing, Planning and Customer Experience, Nikon Inc. "With the continuing expansion of the 1 NIKKOR line of lenses, Nikon is committed to ensuring every moment is captured with tremendous speed and amazing clarity."
1 NIKKOR Speed and Versatility
The 1 NIKKOR 18.5mm f/1.8 prime lens features the popular yet versatile focal length of approximately 50mm (35mm equivalent) and a large f/1.8 aperture, making it ideal for portraiture and everyday shooting. With the large aperture, consumers can create a dramatic depth of field with beautiful image blur, or shoot with confidence in challenging lighting conditions.
Conveniently compact and crafted with eight optical elements in six groups, the 18.5mm fulfills the promise of NIKKOR quality with solid handling and optical excellence. The lens is lightweight, weighing in at a mere 2.5 ounces to further complement the portability of the Nikon 1 System. Seven aperture blades help to create a pleasing circular bokeh for a natural separation between subject and background.
Price and Availability
Compatible with the Nikon 1 J1, J2 and V1, the 1 NIKKOR 18.5mm f/1.8 will be available in early November 2012 in Black, White and Silver and will have a suggested retail price (SRP) of $189.95*. For
more information on this and other 1 NIKKOR lenses and other Nikon products, please visit www.nikonusa.com.
The New Nikon UT-1 Offers D-SLR Users Powerful Connectivity for an Efficient Workflow
Nikon Continues to Develop and Redefine How Photographers of All Levels Share Their Content
MELVILLE, N.Y. – Today, Nikon Inc. has announced the release of the new UT-1 adapter, enabling image transfer and remote camera operation when connected via Ethernet cable or wirelessly with in conjunction with the WT-5a wireless transmitter.  When the UT-1 is connected to a Nikon D-SLR camera, an Ethernet network (wired network) can be used to transfer images directly from the camera to a computer or FTP server. The new device will also allow photographers to control the camera remotely from a computer.The new UT-1 will be compatible with several Nikon D-SLR cameras, including the Nikon D4, Nikon D800, Nikon D800E as well as the Nikon D7000. With an Ethernet network connection, images can  be automatically transferred as they are captured, while data can also be stored on a memory card or can be transferred and saved to a computer or FTP server."Connectivity continues to be a very important part of workflow for many photographers. Nikon continues to develop and redefine how digital cameras achieve connectivity and share content more efficiently," said Bo Kajiwara, Vice President of Marketing, Planning and Customer Experience, Nikon Inc. "The new UT-1 will allow users to transfer photos seamlessly from a selection of Nikon D-SLR cameras, while also providing the means to control the camera remotely from a computer if desired."
More Efficient Workflow with the UT-1
When used with Nikon's Camera Control Pro 2 software that has been developed for studio and remote photography in the field, remote control over a variety of Nikon D-SLR camera functions from a computer is possible. Camera Control Pro 2 allows users to specify and adjust not only basic shooting settings like exposure mode, shutter speed and aperture setting, but also allows them to adjust white balance, use live view and even record video remotely. With remote control of camera operations in various situations such as a studio setting, a photo shoot or video production, images or video can be transferred directly to the computer, enabling immediate verification as they are captured. These communication functions significantly increase on-site work efficiency as clients and support staff can view the content as it is being captured.
Primary Features of the New Nikon UT-1
Wireless Network Support When Used in Combination with the Wireless Transmitter WT-5a
When used with the Wireless Transmitter WT-5a (sold separately), the UT-1's networking functions can be used over wireless networks. Nikon will also market an UT-1/WT-5a bundle that provides networking functions over both Ethernet and wireless networks.
Still images can be transferred as they are captured, while still images and video already stored on a memory card can be saved to a computer or FTP server. 
Transfer of Images to an FTP Server
Still images and video can be automatically uploaded and saved to an FTP server as they are captured, enabling transfer of a high volume of high-resolution image data captured by select D-SLR cameras. This option will allow for the verification of images from a remote location by those individuals not in the immediate vicinity of the camera. 
Remote Camera Control from a Computer
When used with Camera Control Pro 2, remote control over a wide variety of Nikon
D-SLR camera functions from a computer are possible. Camera Control Pro 2 allows users to specify and adjust shooting settings such as exposure mode, shutter speed, aperture,  white balance, use live view photography and even record movies remotely. In addition, still images and video can be saved directly to the computer as they are recorded with remote shooting using Camera Control Pro 2.
Superior Handling for Efficient Studio and Field Photography
The UT-1 can be mounted on the camera's accessory shoe or on a tripod. When another accessory such as a Speedlight is mounted on the accessory shoe, the camera and the UT-1 can be mounted on a tripod using the optional SK-7 bracket for smooth handling.
Continuing to Connect Photographers
Nikon continues to make photography more efficient and connected for all levels of photographers, as evidenced by the Nikon D4 with its built-in Ethernet network functions, the Wireless Transmitter WT-5a and the new UT-1. What's more, the WU-1a and new WU-1b Wireless Mobile Adapters can be used to easily transfer high-quality images captured with cameras like the Nikon D3200 and the new Nikon D600 to smart devices or to control the camera remotely, though remote control over movie recording is not supported. With the new Nikon COOLPIX S800c, Nikon has even developed a way for users to connect wirelessly to the Internet using operations similar to those found in smartphone devices. By continuously working to increase wireless network functionality and support for all of its digital cameras, from high-end D-SLR to compact digital cameras, Nikon strives to make connecting a simple and effortless task for users.
Price and Availability
The Nikon UT-1 Communications Unit will be available in late October 2012 for a suggested retail price (SRP) of $470.00*, in addition to the UT-1 Communications Unit Set with WT-5a bundle for a suggested retail price (SRP) of $1,299.00*. For more information about the UT-1 or other Nikon products, please visit www.nikonusa.com.