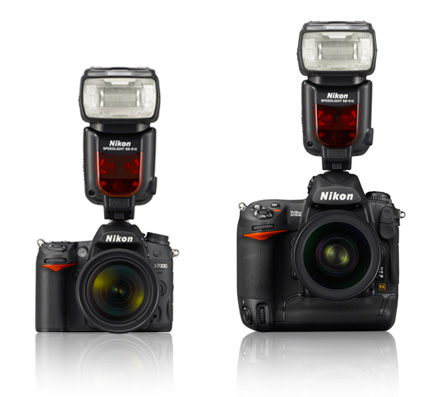 Nikon Australia just posted a quick recap of the new SB-910 flash features and functions:
SB-910 Primary Features:
A refined user interface for smoother operation
Users can now quickly access custom settings using the new MENU button. In addition, the graphical user interface (GUI) has been improved to offer simpler application of settings for all operations.
Three illumination patterns for use according to the scene
The SB-910 offers selection from three illumination patterns (Standard, Even, Center-weighted), allowing users to choose the pattern most appropriate for the scene. Illumination precision has also been increased.
Automatic detection of hard colour filters attached to the front of the flash head
The SB-910 supports hard colour filters because they are more durable, stand up better to the heat generated by the flash head and are easier to use than the gel colour filters supported by its predecessor. One incandescent filter and one fluorescent filter are supplied with the SB-910.
Additional SB-910 Features and Functions:
Guide number of 34/111.5 (at ISO 100, m/ft., 35-mm zoom head position, in FX format, standard illumination pattern) for high flash output volume
Fully compatible with the Nikon Creative Lighting System
Power zoom function with which the SB-910 automatically adjusts the zoom head position to match lens focal length

FX format, Standard illumination pattern: 17–200 mm (14 mm with the built-in wide panel in place)
DX format, Standard illumination pattern: 12–200 mm (10 mm with the built-in wide panel in place)
Automatic switching of zoom head position with detection of the camera's image area setting—FX or DX format—for optimal angle of flash coverage