In addition to the third notice on the floods in Thailand, today Nikon announced also their financial results for the second quarter of the 2011/2012 year (ending March 2012). Nikon lowered its sales and operating income forecast as well as DSLR camera and lens production as a result of the situation in Thailand.
Nikon will increase its production in other facilities across the world in December. Nikon Thailand is expects to start operations in January 2012 and have full-scale production restored by the end of March, 2012.
In the next few months sales efforts will concentrate on the new Nikon 1 mirrorless system. Nikon is already aggressively pushing their CX cameras with various marketing campaigns and tours to the Nikon 1 factory in China for pretty much anyone that can spell N-i-k-o-n.
Summary for the First Half of the Year Ending March 31, 2012:
Sales and income grew 15% and 76%, respectively.
SLR-DSC and interchangeable lenses responded the robust demands.
Compact DSC posted 17% sales increase in spite of market shrinkage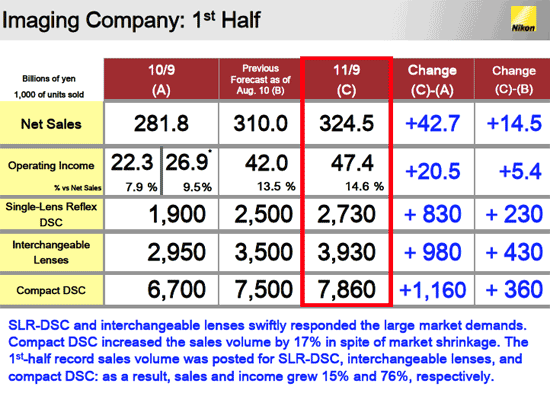 Estimation for the year ending March 31, 2012:
Thailand floods impact on FY2012 forecast – damages suffered by Nikon Thailand:
Nikon Thailand, located in Ayutthaya Province in Central Thailand, was flooded, and its operation has been suspended since October 6. As of November4, the operation remains suspended.
Nikon Thailand manufactures SLR-DSC and interchangeable lenses (IL).
Second half volume assumption for IL and digital cameras w/ IL:
Alternative production is scheduled starting in December 2011 in Nikon group plants worldwide and partner factories in Thailand. They are expected to gradually increase the alternative production volume.
Nikon Thailand expects to gradually resume its operation starting in January 2012.
It is planned that the full-scale production is restored at the end of March, 2012.
Financial impact by floods based on the above plans(2ndhalf of FY2012 in Imaging Company):
Negative impact -Sales: 65.0 billion yen; Operating income: 25.0 billion yen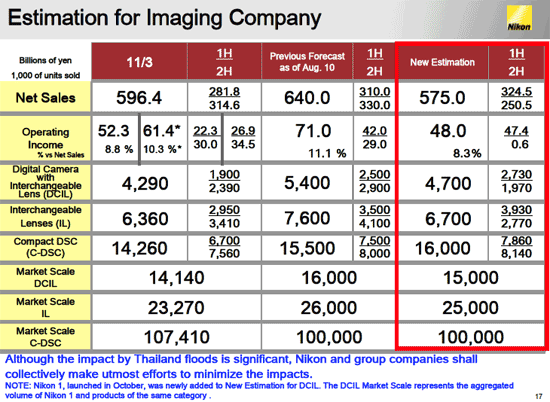 Summary of Estimation for the Year Ending March 31, 2012:
Downward revision of the yearly forecast is inevitable due to Thailand floods: however, both sales and income are expected to improve year on year.
It is planned that SLR-DSC and IL production gradually restore to the original level by the end of March, 2012.
Sales efforts focus on "Nikon 1" that has been favorably accepted since its launch in October.
Compact DSC with improved competitiveness enjoy brisk sales.