I have few more Nikon related news/links that were too much to include in one post. The first one is about a music video shot with a Nikon D7000 helmet camera: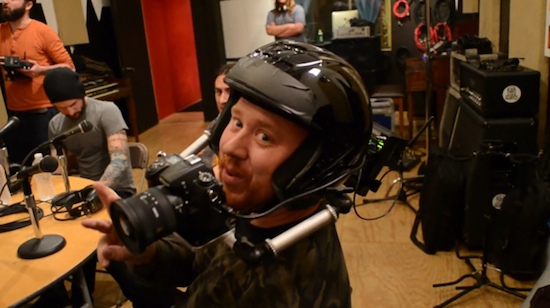 The setup is a helmet with a front mounted Nikon D7000 camera and a Teradek Cube camera-top wireless HD video encoder that streamed over WiFi to a Cube decoder mounted on a handheld, battery-powered 7" Marshall monitor.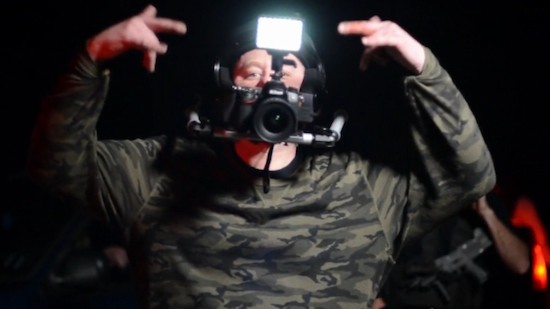 "As I Lay Dying" Behind the Scenes from Teradek on Vimeo.
McFarland & Pecci Choose Teradek Wireless HD Monitoring for As I Lay Dying Shoot
Music video directors Ian McFarland & Mike Pecci have built a reputation for using the cinematic arts and sciences to translate the darkest moments of humanity into a visual experience. Their style is gritty, raw, sometimes controversial, and always compelling. Their most recent project is the video for Anodyne Sea, the latest single from metal band As I Lay Dying's new album The Powerless Rise.
The Anodyne Sea video tackles the issue of free speech and the entire video is shot from the POV perspective of drummer Jordan Mancino as the band is kidnapped from a radio station by an oppressive local militia. Technology played a crucial role in McFarland & Pecci achieving their vision. The video is shot using a custom designed helmet-cam rig with a Nikon D7000 HD-SLR camera and Teradek Cube for wireless video monitoring.
Both the Nikon D7000 and the Teradek Cube are cutting-edge video products. McFarland & Pecci chose the Nikon D7000 because its small size, large sensor with 1080p recording, wide range of lenses, user adjustable video output over HDMI, excellent image quality in low light (with an ISO range of up to 6400), autofocus while recording video, and reliability. Director Mike Pecci comments "The camera took quite a beating. We had it mounted to the face of our camera operator (and co-director Ian McFarland) as he was pulled down hallways, thrown into vans, and dragged through the San Diego desert! The Nikon stayed with us with no crashes from impact!"
The cornerstone of the on-set workflow was the use of the Teradek Cube Encoder and Decoder for wireless video monitoring. The Teradek Cube is small (about the size of a deck of cards) and weighs only 6 ounces, meaning the encoder could be mounted directly to the helmet-cam rig. The Cube Encoder streamed HD video over WiFi to a Cube Decoder mounted on a handheld, battery-powered 7" Marshall monitor. This allowed complete freedom of movement for both the cameraman and the director. "When we came up with the concept for this video I knew that we were going to have trouble finding some sort of wireless monitor set-up that would work with a DSLR. I called rental companies all over the country, and spent time on the phone talking about UHF transmitters, HDMI to standard def converters, and awkward battery belts. Working with Teradek was a relief because we didn't need all of that heavy gear. A tiny transmitter, a wi-fi hub, and we had a HD signal being broadcast to either our laptop or handheld monitor. We used it both on set and out in the middle of a San Diego desert and it allowed me to see what was happening while it was happening." says Pecci.
The use of the Teradek Cube Encoder and Decoders combined with the Nikon D7000 allowed McFarland & Pecci to create a highly stylized and compelling rock video in a time-frame and on a budget that would have been impossible just two years ago. Director Ian McFarland has the last word, "We are always looking for new and exciting technology that will help us translate our crazy ideas to film. It's extremely reassuring as independent filmmakers to have the opportunity to work with companies like Teradek and Nikon, who not only believe in us, and supporting new filmmakers, but also are working on technology that is making our workflow easier."
The finished video:
For more information, please visit:
Directors: www.mcfarlandandpecci.com
Wireless Monitoring: www.teradek.com/cube.html
Band: www.asilaydying.com
Label: www.metalblade.com
Production company: www.killswitch.tv
Cameras: www.nikonusa.com
Monitors: www.marshallmonitors.com